So the brief that was given to me is how we could make Football the largest and most popular sport in Australia. We have the Whole of Football Plan (WOFP) strategy for it. But now we need to promote WOFP and get more people to share it. Part of the brief is also getting more people to sign up for the newsletter and clubs.
Audience profile
The WOFP is targeting a wide range of audiences from fans to coaches to referees, players and administrators.
For the purpose of my brief, I am only focusing on fans. This group of audience, they are people who already love the game as a participant. They might be fans of international Football brands. They are of a younger demographic and grow up in a digital world.
Persona
So I went on and create a persona for the purpose of the audience I am targeting. The approach, thinking and design will revolve around this person. We have Mike. He is a 19 years old Australian teenager who loves the Socceroos. He is also a Sydney FC club fan and has been a big follower of Alex Brosque (bross) who is the captain of Sydney FC in case you don't know. He hasn't watched a live match in a stadium before. And as many teenagers, he has multiple devices and he is constantly jumping from screen to screen.
The whole section for fans was architected in 4 different panels. At the topmost panel is an interactive video experience that talks about lifetime relationship. The definition of a fan can be really broad. A fan can be a kid, a parent, a teenager or an adult. Depending on who you are, we need to provide you with a personalised experience and show you what it is like to be a Football fan.
In terms of transition, you will need to use your imagination. Once you come to page, you have your circular navigation smoothly comes into shape in the middle. The background is a video sequence that keeps moving from 1 life stage to the other.
You can select any life stage and get a personalised experience.
The CTA to sharing and newsletter is always anchored at the corner of the page.
In terms of transition, when you hover on a menu item, it will reveal a small little background image that will slowly scale in size to further entice you. It is just some small little delightful moments.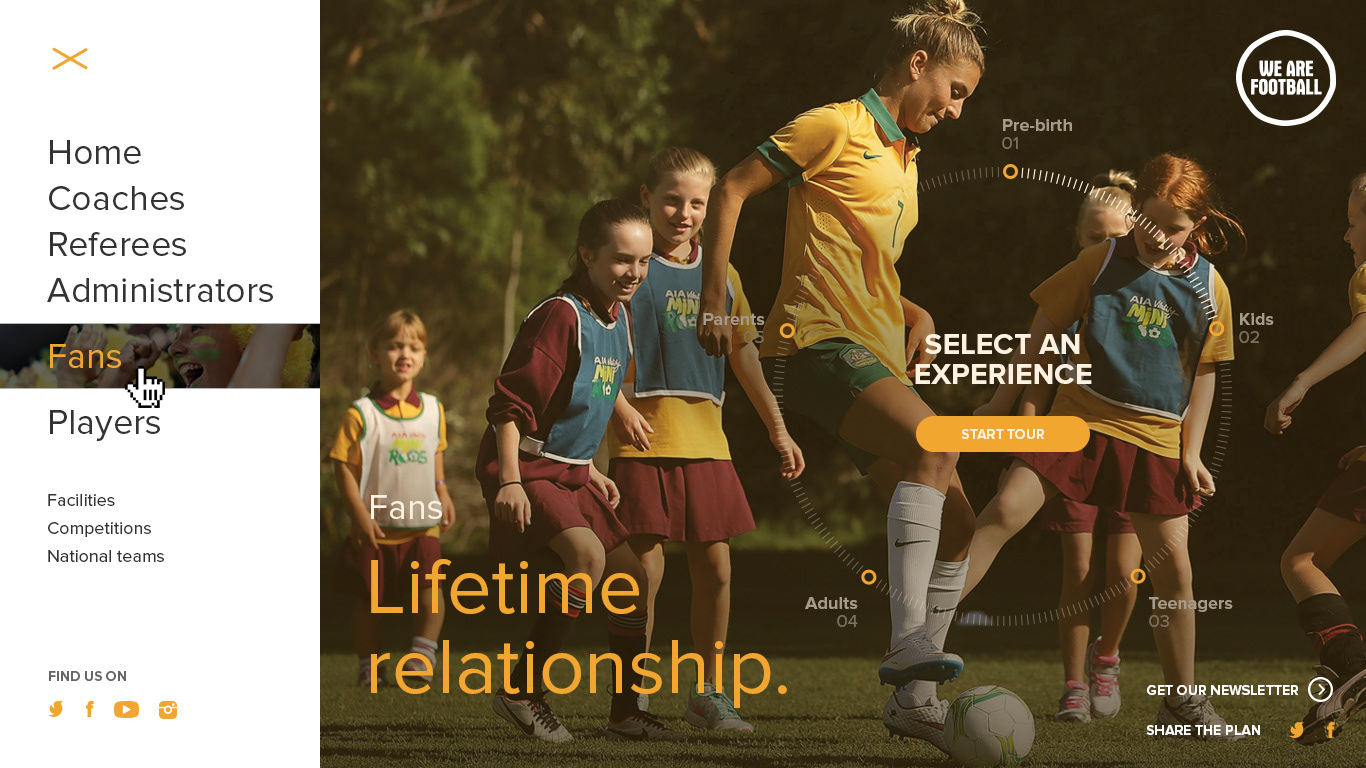 This is an interactive video where you can play, stop and interact with. It is carefully curated. The interactive video will provide you with the immersive experience. It will have voice commentary that guides you through the video and you can hear fans chanting and the video will move around the whole stadium. The video will demonstrate that fans are the heartbeat of Australian Football. They are unique for the atmosphere they create.
The video can have different sections, we can transition from the stadium to the clubs or players. Where we have an elite player to walk you through the daily schedule and activities of a Football star. So you feel you are truly part of the action.
The video also has hotspots where you can further interact with to learn more about it.
After you click on a hotspot, you get a page with an interesting geometric layout where every single piece of content can be shared. Every single chunk of content can be shared and easily consumed.
So as you finish the interactive experience and you scroll down to the next panel underneath. We will take a screenshot of the video at the moment of time without any UI elements and slowly scale it down in size to put into the next panel underneath.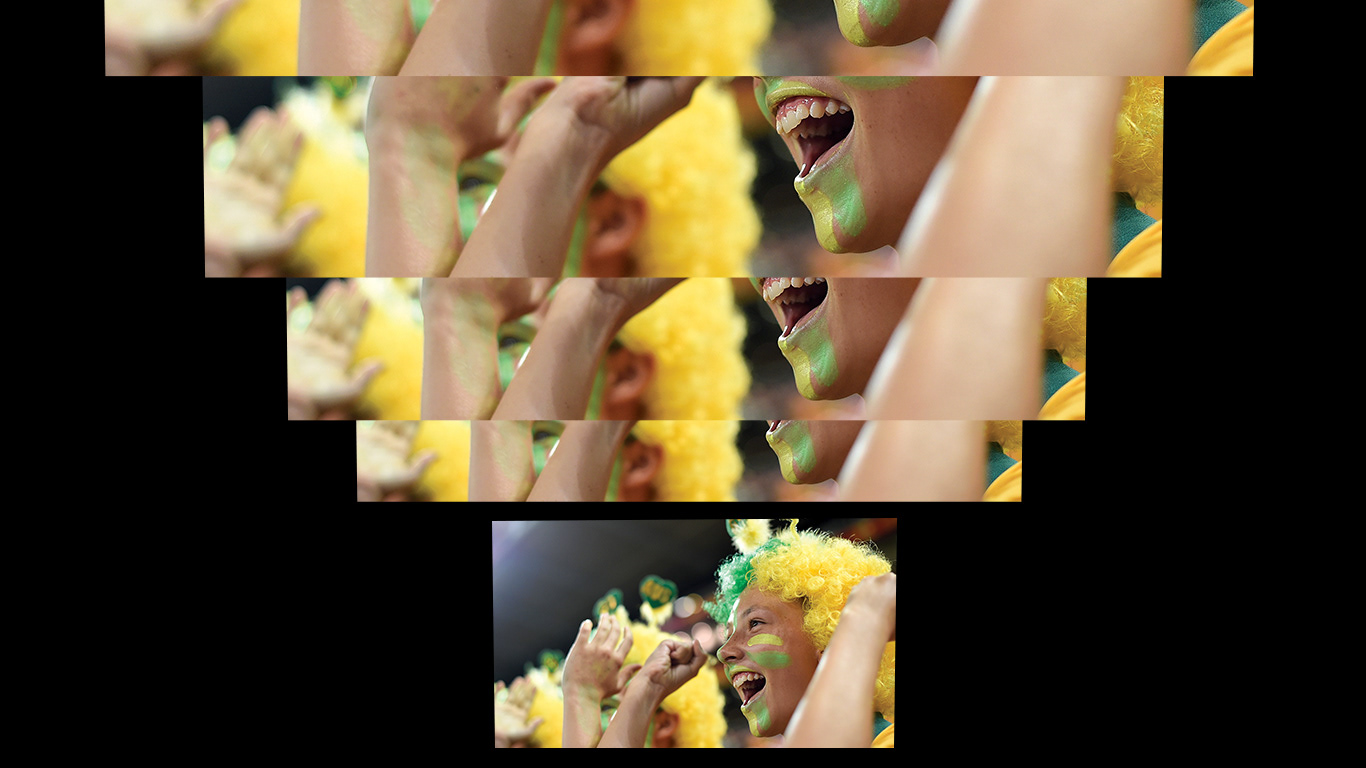 As you can see, the screenshot is in the tv screen now. It will continue to play as you digest the content on this page. This continuity will give you the perception that Football content is available anywhere, be it watching in a stadium or with your mates in the comfort of your living room.
We know that the fans are skewing towards a younger demographic who are more tech savvy and more mobile oriented. It is a proven trend. So a mobile experience is crucial.
We know that clubs are the focal point when it comes to pushing participants into fans.
When you come to this section, there should be some kind of personalisation where we detect your location and user activities and show you content that is most relevant to you. So if we know that Mike is from Sydney, a support of Sydney FC we will be surfacing those content to him. It is somehow magical.
You can always change the search preference by clicking on the underlined word. eg: To change your location, click on Sydney and you will get a dropdown in context to change.
We need to find ways to make fan-to-fan communication more dynamic. We want them to push entertaining and inspirational content out of their network. So I propose this social aggregator wall that will keep track of all communications on WOFP through Twitter, Facebook or Instagram.