The goal of this project is to increase the number of risks sold per customer through improvements to the customer journey prior to getting a quote. The recommended changes are designed to make it as easy as possible to purchase more than one risk at a time on the website.
Adding a progress tracker will inform the user of their location in the process and set expectations regarding what is still to come.
Save
The insurance packages journey is longer and more complex than a simple, single risk purchase, therefore we recommend validating whether it's worth introducing save functionality. This can also open up re-marketing opportunities assuming we gather an email address at the save point.
Quote sidebar
Introducing a quote sidebar will provide a consistent record of what the quotes collected thus far. This will help them with orientation and reduce anxiety. It could also be used as a navigation aid in case the user wishes to edit any details of their quote.
We recommend testing putting premiums and discounts together in a total quote.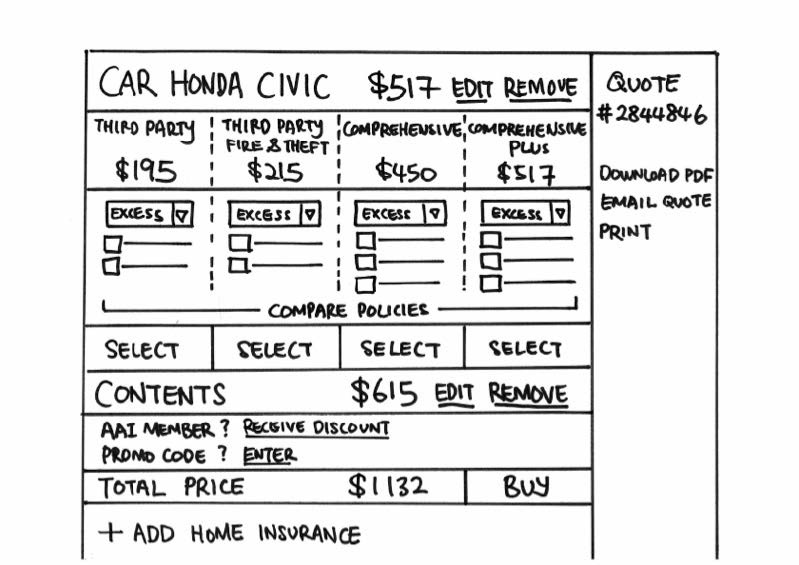 Quote – Product recommendation
Present a pre-selected appropriate car insurance product, while still allowing the user to change details.The recommendation could be based on details the user has previously entered (such as car value) and/or what page they come through on the site (e.g. if quote starts from the Third Party page, pre-select the third party option).
Mobile
Each of these scenarios requires careful consideration for the impact on mobile devices.