Jetstar — Responsive Online Check-in
Research
This report details our findings on customers' experiences of checking in generally, and their attitudes and
awareness of online check-in. The objective is to gain insights that can inform the design of a check-in
experience that meets customer needs, increasing customer satisfaction and ultimately driving more
people to checking in through this channel.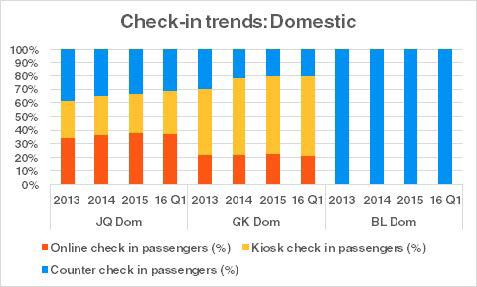 The data indicates a
steady decline in counter check-in
in regions where kiosk and online check-in is available.
Kiosks are popular
, and growing in popularity and so too is online check-in (with
mobile check-in
growing the fastest, mirroring a general trend towards mobile for internet use globally).
Reported tendency for Asian markets to
prefer a more hands on service from staff
, who would assist during kiosk check-in (as mentioned by members of Jetstar when asked about this difference).
This would present specific challenges to switching customers to self-guided online check-in for this region, and this passenger-staff interaction to be more fully investigated.
Check-in trends: International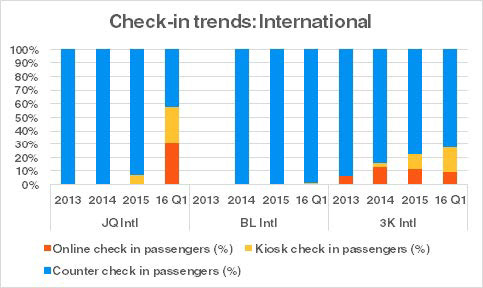 There is also
growth in kiosk
travel internationally, but not to the same extent as Domestic. A key limiting factor will be the amount of eligible routes and passengers for checking-in other than counter.
Online check-in is negligible for JQ - again likely an indication of less opportunities for passengers to check-in online. However, this could also reflect a weaker association of online check-in as an option for international travel, or any benefits of doing so - there is still the need for passengers to be processed at counters.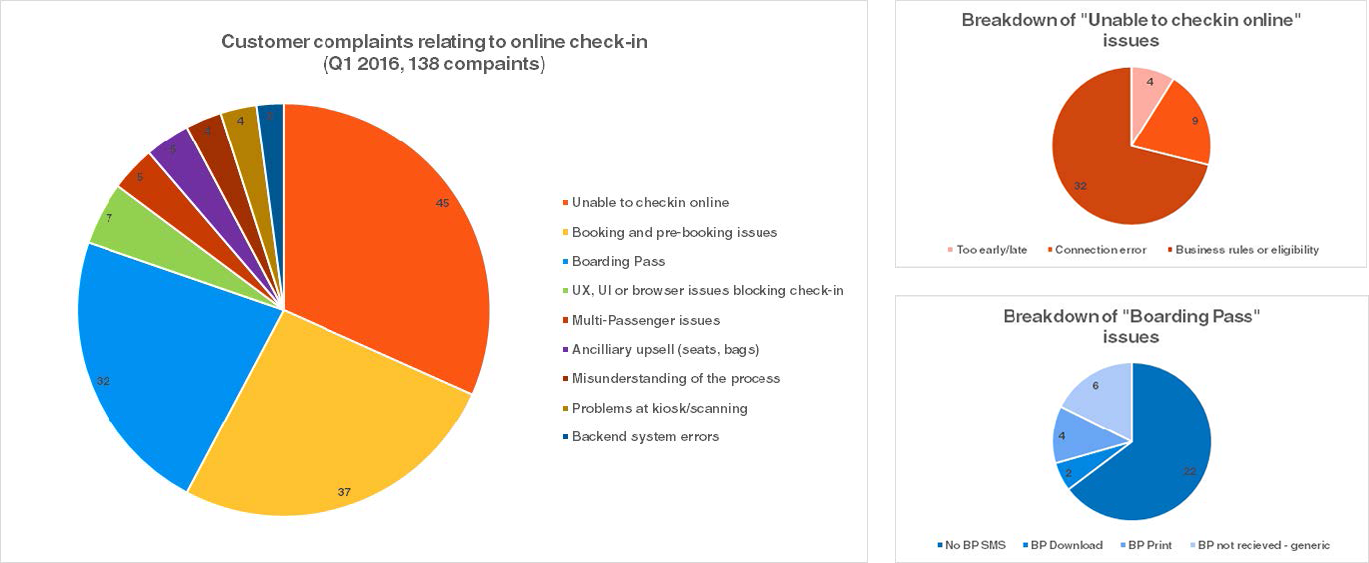 3 types dominated: customers complaining they were unable to check-in online (33% customers), booking and pre-booking issues (27% - these were not investigated further as not related to checking in), and boarding pass issues (23%). 
Many of those unable to check-in were
stopped by business or eligibility rules
(23% of total customers). This is a high figure - there will always be eligibility rules but this shows that these are widespread and not being adequately conveyed to customers, who report confusion, missed flights and giving up on online check-in due to a loss of faith in the reliability of the process.
The boarding pass figure is anomalous, in that Q1 entailed some known
technical issues with SMS
(22 customer complaints), which bumped up the numbers: however this process failure, like the eligibility rules, will create a general lack of belief in the process which deters customers from checking in online.
Current flow known issues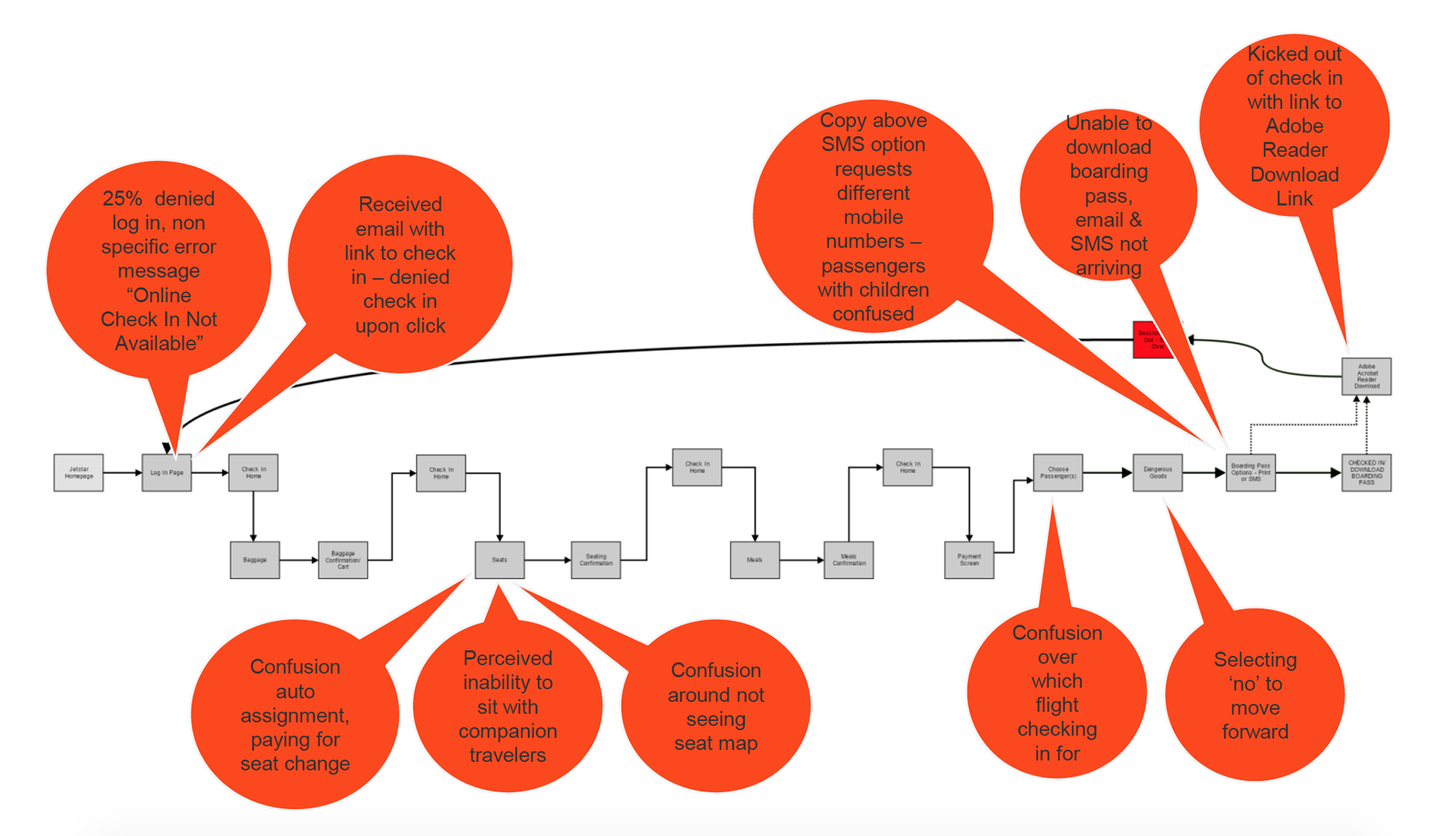 Research goals
Current awareness of and attitudes to online check in
Identify any points of confusion or blockers
Identify any customer types needing special consideration
Research methodology
The team conducted observations and intercepts of passengers checking-in at International and Domestic terminals.
There followed in-depth interviews of passengers waiting at departure gates, with guerilla testing of initial design concepts for online check-in. 
Airport staff were also interviewed, for their perspective on current processes and opportunities for improvement.
At the terminals
Contextual observation and intercepts
Passengers were observed checking in at Sydney airport, at both Domestic and International terminals. Whilst queuing or waiting, or after checking-in via the kiosk, passengers were approached for short 'intercepts' - 3 minute interviews asking them about their check-in preferences, their experiences that day and general awareness and attitudes to online check-in, plus some basic background information. This length was chosen as people are typically short of time at this point in their journey.
At the departure gate
Customer interviews and guerilla testing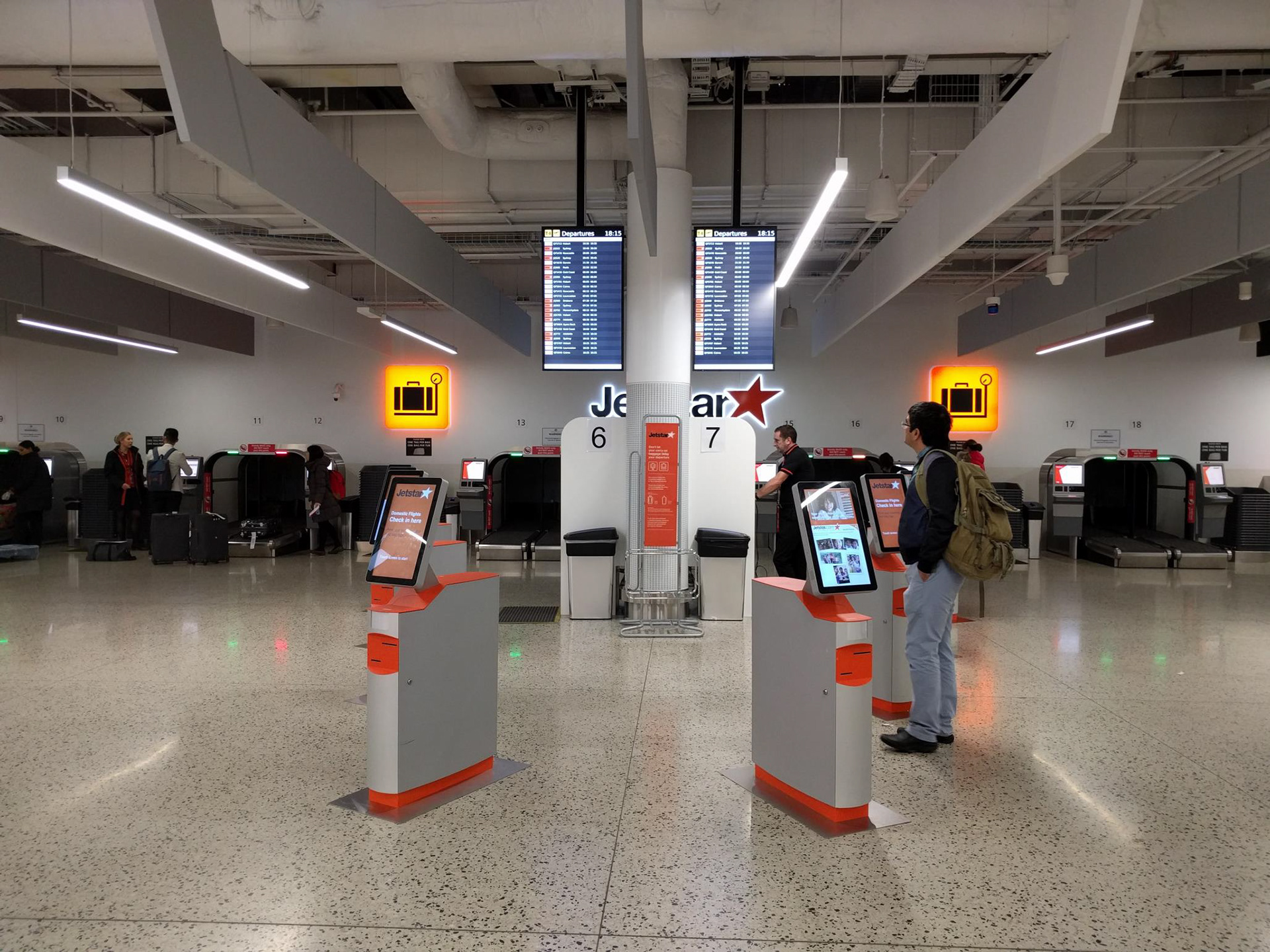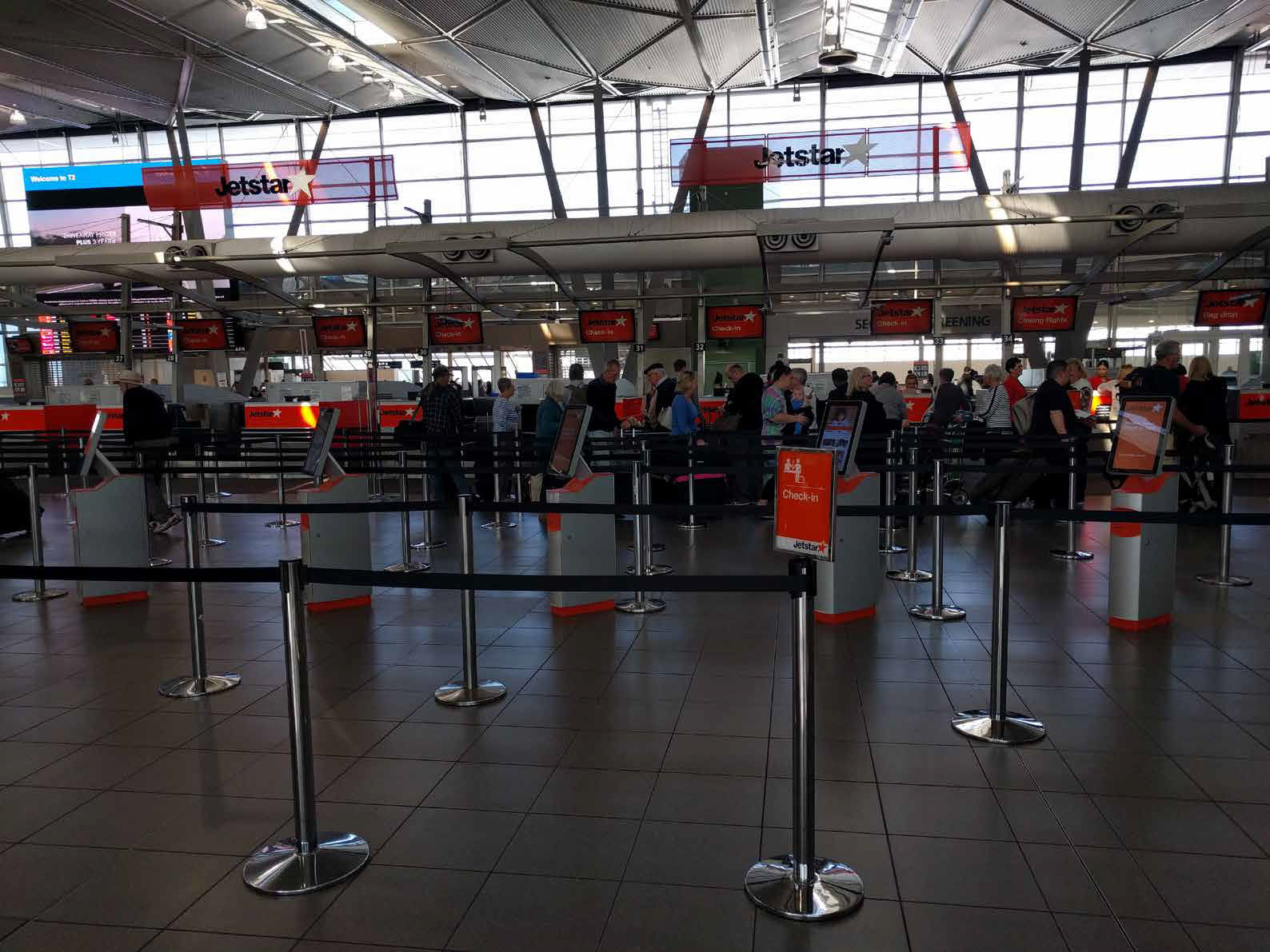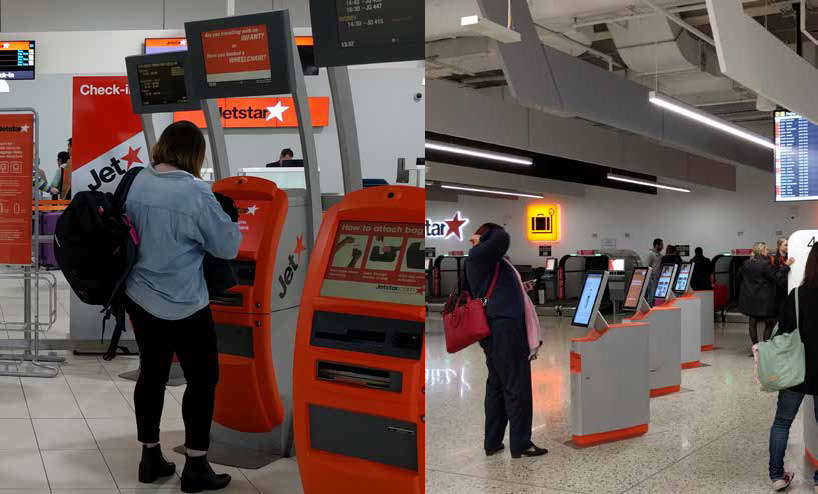 Layout was 2 banks of kiosks, fielded by staff to assist. Counters were split into cordoned groups: Check-in and Bag-drop, with a single Closing flights desk for late arrivals.
Speaking to the staff, this layout had been a recent change, (to include bag-drop, and more heavily support kiosk use). This was to meet the expectation of travellers, who experienced this layout with JQ at Melbourne and elsewhere, as well as with airline competitors at Sydney.
Some confusion with people going into the wrong cordoned areas, or blocking the path when using kiosk. New layout a workaround using fixed kiosks.
Shown a marked decrease in processing time (2min to 30sec)
International airport layout
There was some confusion between the four possible routes to desks
Layout was 3 banks of kiosks, fielded by staff to assist. Counters were split into cordoned groups: Counter check-in, business check-in and a 'fast-track' web check-in counter.
Nobody used the web check-in counter (barring as an overflow from the counter check-in queue).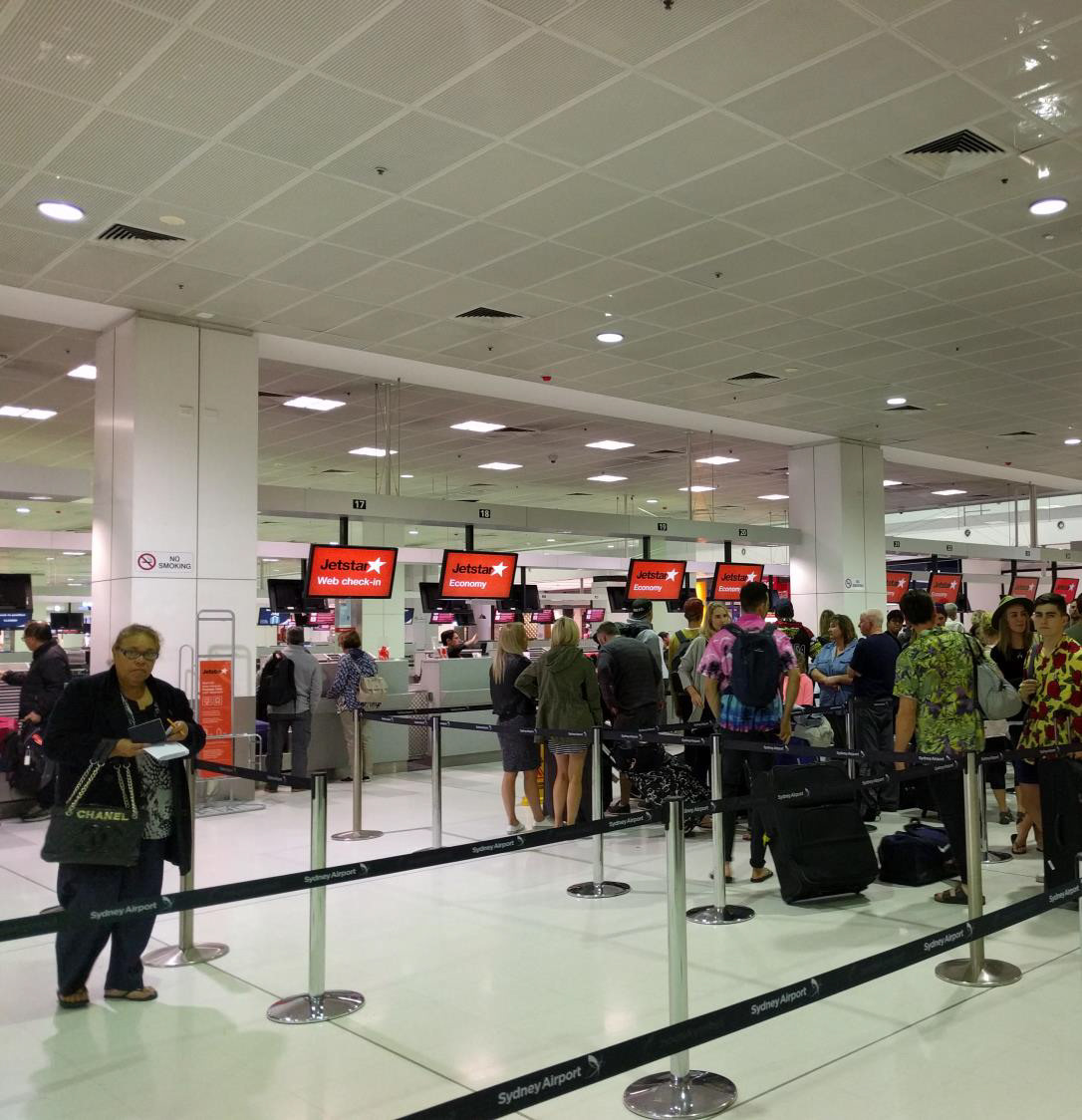 2) Check-in awareness and attitudes
Checking in preferences
There appears to be an unmet desire for online check-in at Domestic, the opposite holds true for International

Attitudes to online check-in
Customers can be split into two broad camps: Those that want to check-in online but can't and those that do not want to full stop
A) Those who theoretically want to online check-in but haven't
B) Those who prefer not to online check-in
Email communication
Check-in information is typically lost amidst the comms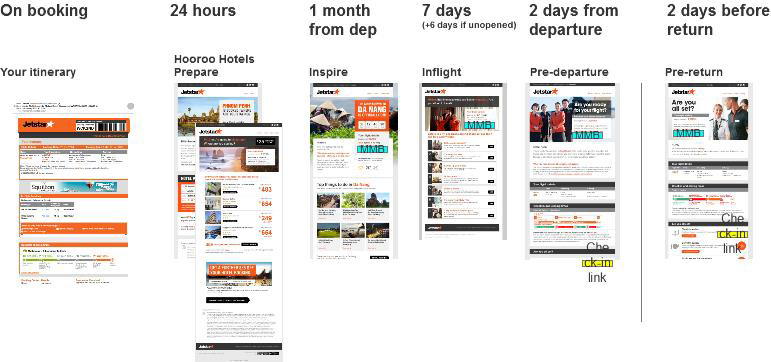 This indicates that customers access the online check-in a number of ways, but email comms is an important route. However the response to email comms is mixed.
The good:
 One pax received an email a week prior to departure, as a reminder. They thought this was good communication by Jetstar, as it gave them plenty of notice.
The bad:
Two pax indicated they ignored comms coming from jetstar (after itinerary), deeming it unnecessary or in one instance thought it was all upselling marketing. The possible impact of this is Important information around times and information specific to their flight is lost.
Some observed customer types
Print-friendlies
In both intercepts and interviews, a strong theme was a customer type who wants to have physically printed papers in their hand, and do not want to rely on digital boarding passes or itineraries.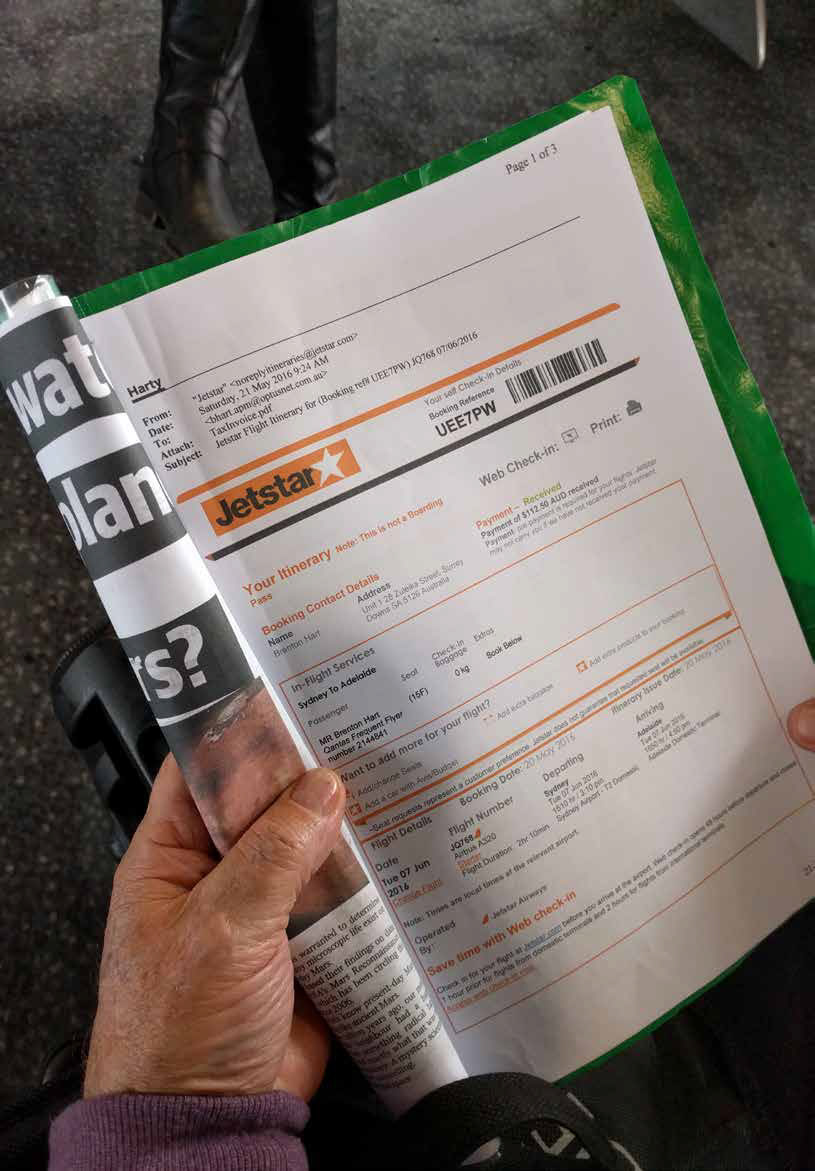 Early birds
We met several customers who were arriving at the airport early – sometimes before check-in has began.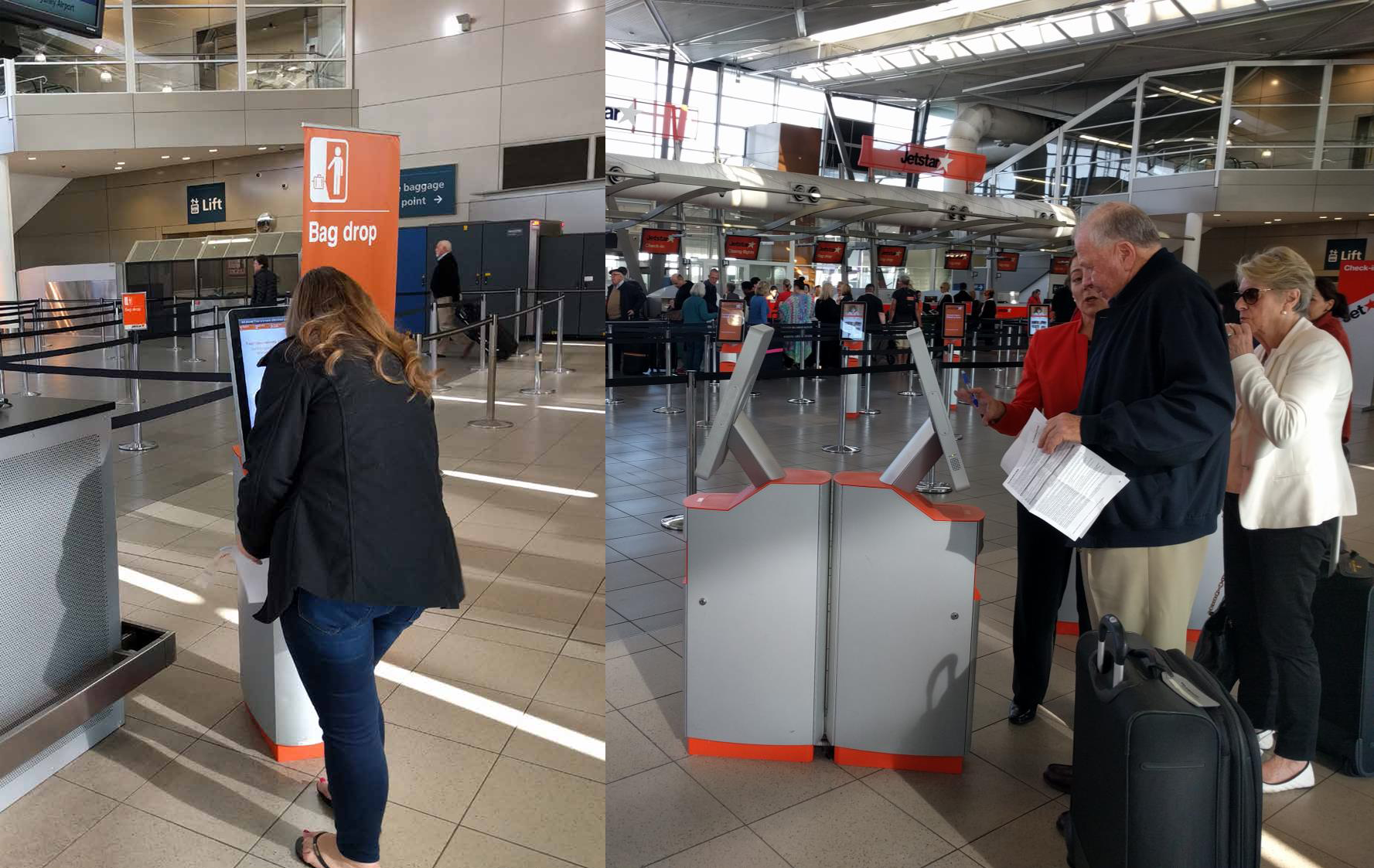 Families, couples and small groups
Families have special concerns in and of themselves –they often prioritise avoiding 'flash points' with their children in tow. More broadly, what is lacking is the facility to treat passengers as they see themselves: A single unit and organiser. 
Special mention: Groups
Groups are a special case, but we managed to speak to a large group booking at International and also the Airport staff had some insights.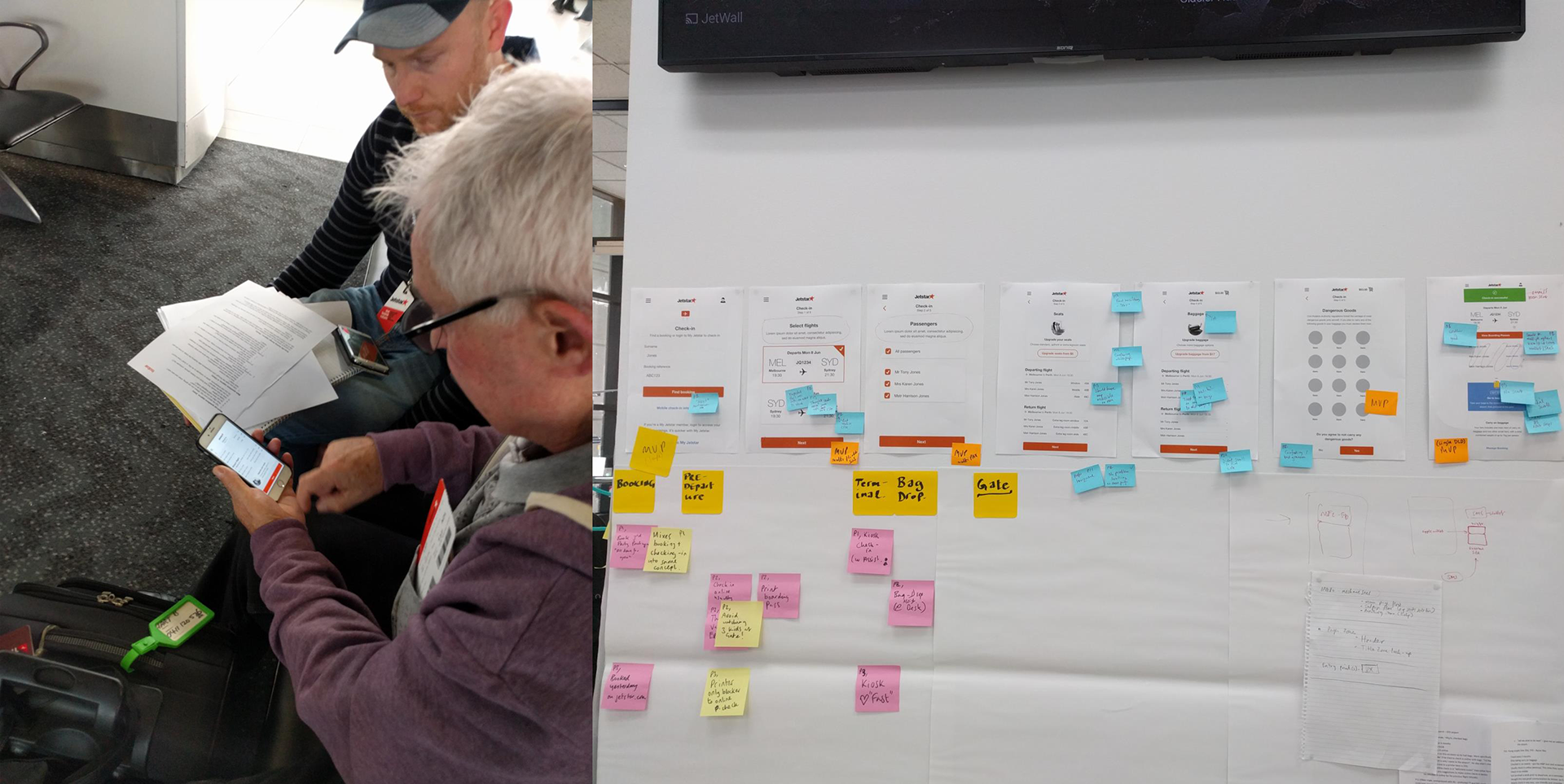 Tested on 5 participants. Asked to go through flow of checking in a return flight for all pax, and upgrade their
own outward baggage allowance by 20kg.
Recommendations
Before you fly: Clear, timely and personalised communication of check-in options and procedure. Demonstrate value.