Jetstar — Manage My Booking Conceptual Discovery
Research
Jetstar are looking to redesign and rebuild the critical comms and commerce channel - MMB (Manage My Booking). There is an appetite within the business to not only bring this platform up to speed with dotcom and NGBE (Next Generation Booking Engine) in terms of look, feel and experience but also to increase the value of this platform to the user and to the business. 
Jetstar has engaged Isobar to go through a discovery phase to posit a future state for the platform which will inform a business case for their 100% self service initiative which will ultimately fund the evolution of MMB. 

Constraints and mandatories:
We ran a discovery workshop to identify and define challenges, opportunities and goals for this project. It also aligned the team around the challenge, determined the focus, and influenced the approach.
The purpose of the workshop was to gain an understanding of where we are and what we know. We did a review of the current user experience, business goals and system capabilities. We identified the self-service capabilities of the portal, ancillary product offerings, purchase and payment requirement and associated business rules. We also defined competitors and/or best practices to be considered in the landscape analysis, as well as confirm assumptions. 
The workshop also review customer insights and other documentation meant to feed the project to identify the gaps in knowledge and to agree on prioritised scenarios during the discovery phase.
In a group of 3, we asked everyone to make a design the ideal customer journey that illustrates the steps the customers go through when engaging with MMB.

On post-it notes, everyone was invited to contribute to the business and user goals for this project.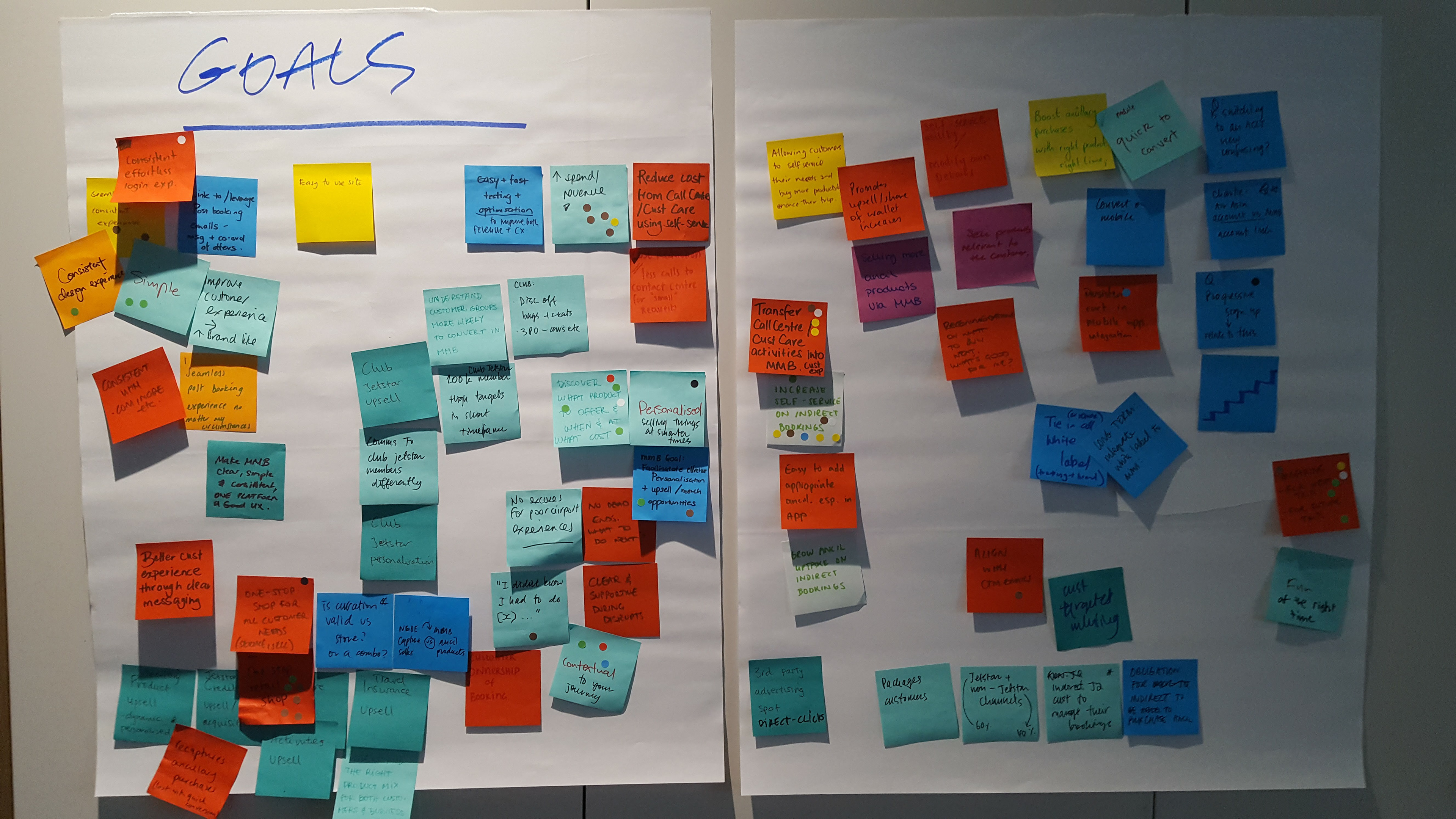 We got everyone to list down the competitors or areas we should be investigating. This further inform our work during landscape review.
We listed out a bunch of questions we would want to validate and invalidate during our user testing sessions.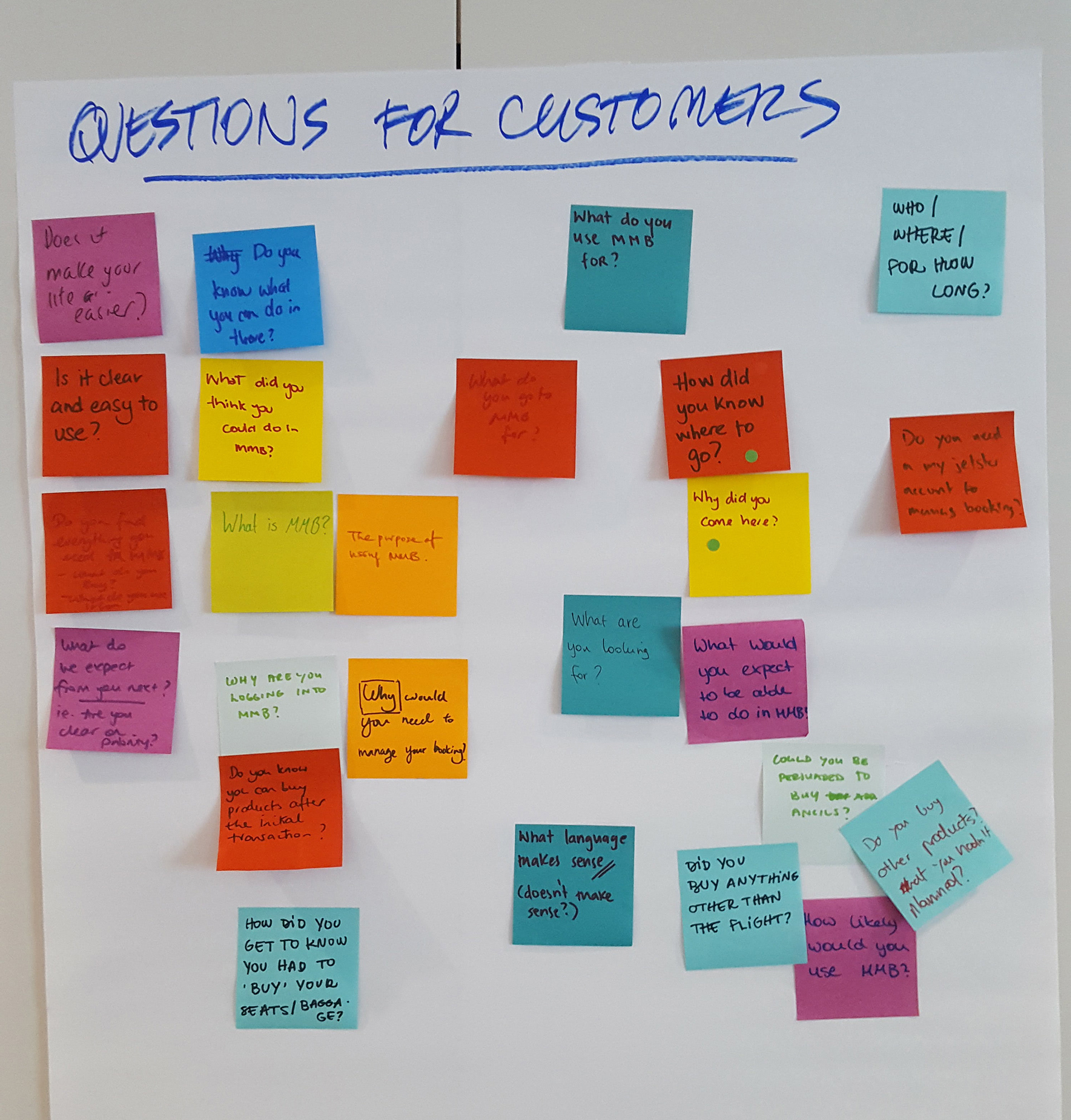 Analytics review
Jetstar will provide an Omniture report, customer care data (NPS and logs), session recordings and heat maps to give us insight on current use, patterns, and an understanding of where are things under utilised. Typical areas we will review include the Your Trip page, Passengers page and the purchase flow. This information will help to guide the new information architecture and to identify opportunities for timely communication of ancillary product offers.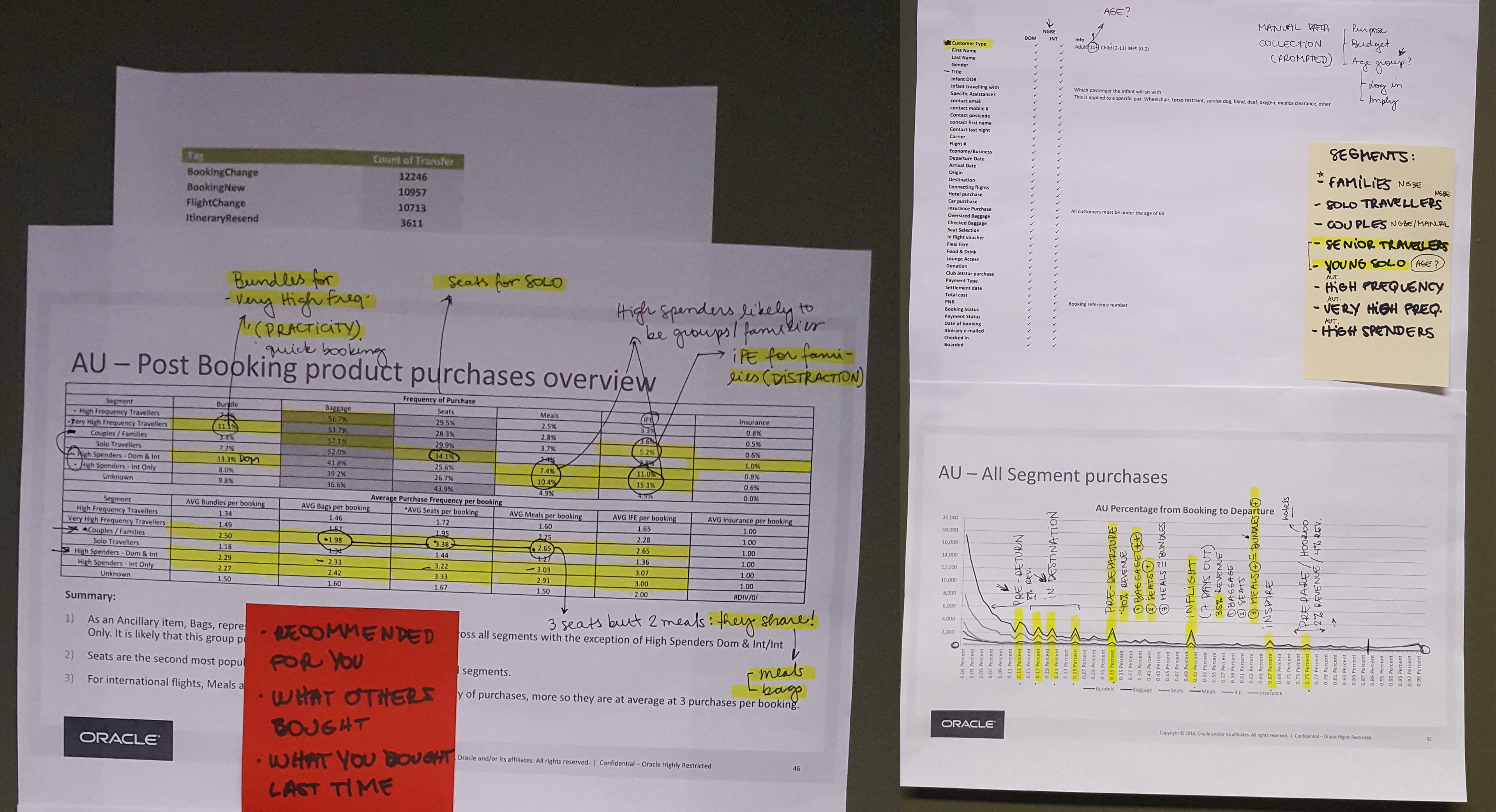 Contextual enquiry
Contextual enquiries allow us to uncover both explicit (conscious) and the implicit (subconscious) behaviours and needs, and can be done collaboratively with business stakeholders if required. 
For this project, contextual enquiry will be conducted at agreed airports to ensure that participants are in the required state of mind.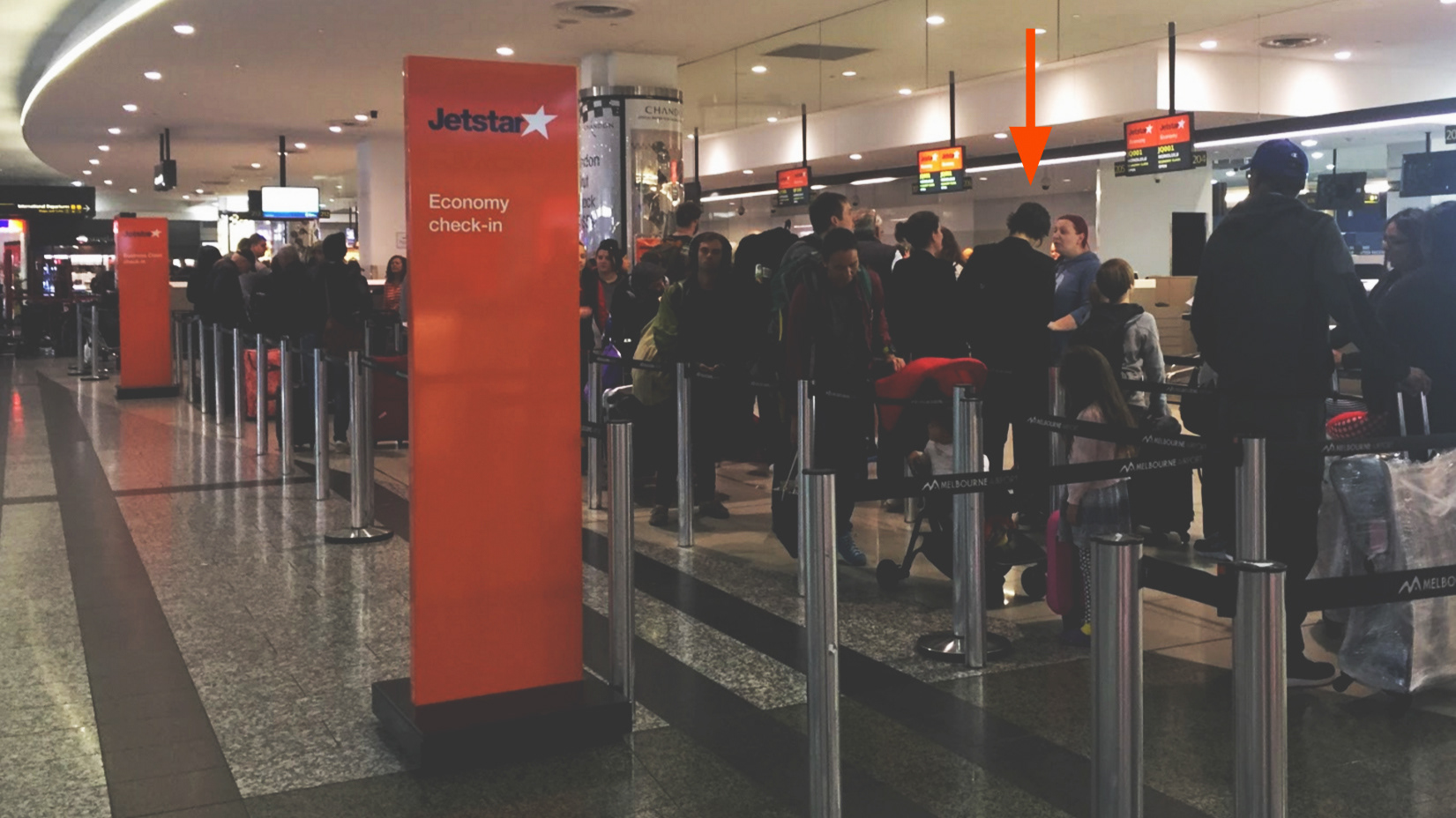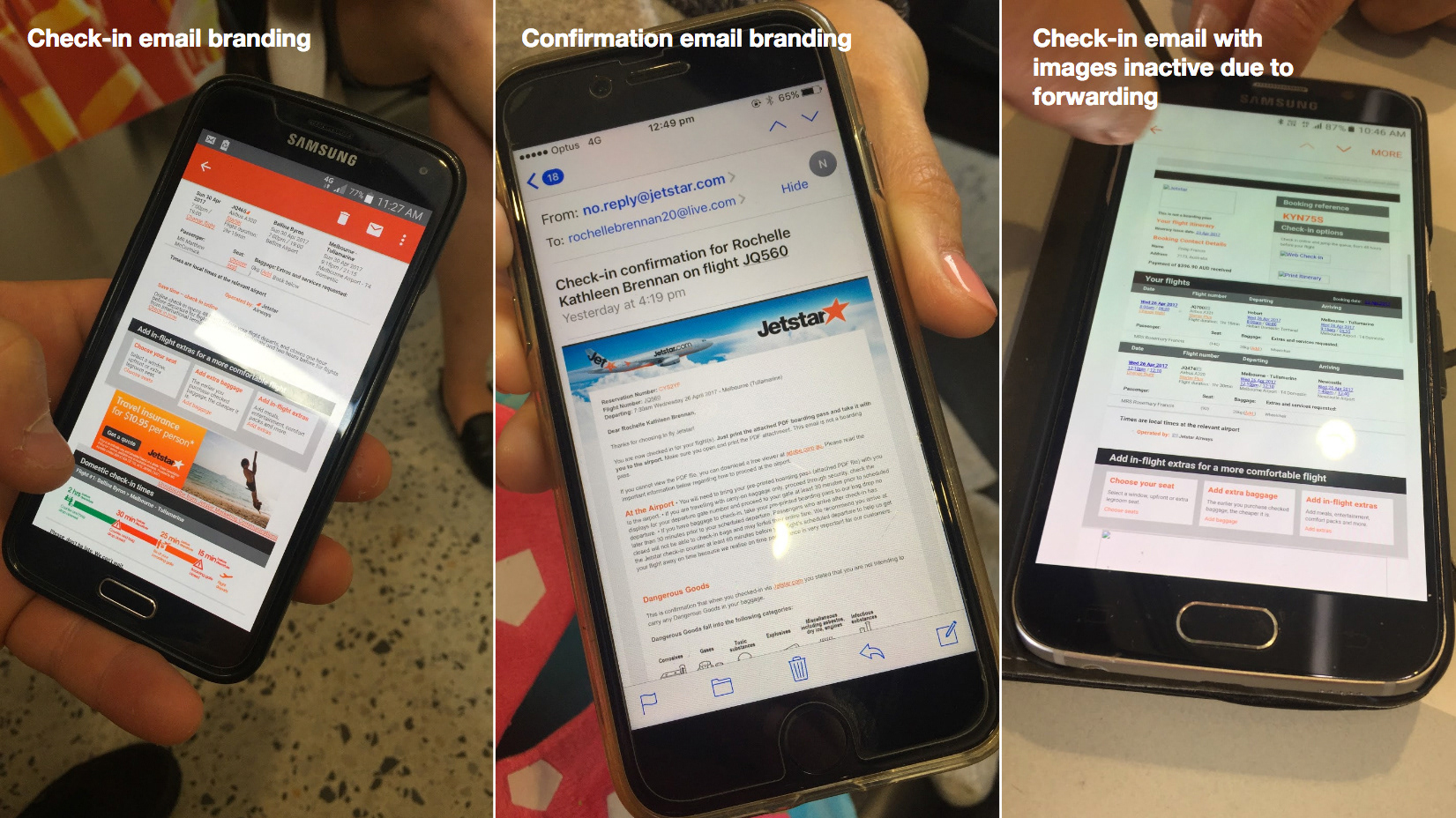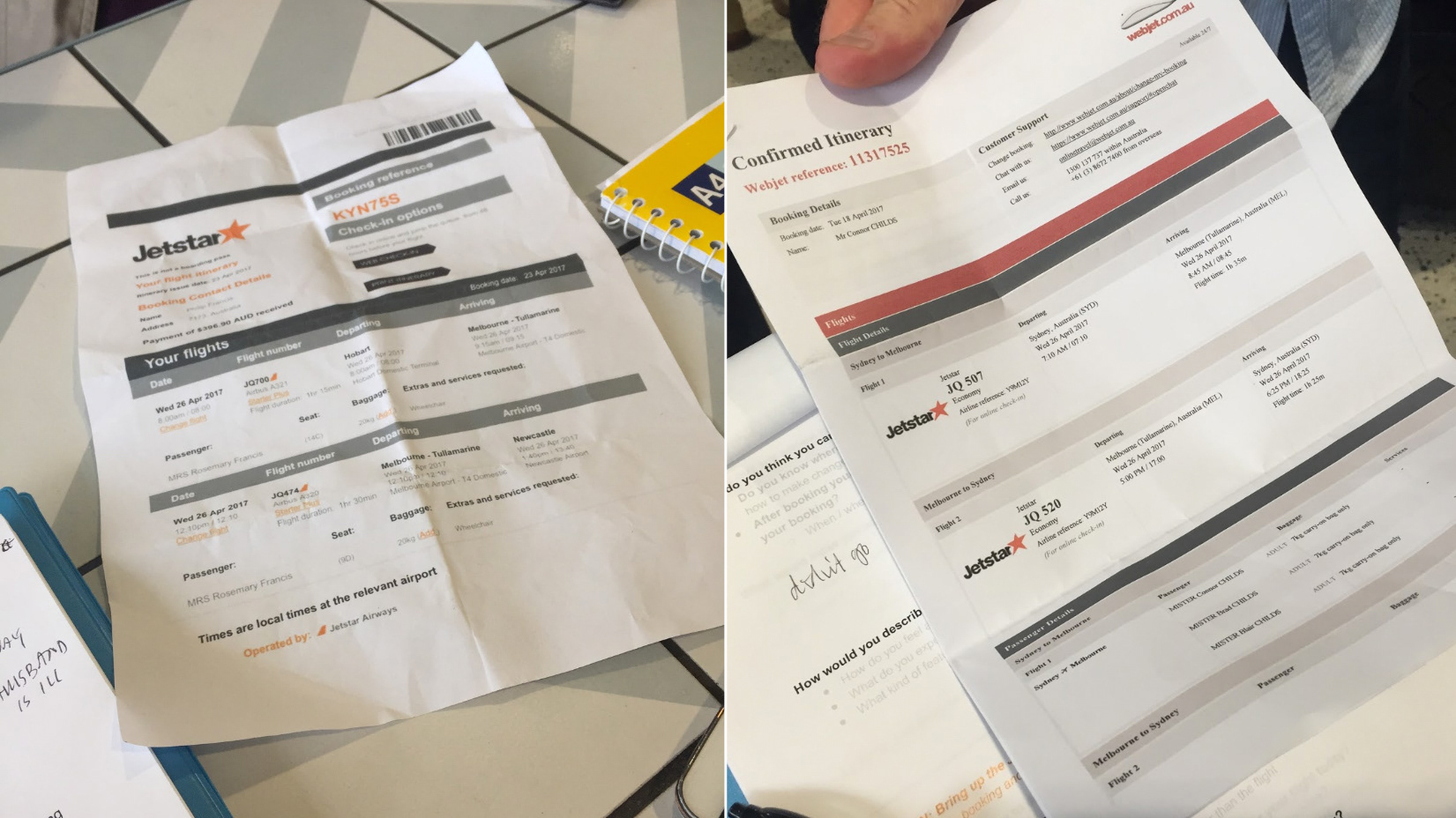 Current customer journey map
Customer journey map is created to help visually describe and better understand the path a user follows through various touchpoints when completing a task. 
By documenting typical paths users take from their entry point, through a set of steps and towards a successful outcome we are able to create an experience vision which shared amongst the product team enables efficiencies in design and development which ensures both the user and business needs are met. 
This deliverable also servers to identify requirements of the systems allowing the users and business to meet these goals. 
Current customer journey user flow:
Getting inspiration
→
Planning
→
Preparing
→
Travelling
→
After trip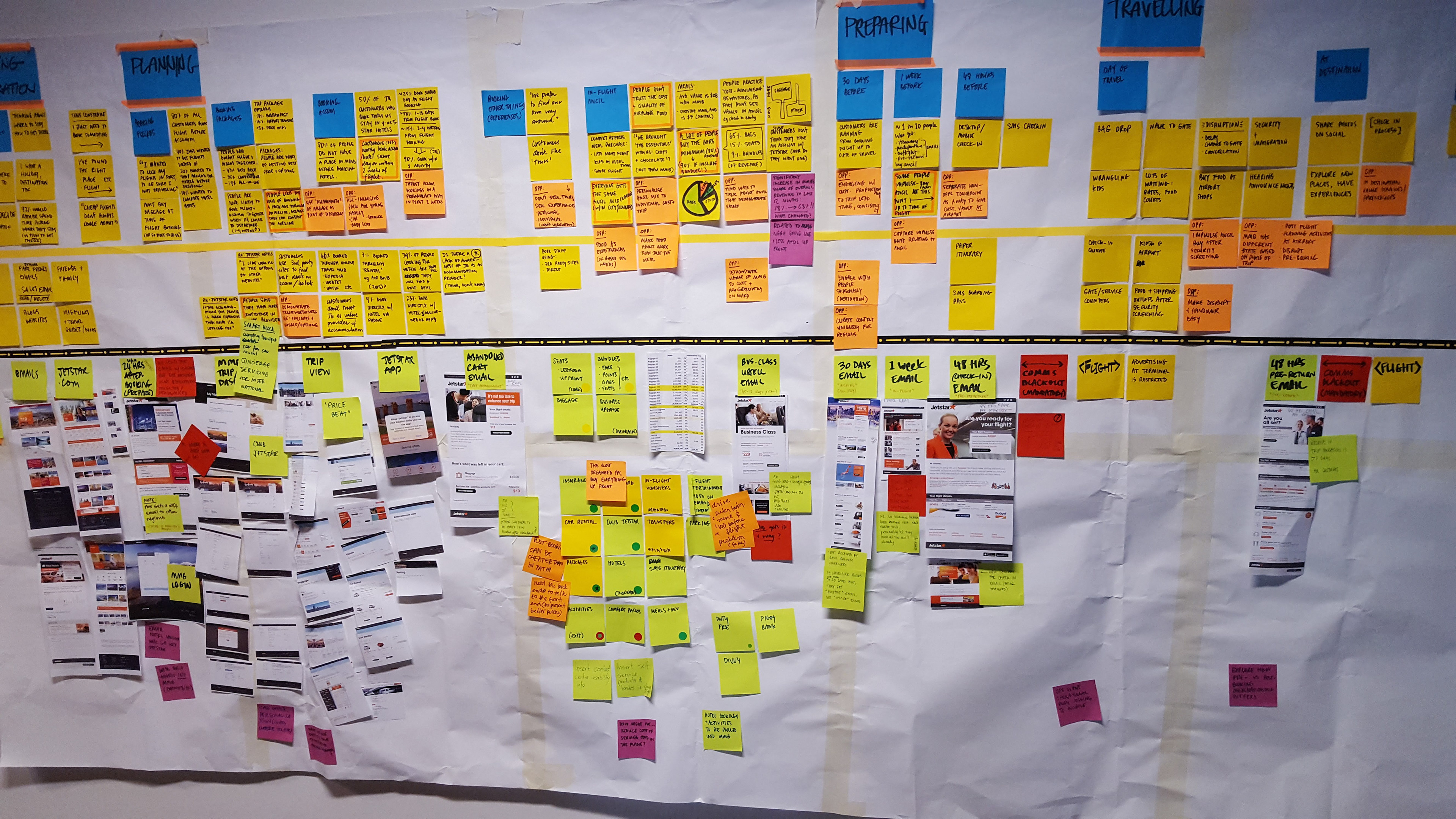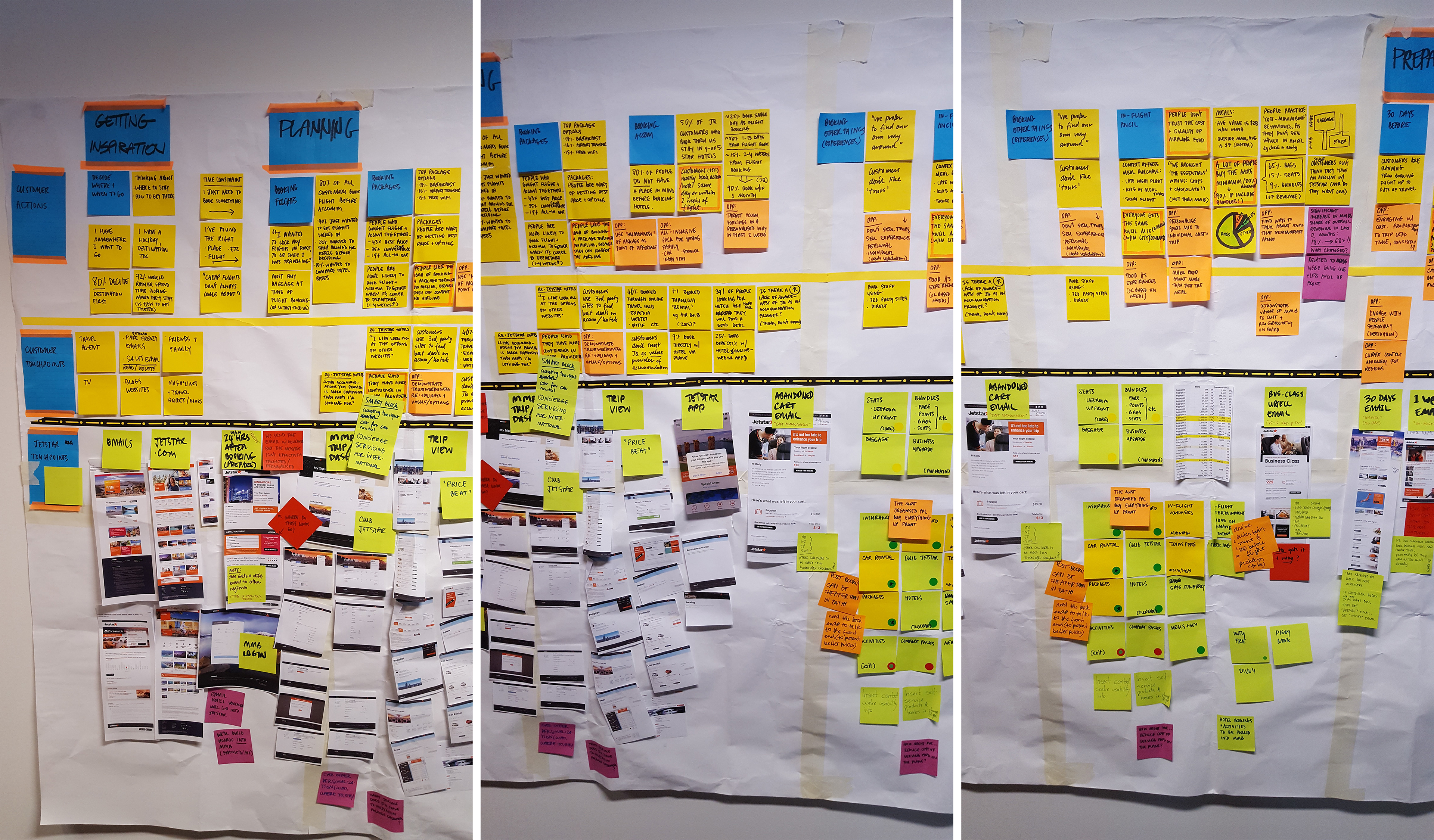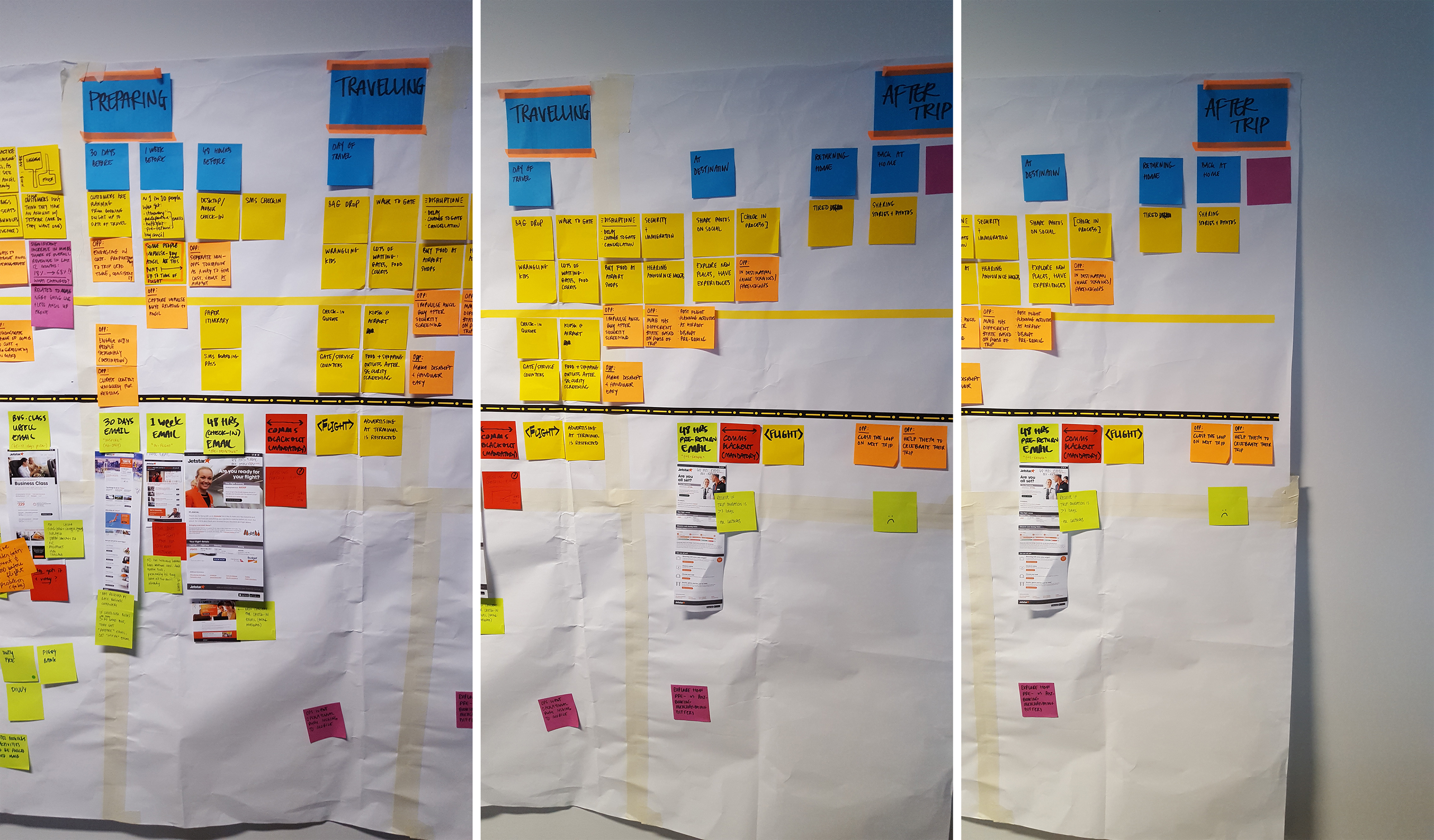 Landscape review
We will carry out a heuristic evaluation of how an agreed number of competitors and players from other industries have approached responsive manage booking/my account design and ancillary revenue generation. A mood board, capturing good and bad solutions to UI, UX and business challenges, will be created. This will be a benchmark document, to be used during Definition and Design activities in later phases. 




Conceptual sprint 
The purpose of this 2-week Conceptual Sprint is to produce various potential design solutions, select the ideal candidate for wire framing, and generate a prototype that can be tested with potential end-users. This is an iterative process over the course of the two weeks. 
Activities:
 Sketching session 
→
 (Prototyping 
→
User testing) 2 rounds 
→
 Learn
During the conceptual sprint, we got people to sketch and draw out their ideas and presented them. We later grouped them according to themes.

Ideas are prioritized based on
innovative/conventional
vs meets this
challenge/meets another challenge
.

Design principles
Sell
experiences
, not products
Personalization
is our baseline
Expose
meaningful detail
early
Prototyping
3 months before travel concept
Users tend to book flights on a desktop. From research, we know that users tend to book accommodation after flights. Hence we promote accommodation further up top. We also know that in tandem with airlines sites, users use other 3rd party booking sites to look for accommodation and compare prices. Sense of trust is an important element to making sure users get the best value hence endorsement from reputable travel sites or merchandising badges give affirmation.
The IA is structured with "prepare to fly" first following with "destination guides" as that is how people would plan their trips. Content is curated and personalized in a task oriented checklist and is skewed towards being more inspirational.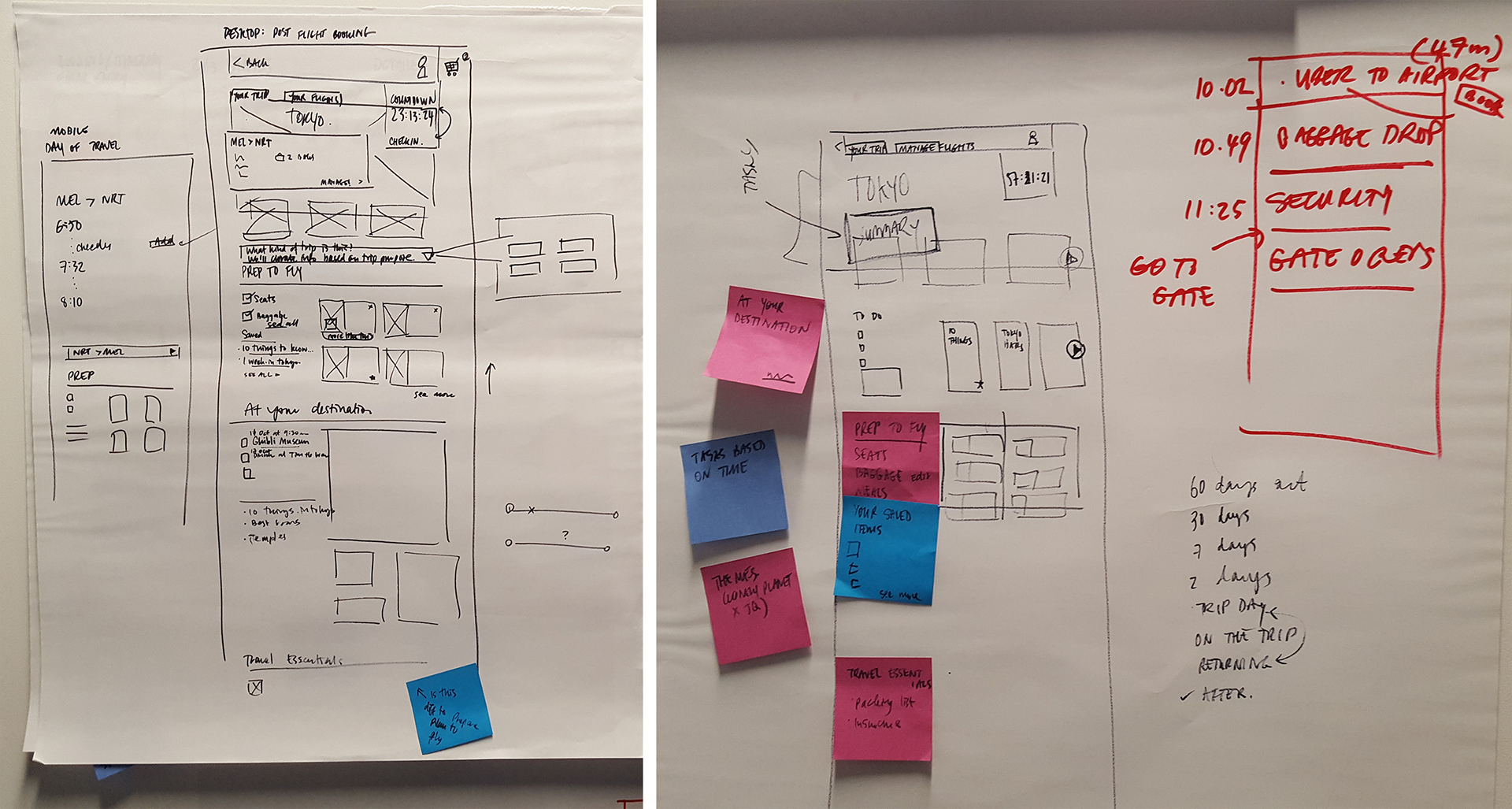 It is mocked on a mobile device as based on research this is how users normally interact with MMB. Based on earlier discovery work, we know that users want functional, contextual and useful information that will help them navigate around the trouble of getting to the airport at ease. Secondary information like "prepare to fly" and "destination guides" are collapsed. On the day of travel, users are also more impulsive when it comes to purchasing ancil products.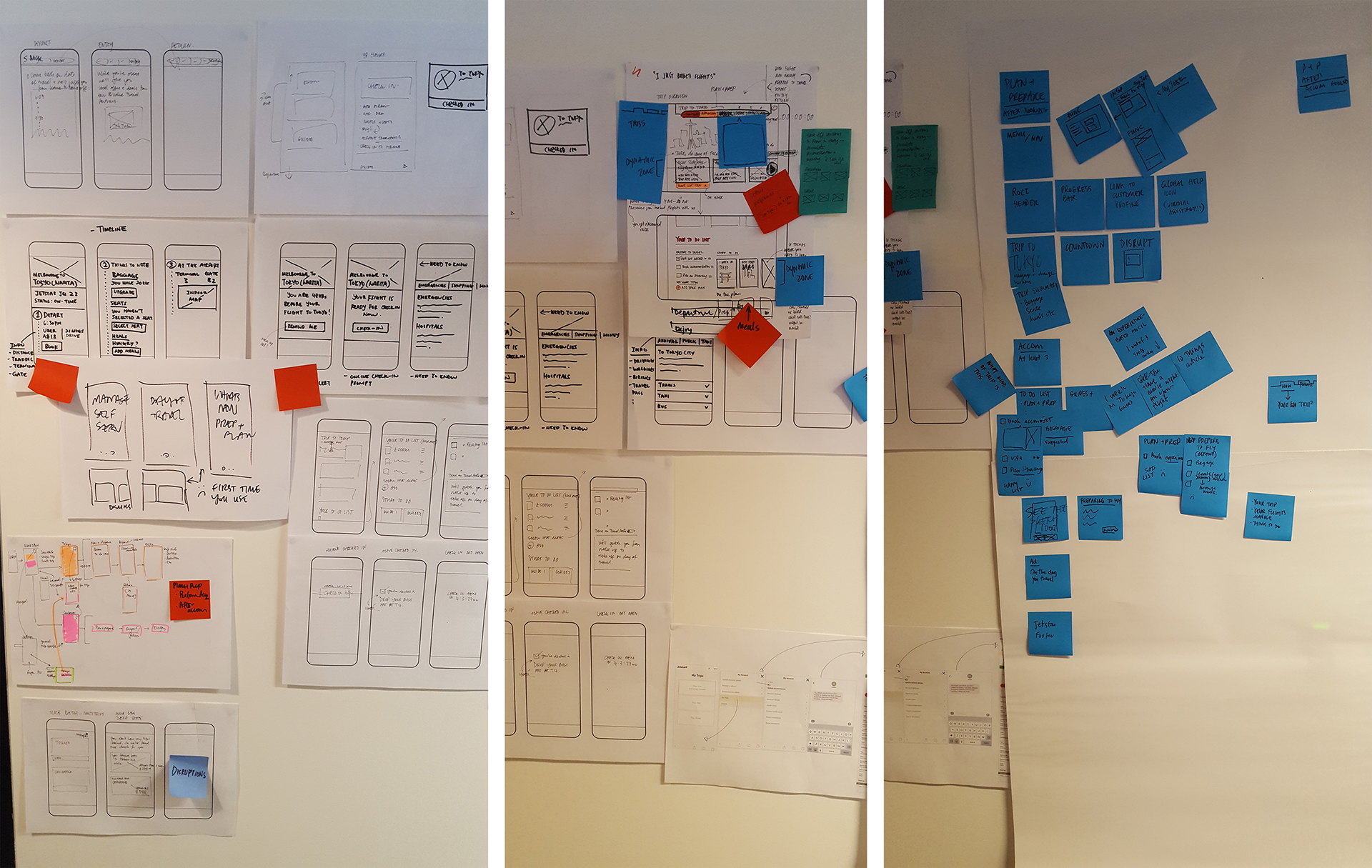 Residing within the MMB account page. This is essentially a page where we collate all your upcoming trips, past trips and saved trips. Based on your previous travels, the system will also provide tailored trip recommendations.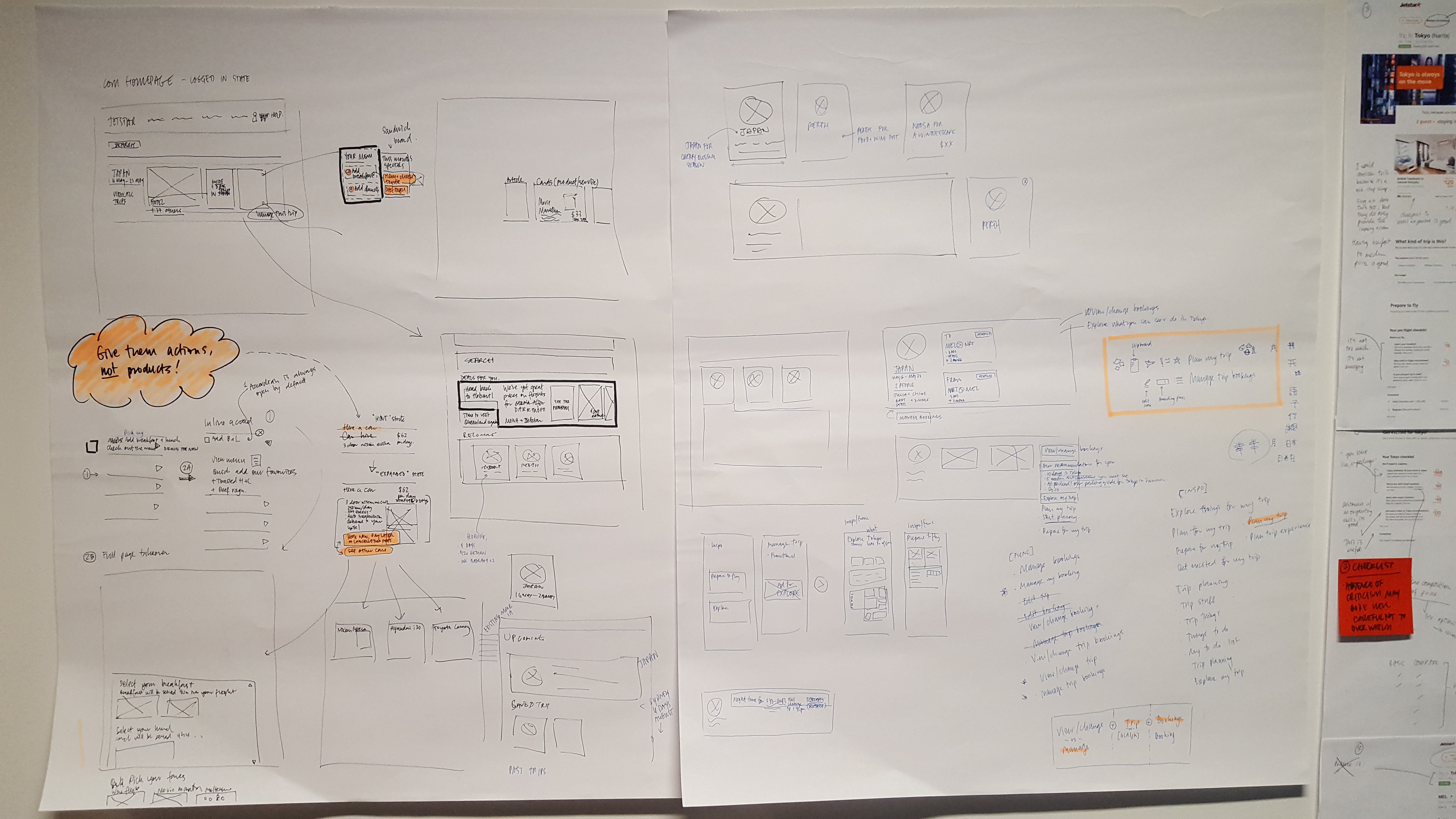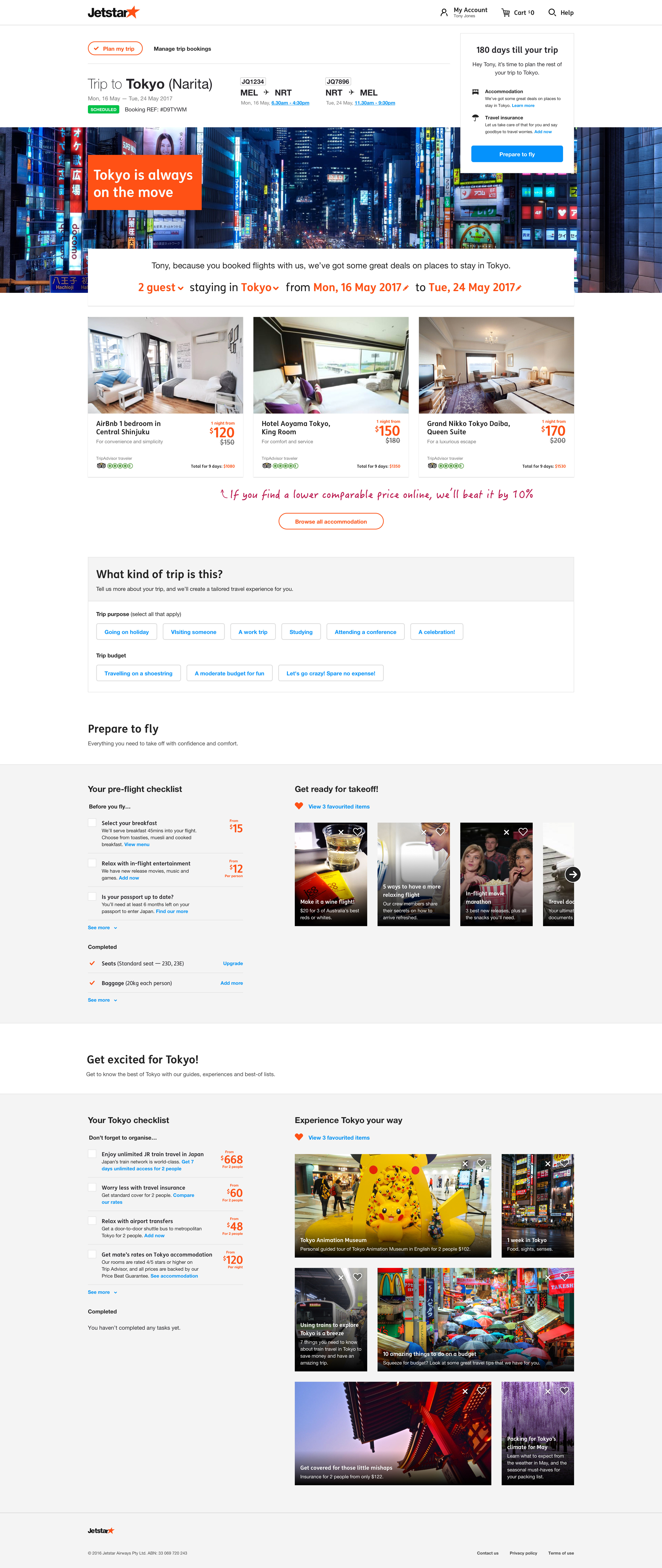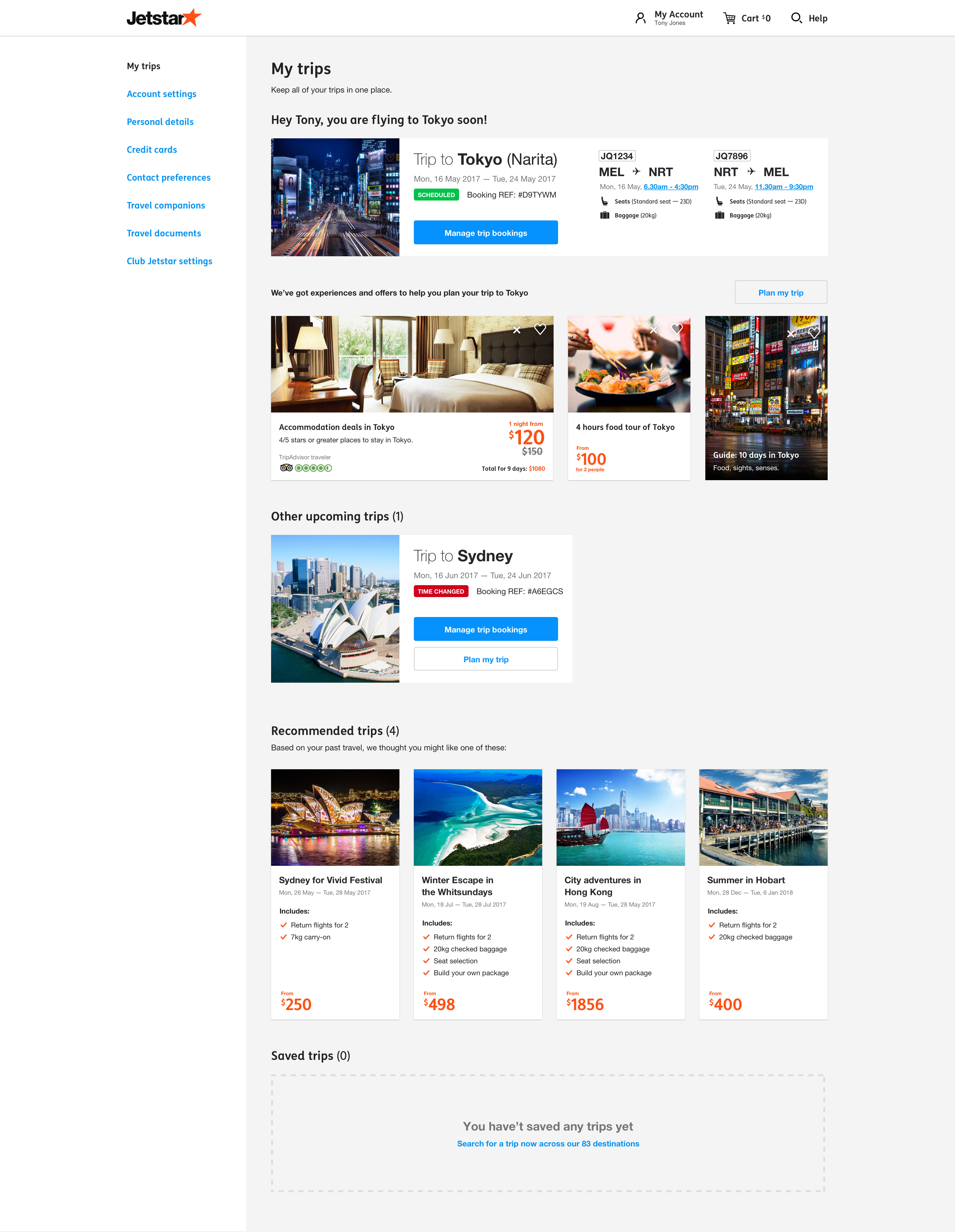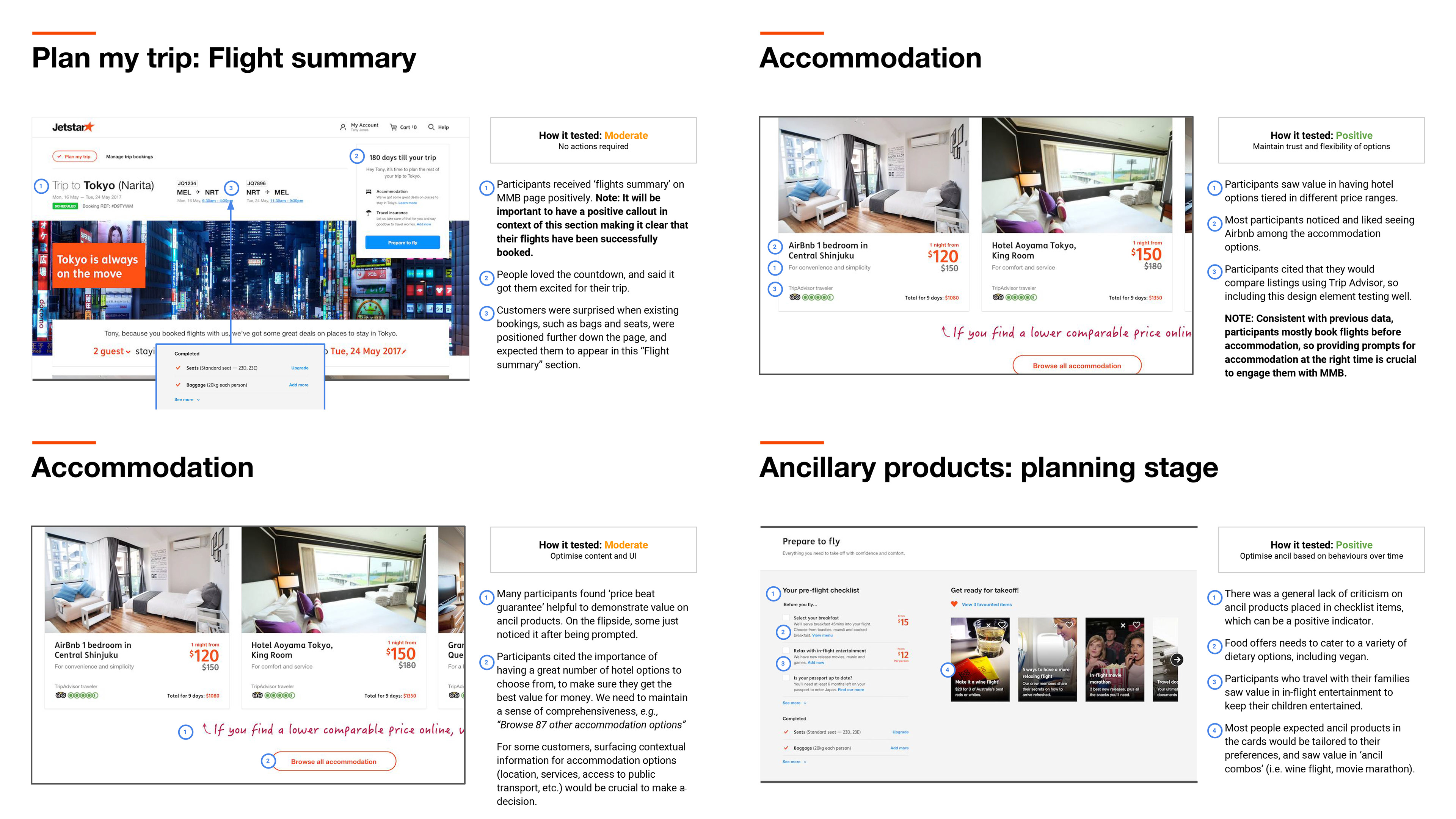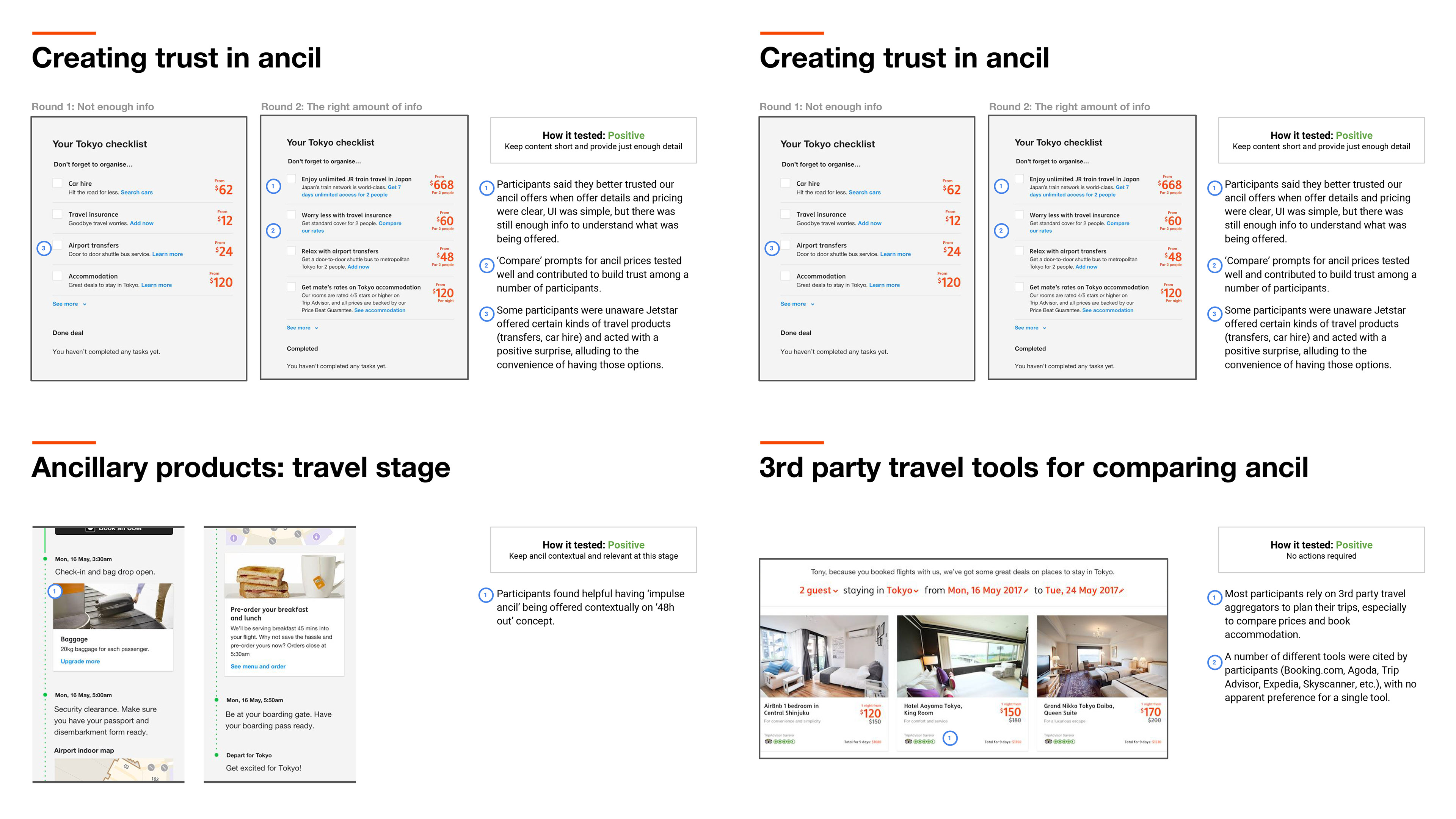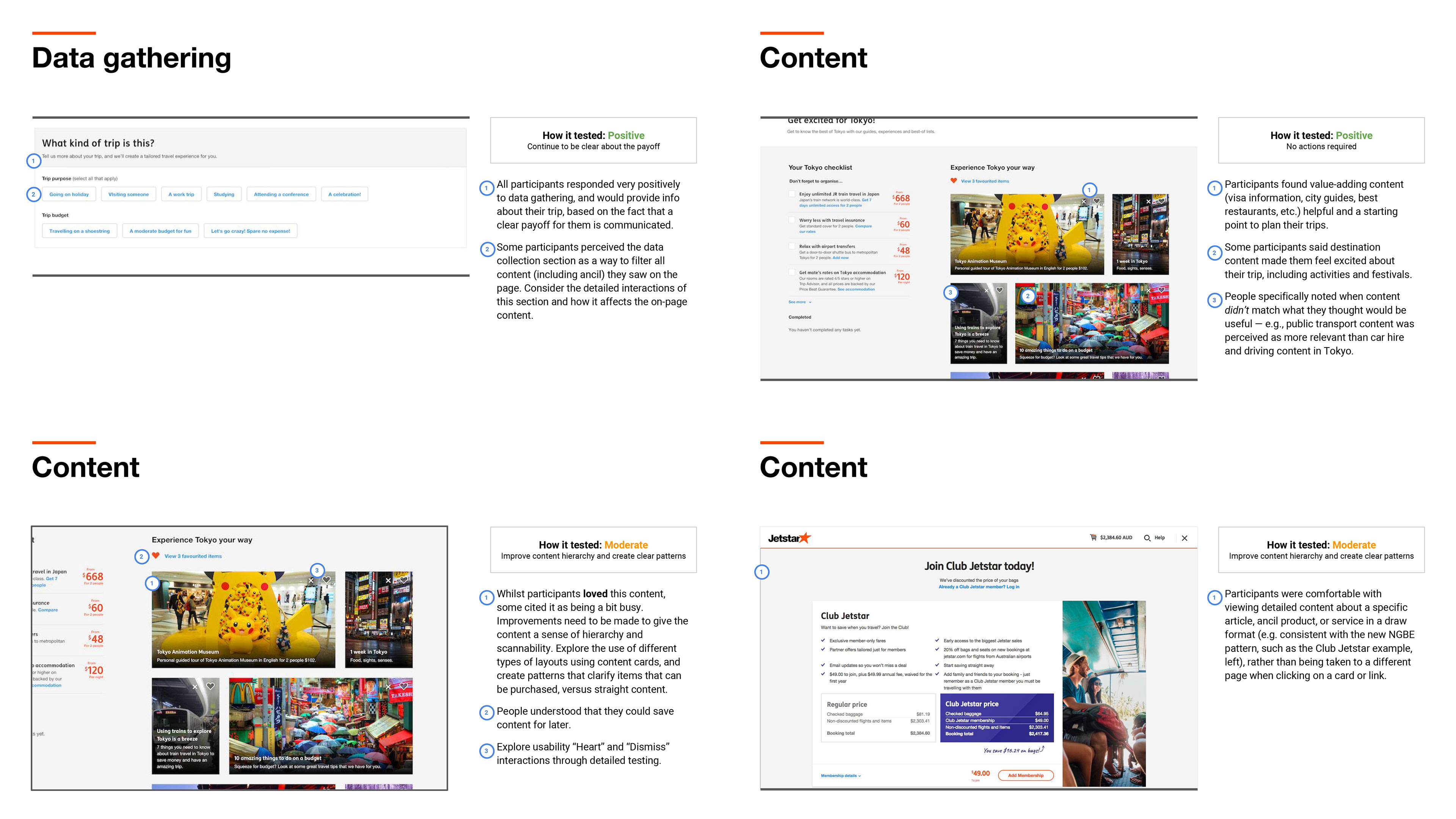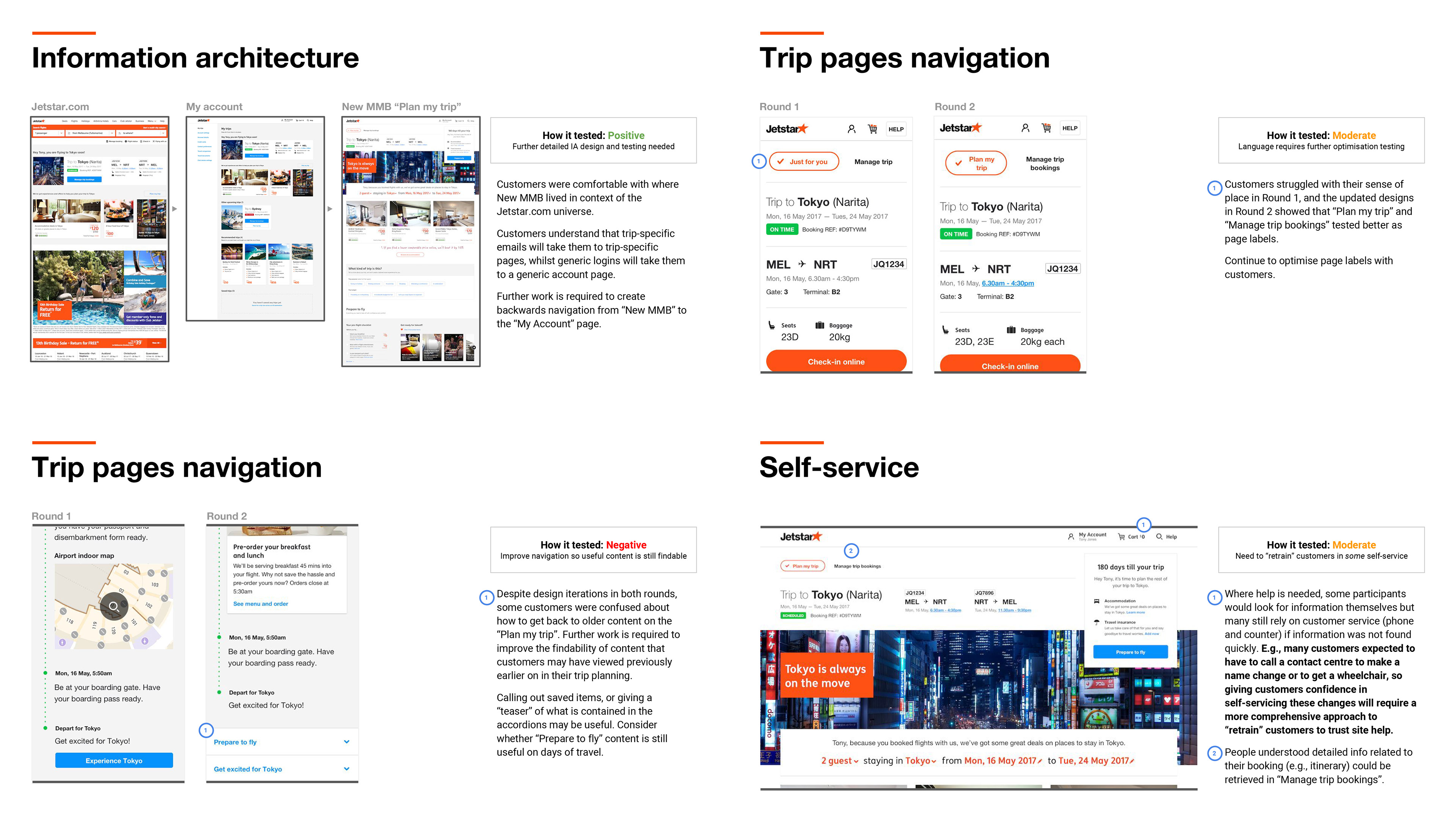 User testing
We ran 2 rounds of UT with 6 participants per round.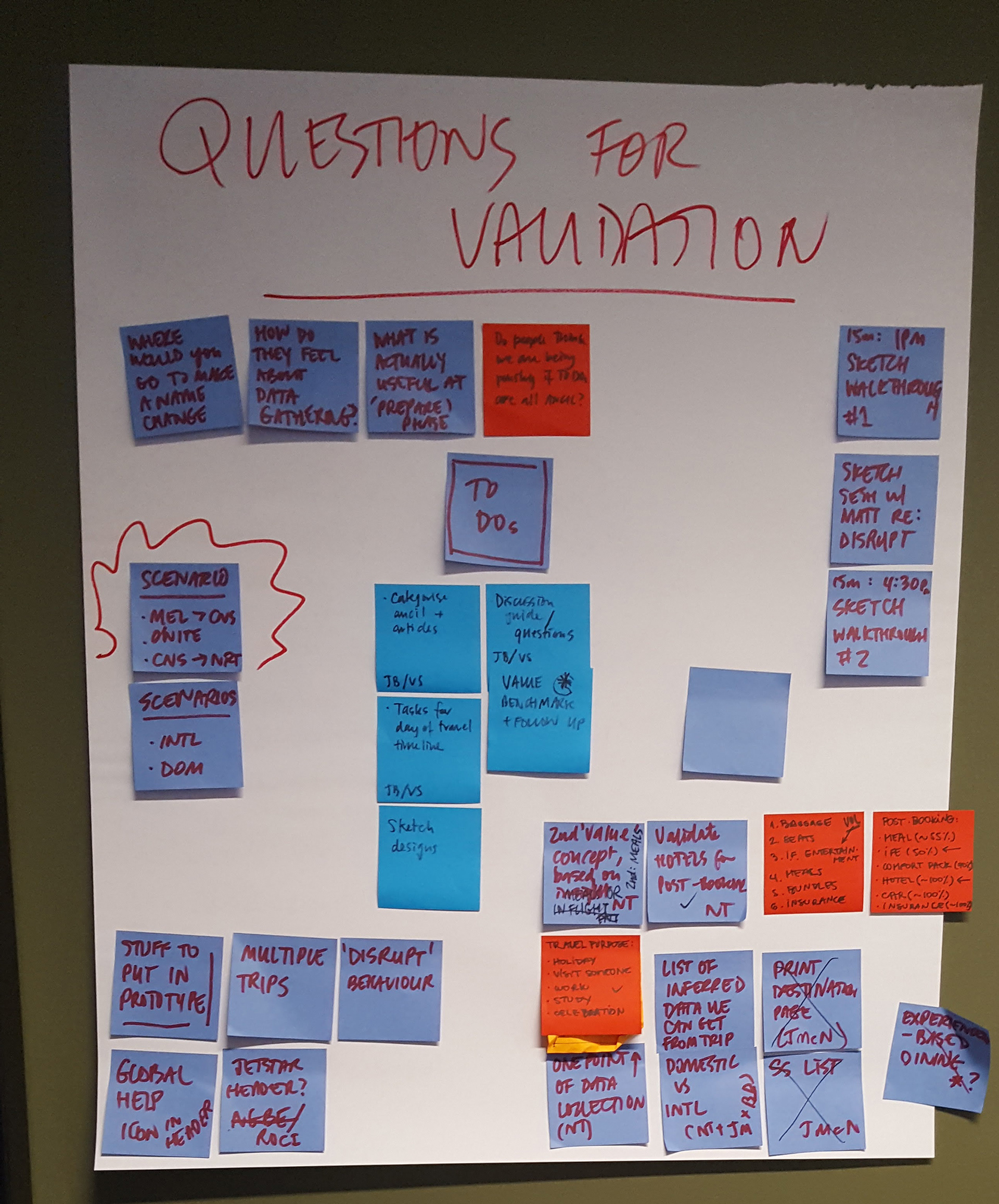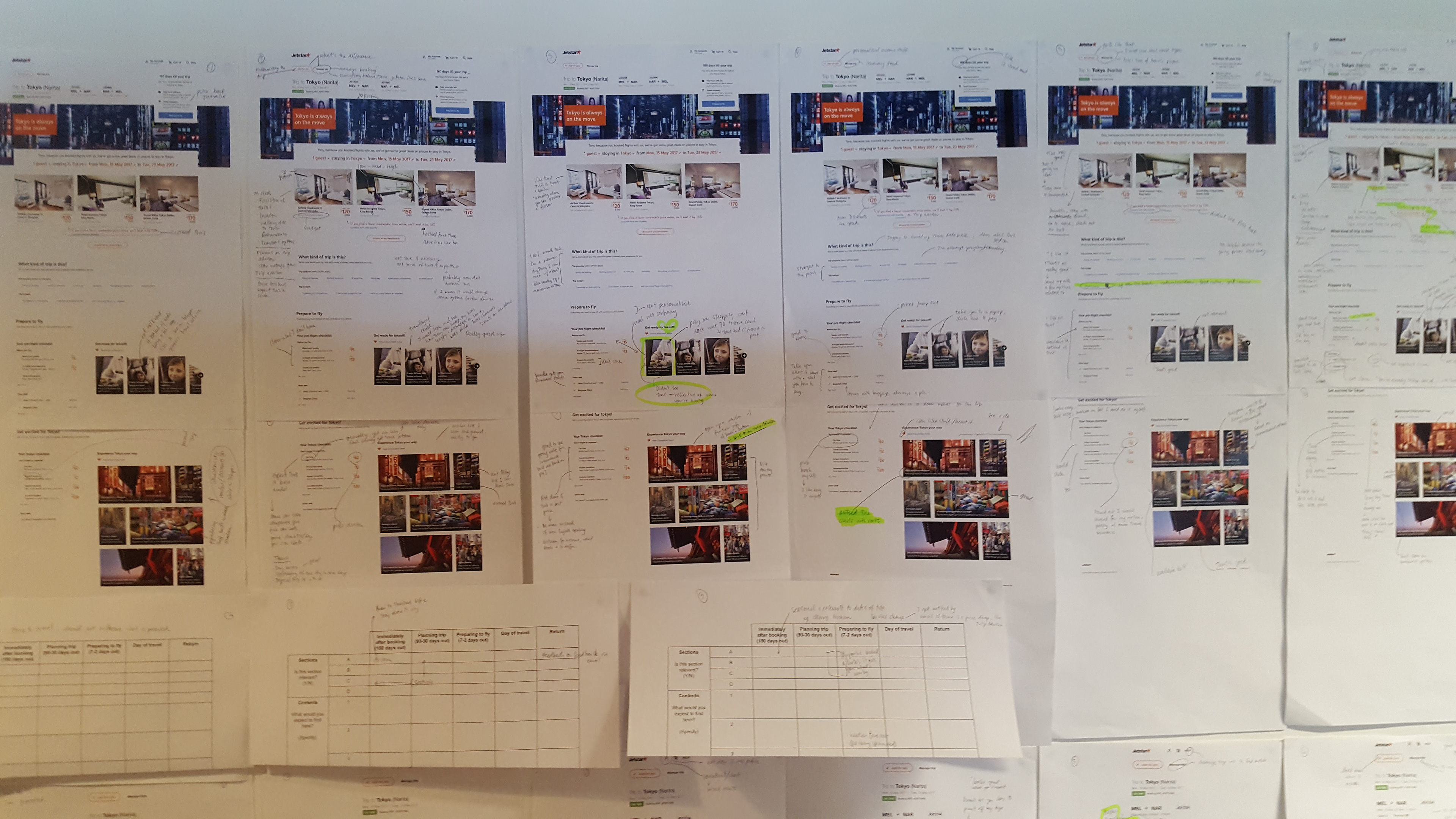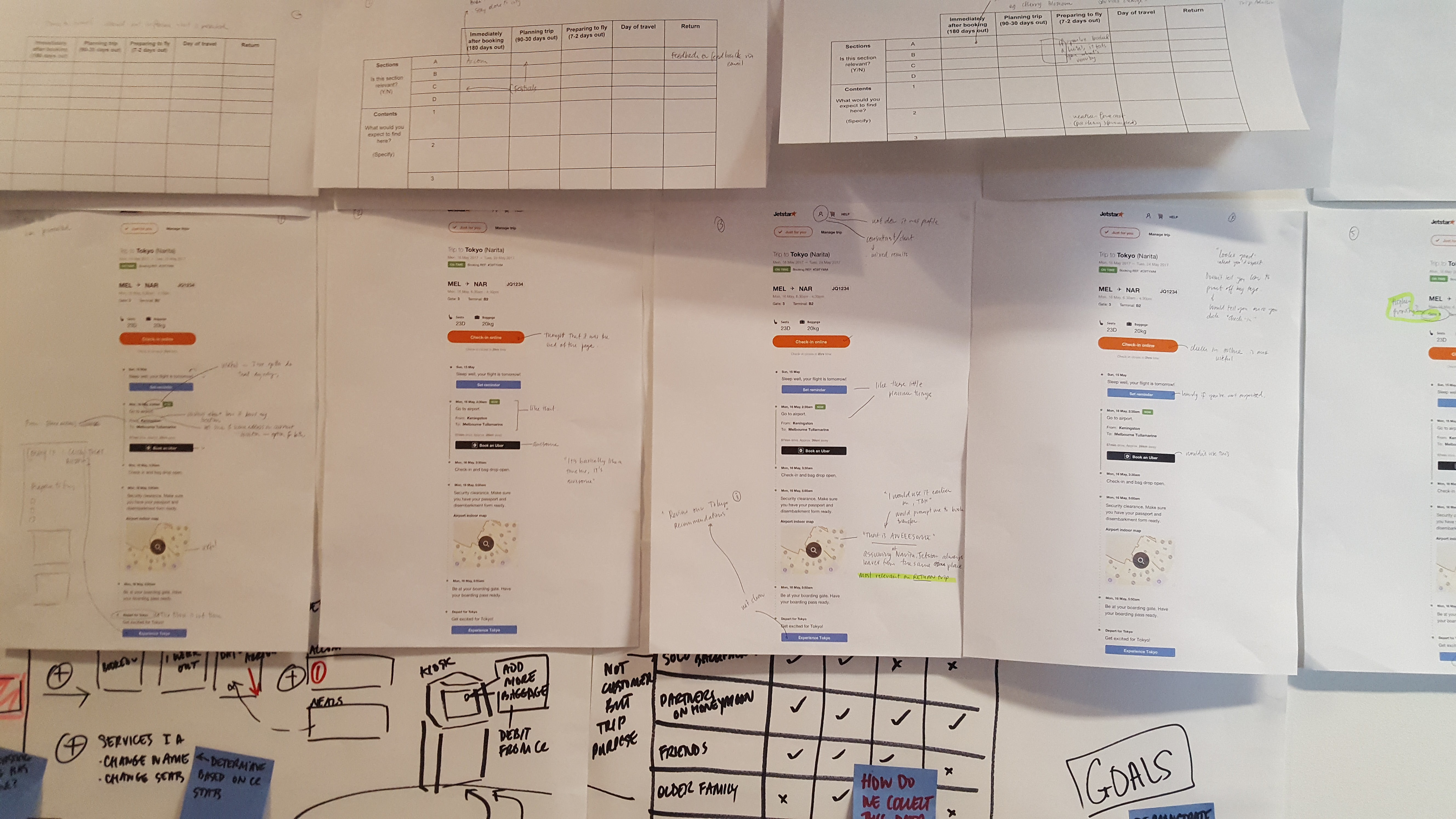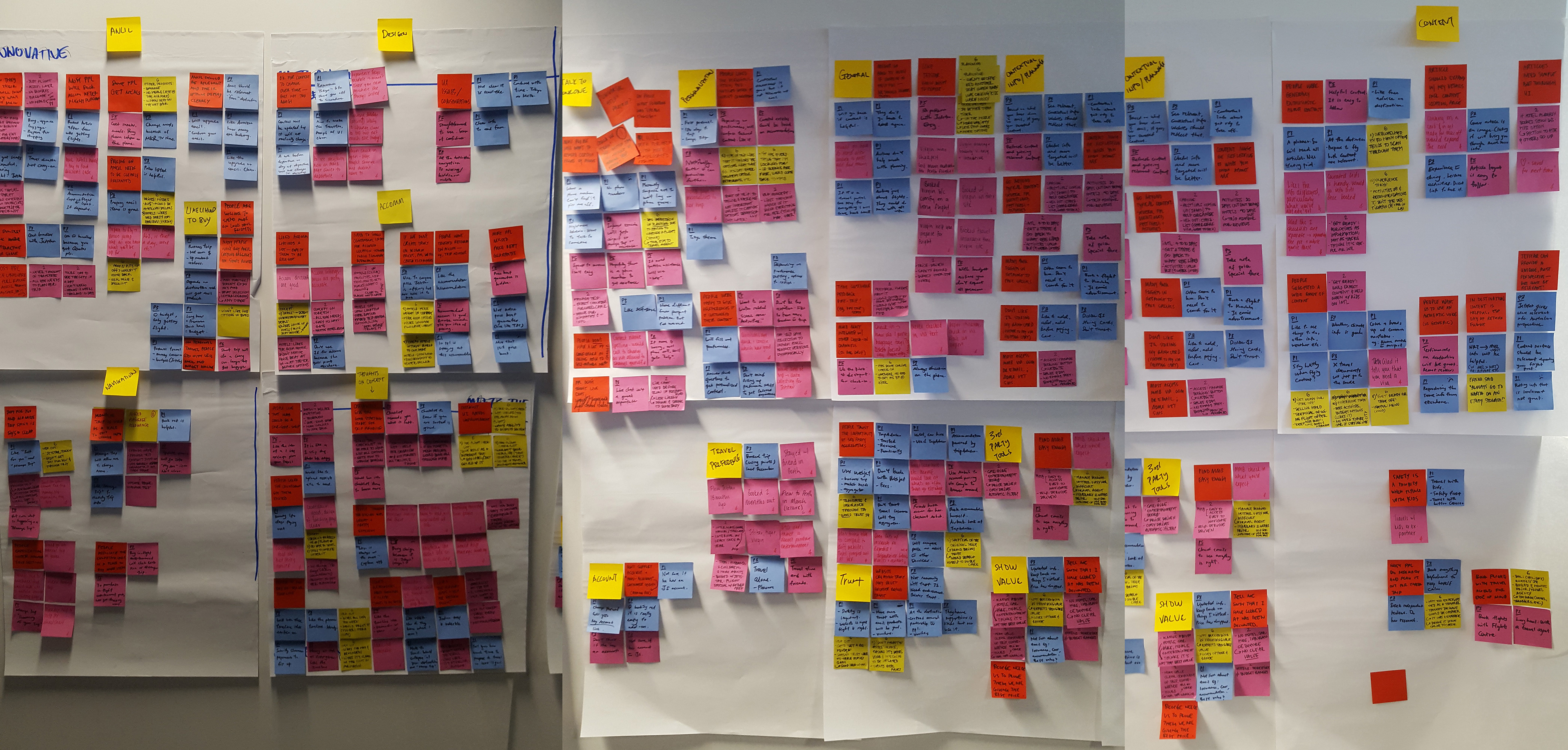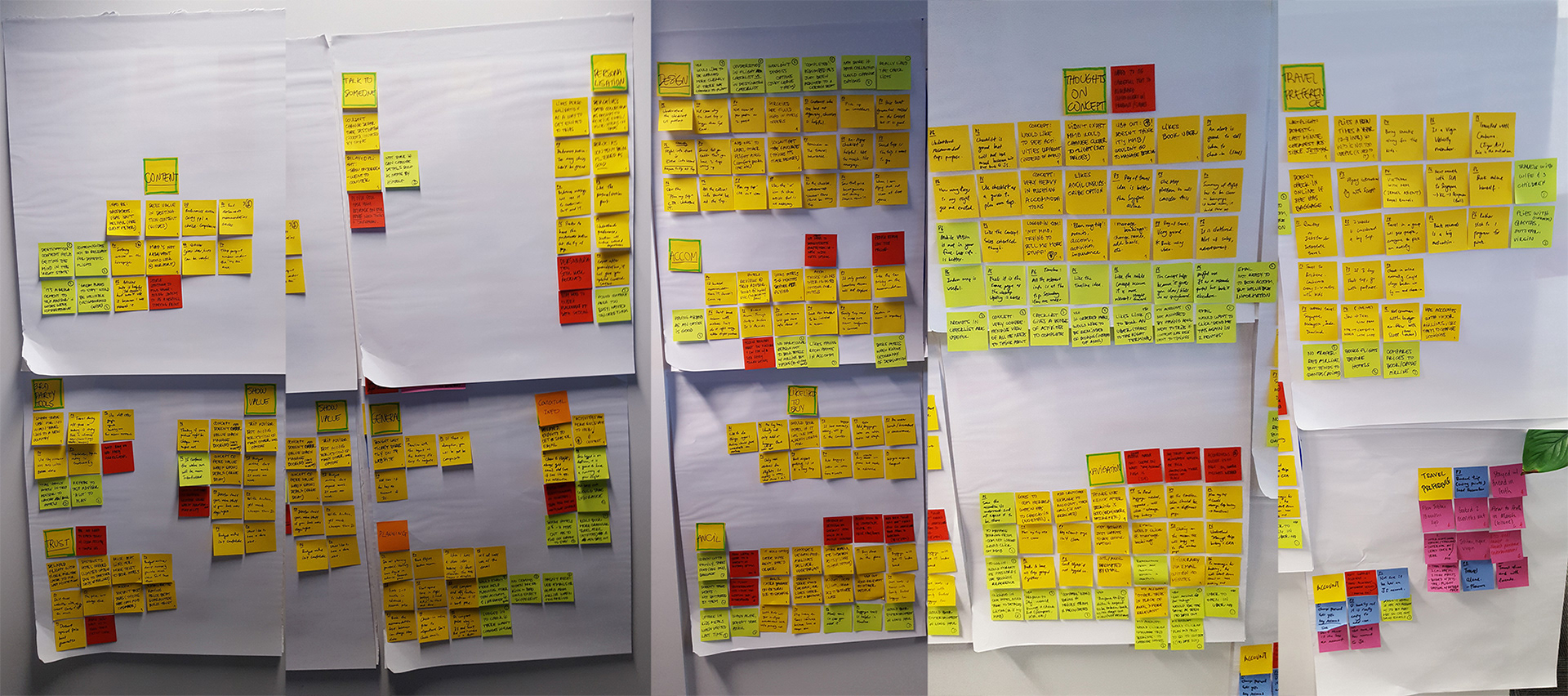 Overall, customers reacted very positively to the concept.
Value + Ancil =
😍
Customers will be more accepting of ancillary product sales if they are in context of content that is truly valuable to their trip.
Page states =
👌
Customers will be ok with us serving up different content at different times.
Personalised content =
💖
Customers expect us to optimise content to their trips and behaviours.
Useful content =
🔁
Customers would be more likely to return to MMB if offered valuable trip content.
Data collection =
😄
Customers will be ok with us collecting their trip data if there is a useful payoff.