Jetstar — Club Jetstar
Discovery Phase
The Club Jetstar program has recently had its benefits updated to include cheaper prices on various products including flights, the business has a goal of significantly increasing the membership to this program.  Jetstar need to heavily promote the awareness, engagement with and sign-up of their "Club Jetstar" program. The sign-up process must be able to happen during the booking process within the booking engine.
The design solution should easily identify the value proposition of Club Jetstar membership. Allow customers who have Qantas Frequent Flyer points to view and pay for flights as they have been identified as high value.  It also needs to have a positive or neutral overall effect on booking engine conversion (i.e not negatively impact conversion or customer experience).
Competitor analysis
We identified our competitors and also brands from other industries to evaluate their strategies to determine their strengths and weaknesses relative to those of own product or service.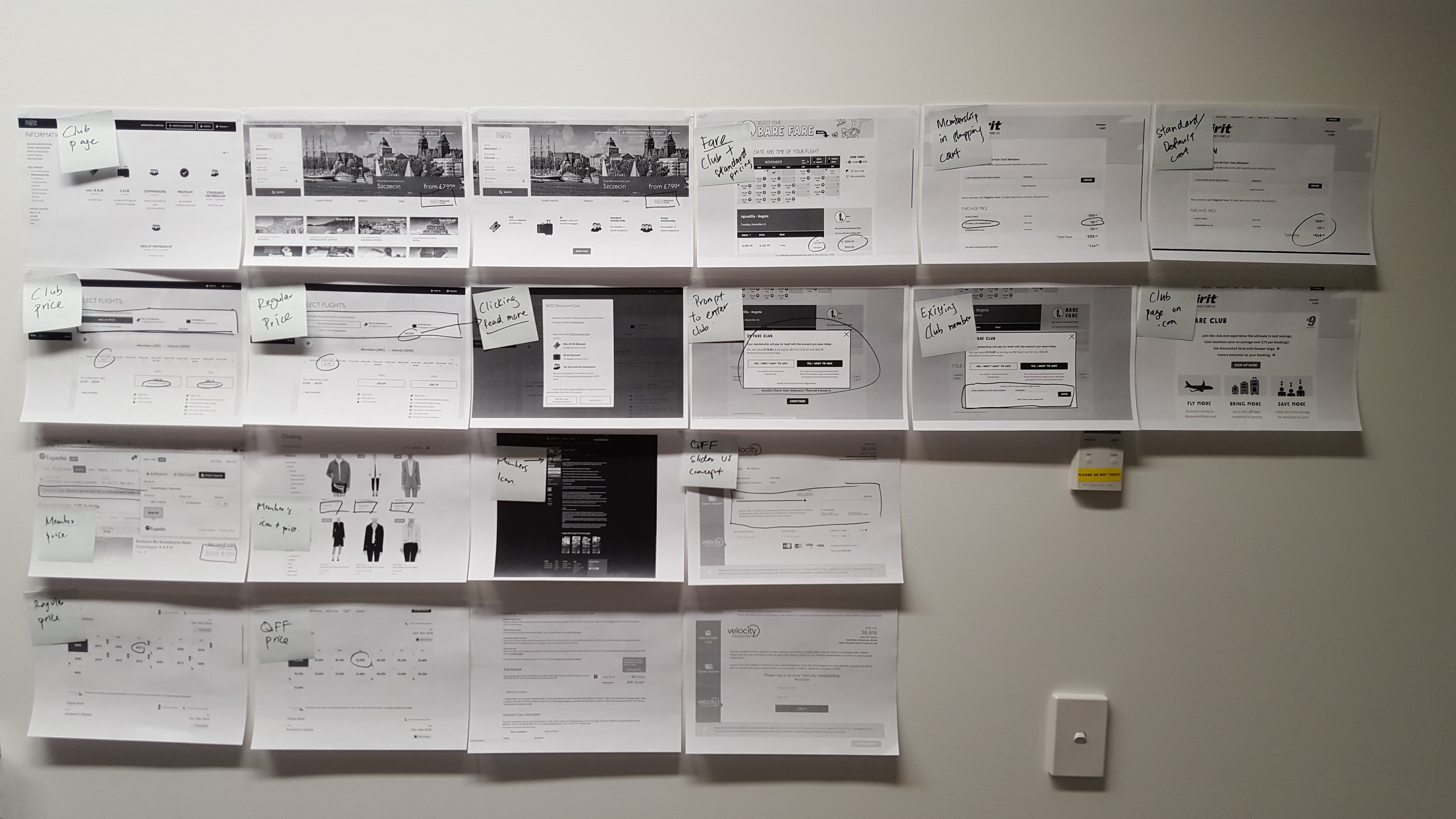 User journey & User stories
We printed out the current user flow and added post-it notes with new user stories we expected. The creation of user stories help to capture a description of the product's feature from an end-user perspective. The user story describes the type of user, what they want and why. It creates a simplified description of a requirement.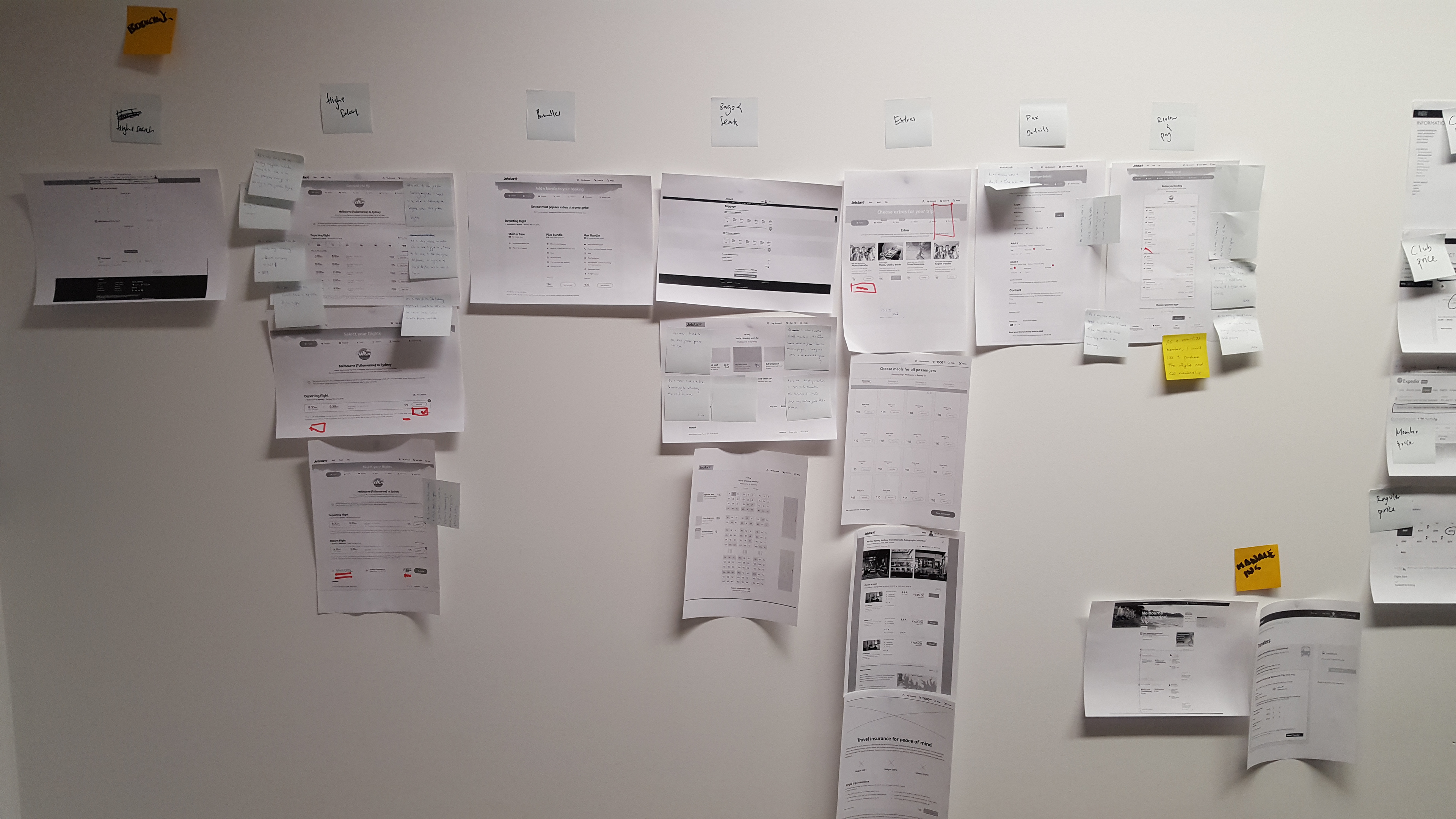 Story mapping & Prioritization
For each different digital channel, we have created relevant "EPIC". It is essentially a large body of user stories that can be broken down into a number of smaller stories. We have mapped the smaller user stories (post-it notes) under each EPIC.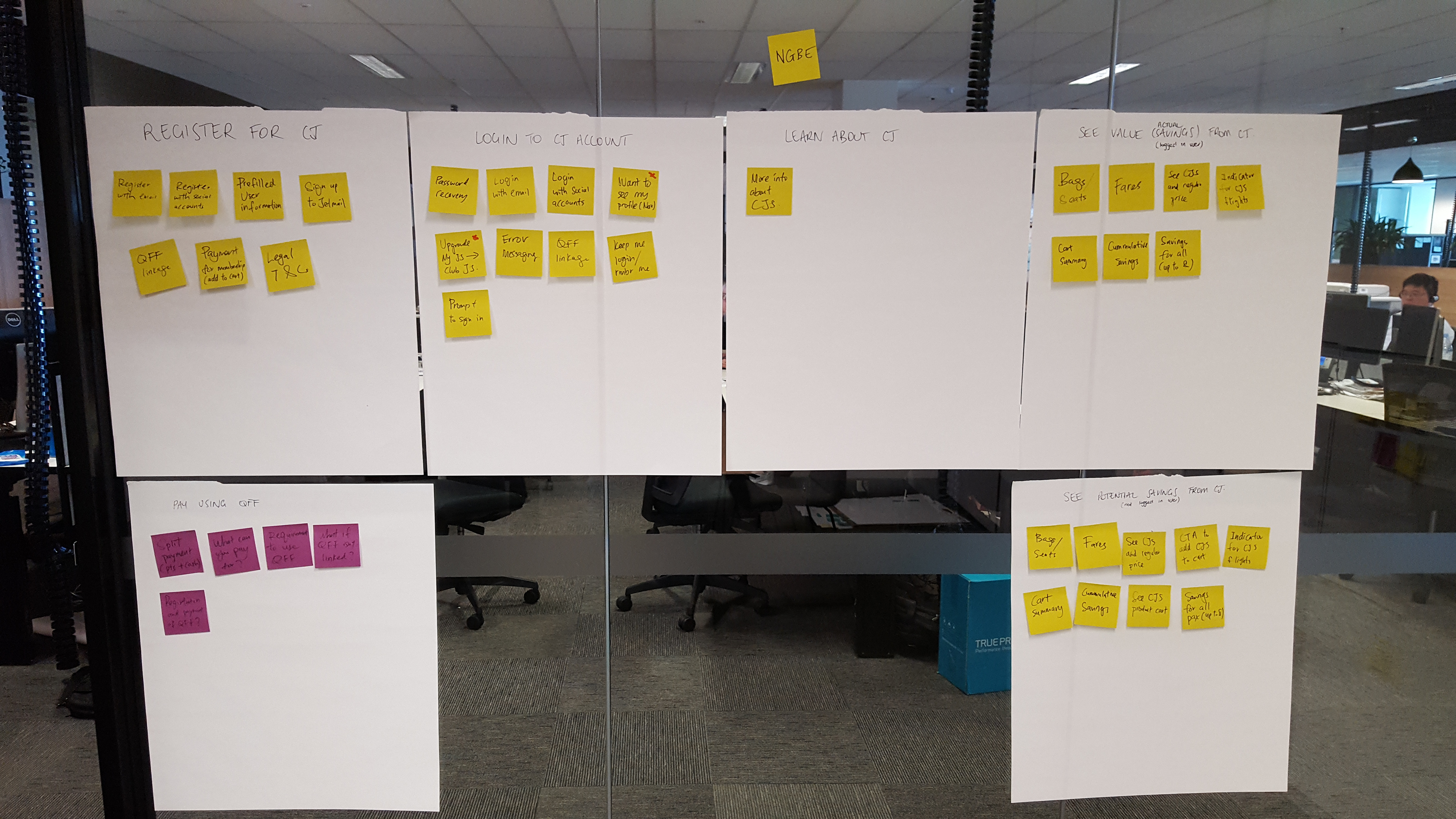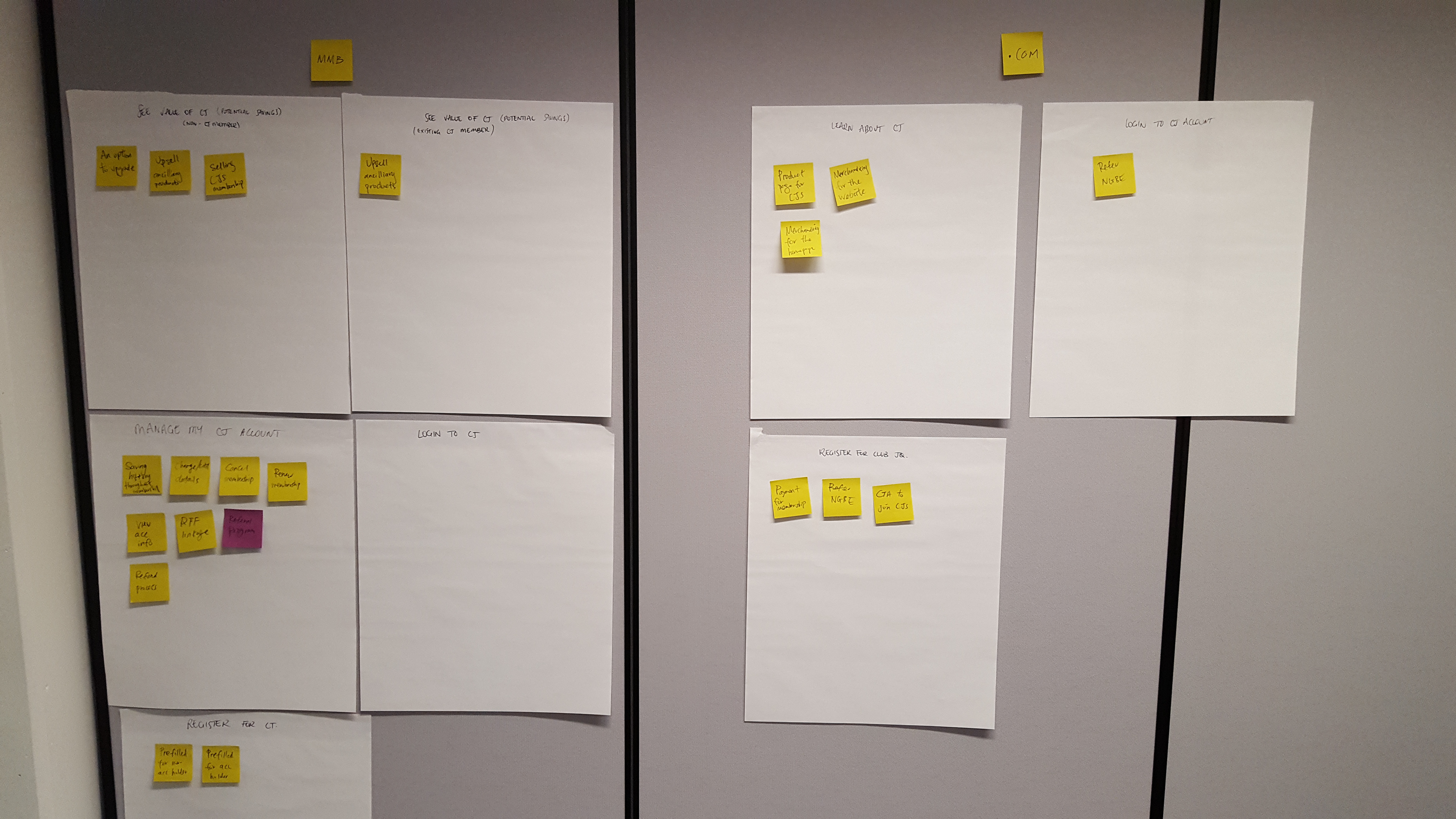 A four quadrant method was used to prioritize what features we were going to focus on. It helps identify activities that are high value and those that are low in effort.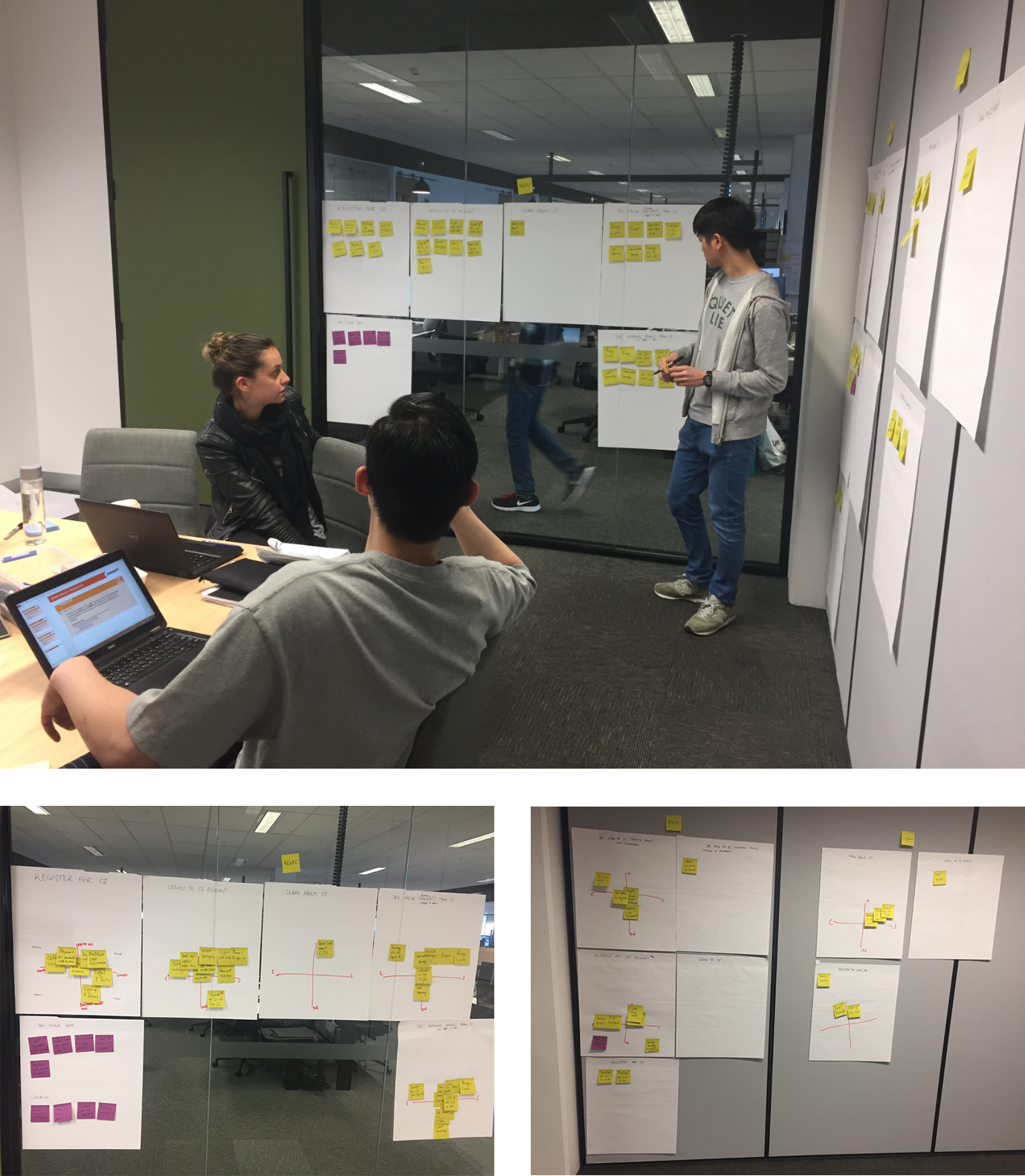 Design jam (Club Jetstar vs Non Club Jetstar)
A design jam was ran among a team of UX, interaction and visual designers to quickly generate and brainstorm ideas.
With just post-it notes, we sketch or write down UX and UI improvements that have to be made in order to cater for both Club Jetstar and non Club Jetstar user groups.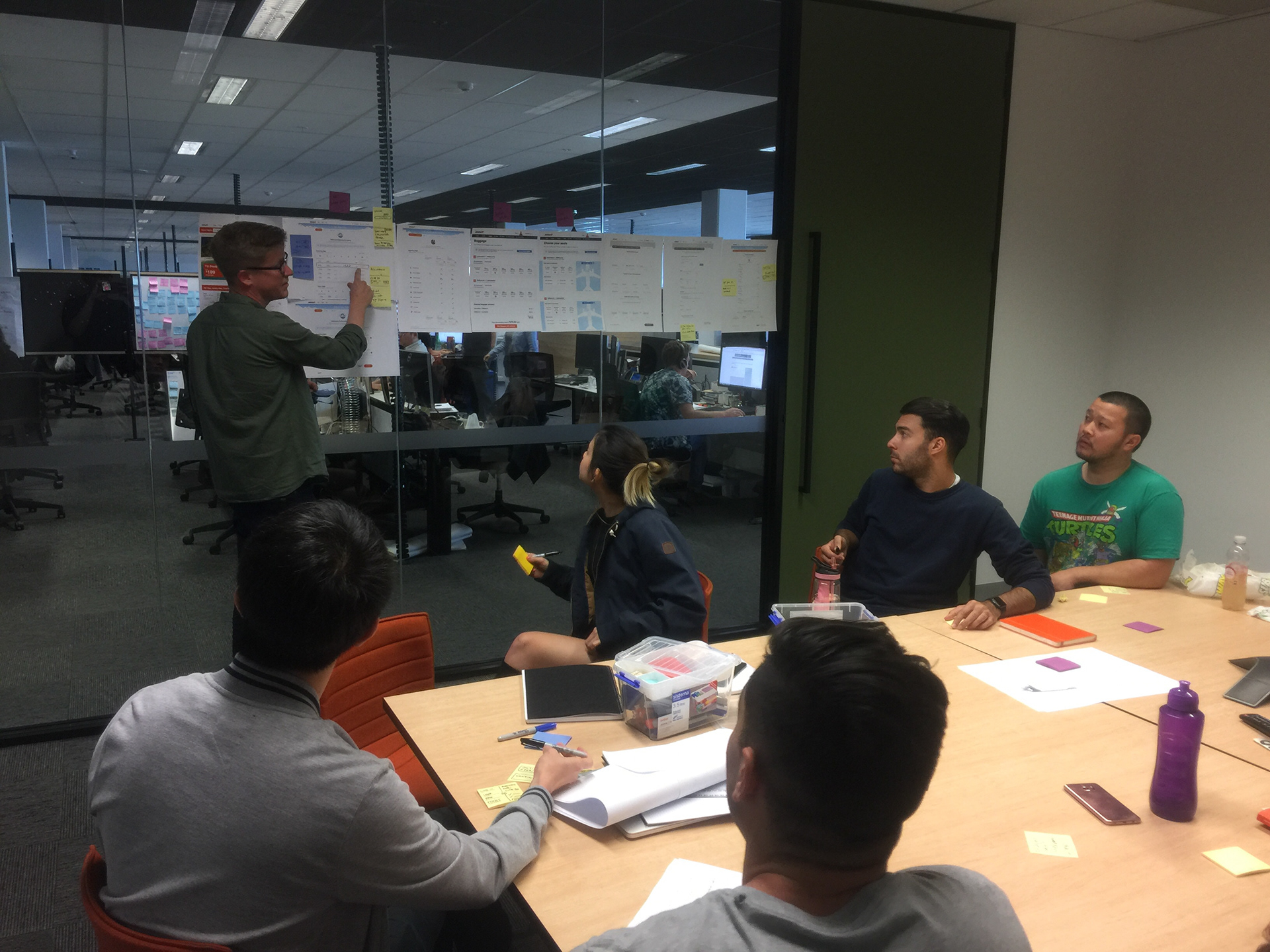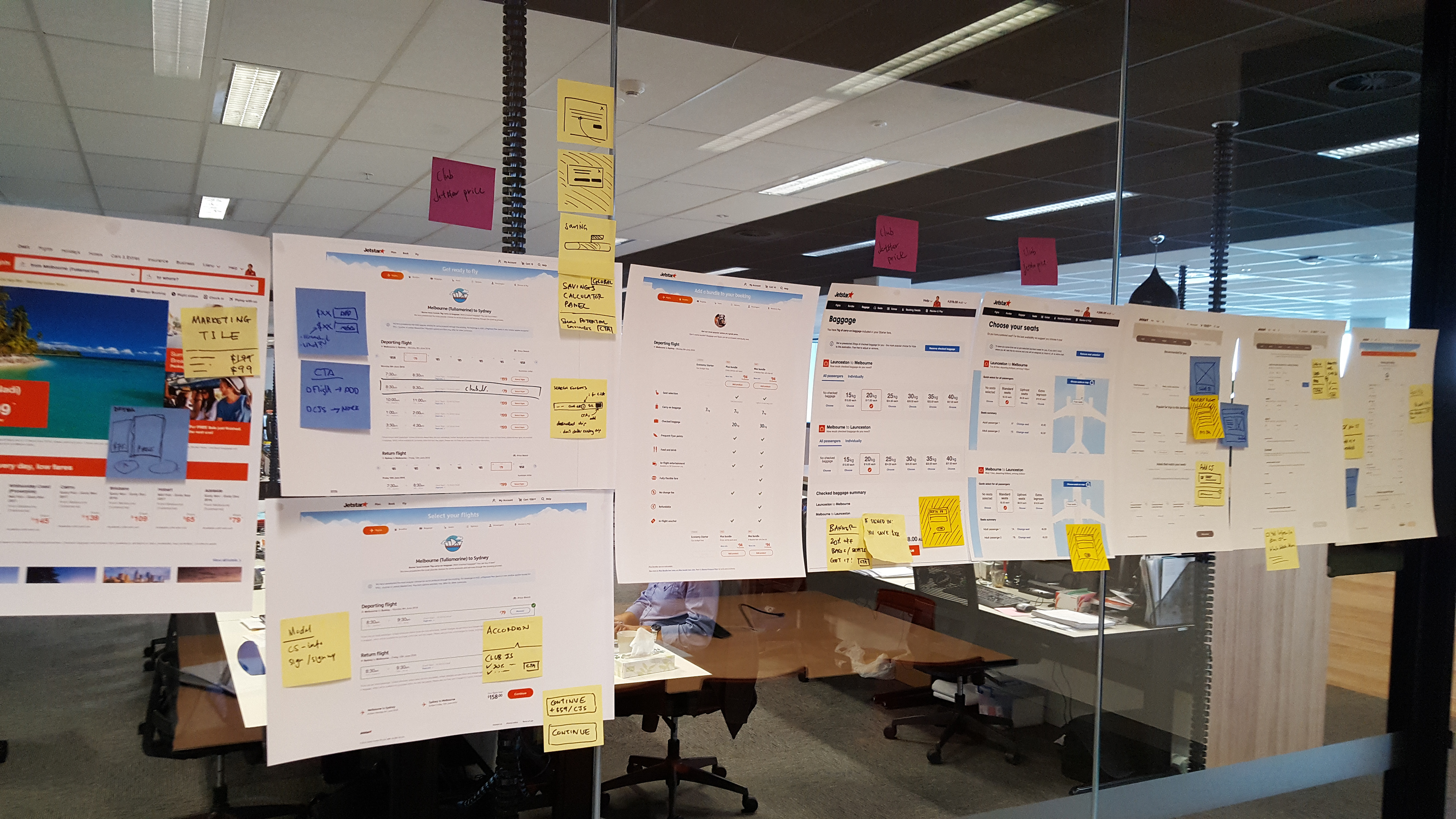 Design jam (Qantas Frequent Flyer points)
The second design jam we focused on flight payments using Qantas Frequent Flyer points.
Everyone was asked to sketch and draw the ideal design ideas they had in their mind. Each person is then given the opportunity to present his/her ideas.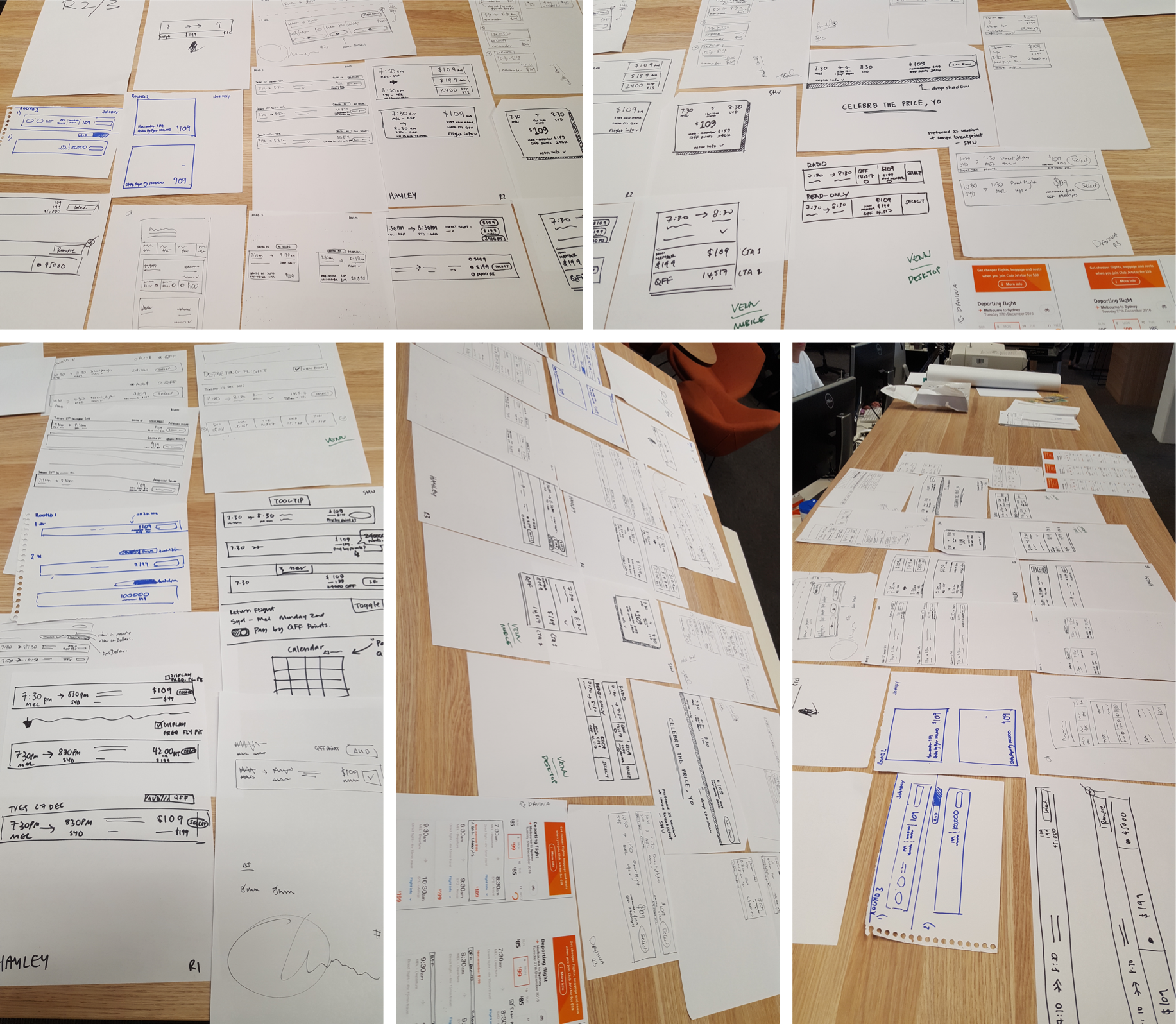 Early sketches and explorations on different concepts. We tested and ran the ideas internally.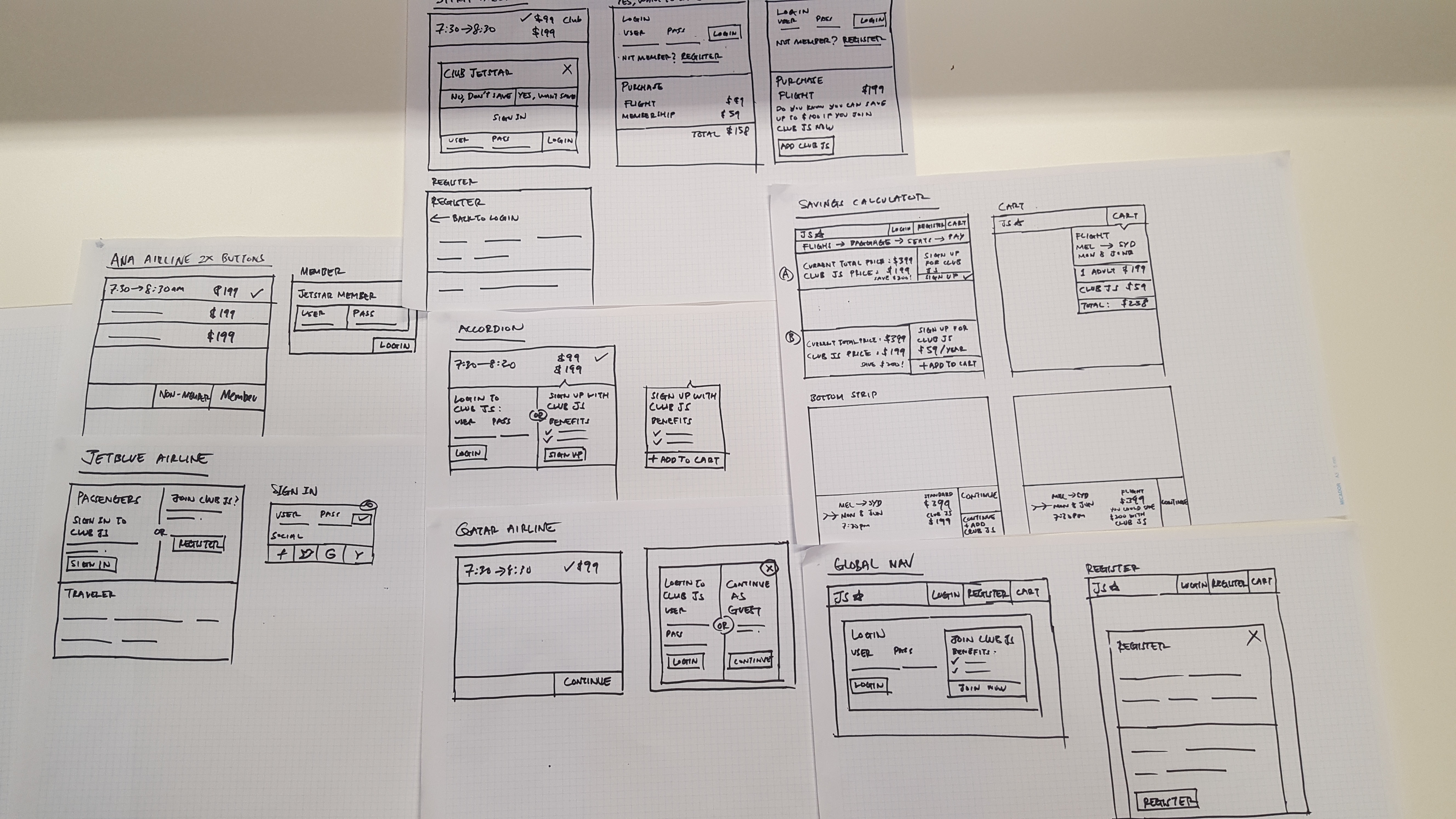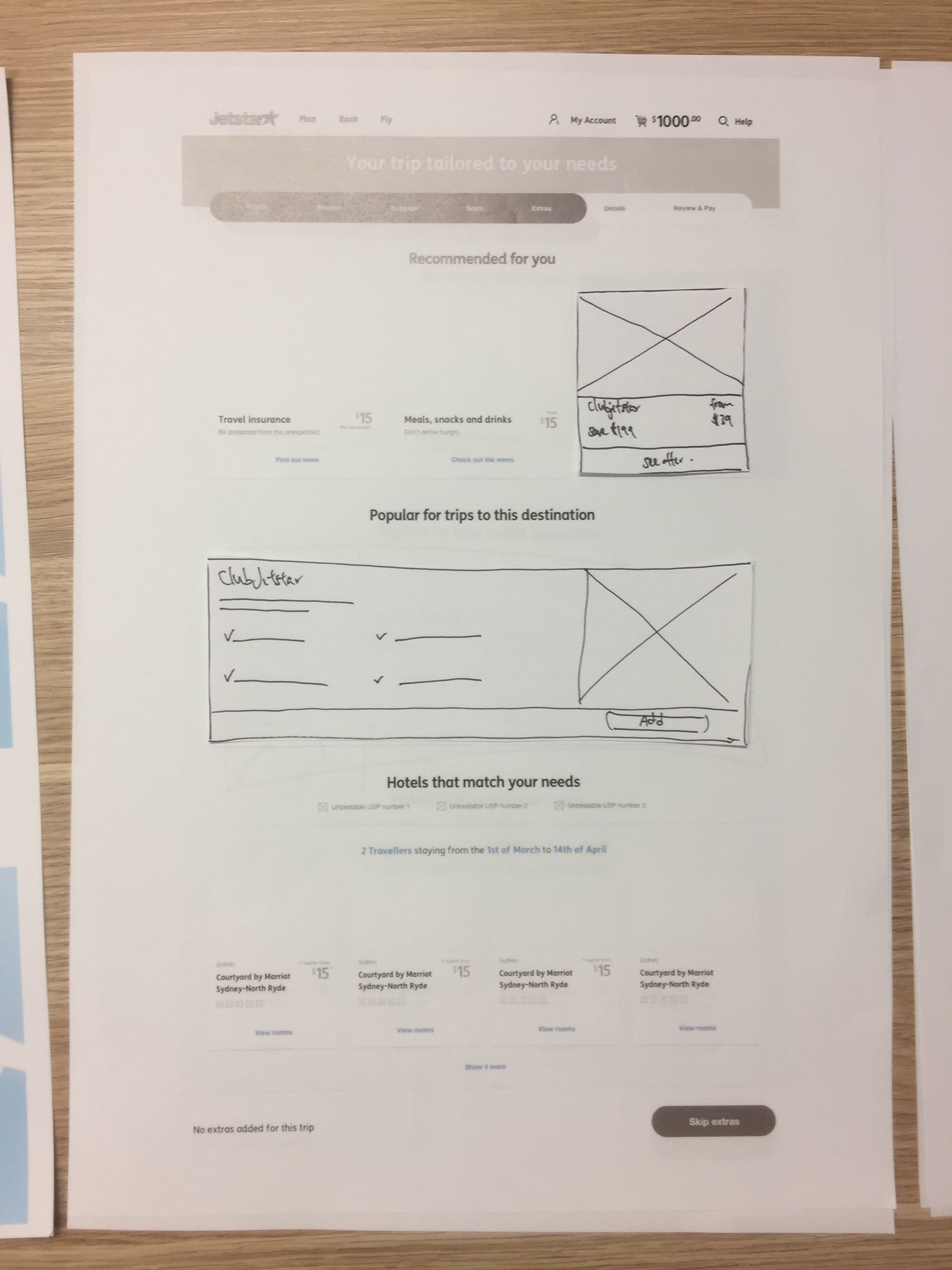 A step-by-step analysis of a common task a user must perform that diagrams the various touch points and decision points a user goes through to accomplish the task. It helps to illustrate the overall flow that a user progresses through to accomplish a single task, demonstrate the relationship between tasks and how they interconnect across a product.