Jetstar — Club Jetstar
Interaction/Visual Design + User Testing
The Club Jetstar program has recently had its benefits updated to include cheaper prices on various products including flights, the business has a goal of significantly increasing the membership to this program.  Jetstar need to heavily promote the awareness, engagement with and sign up of their "Club Jetstar" program. The sign up process must be able to happen during the booking process within the booking engine.
The design solution should easily identify the value proposition of Club Jetstar membership. Allow customers who have Qantas Frequent Flyer points to view and pay for flights as they have been identified as high value.  It also needs to have a positive or neutral overall effect on booking engine conversion (i.e not negatively impact conversion or customer experience).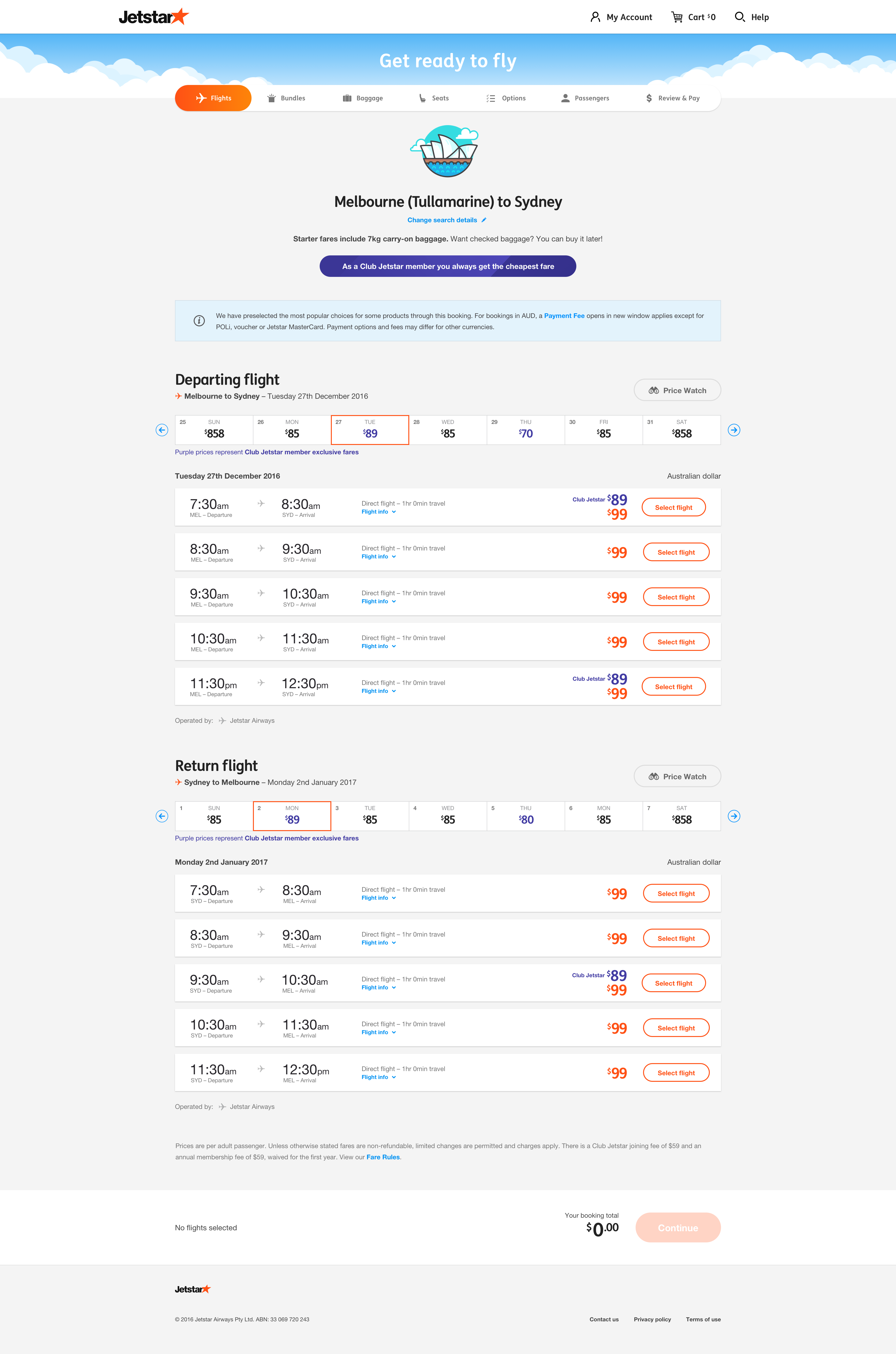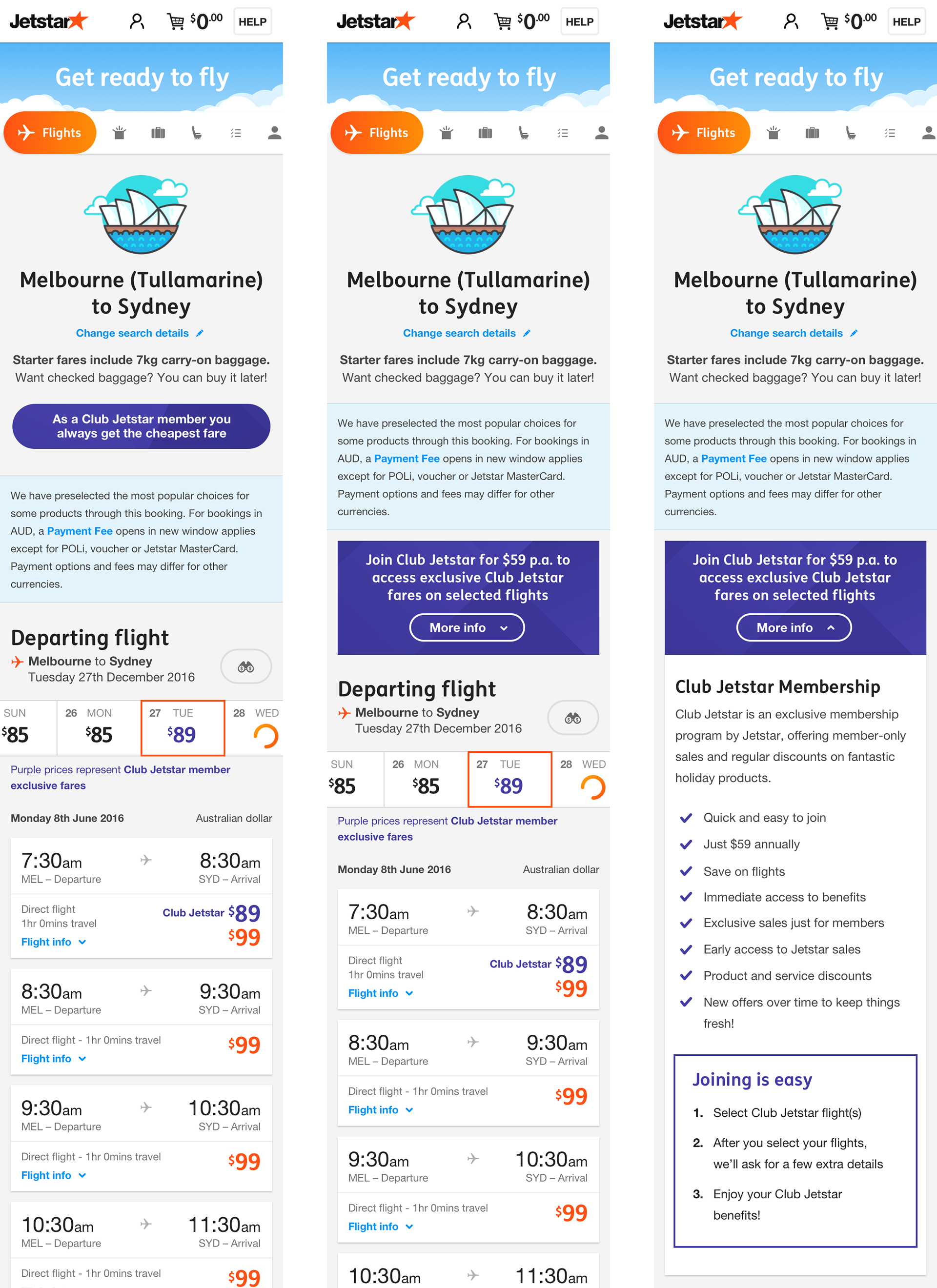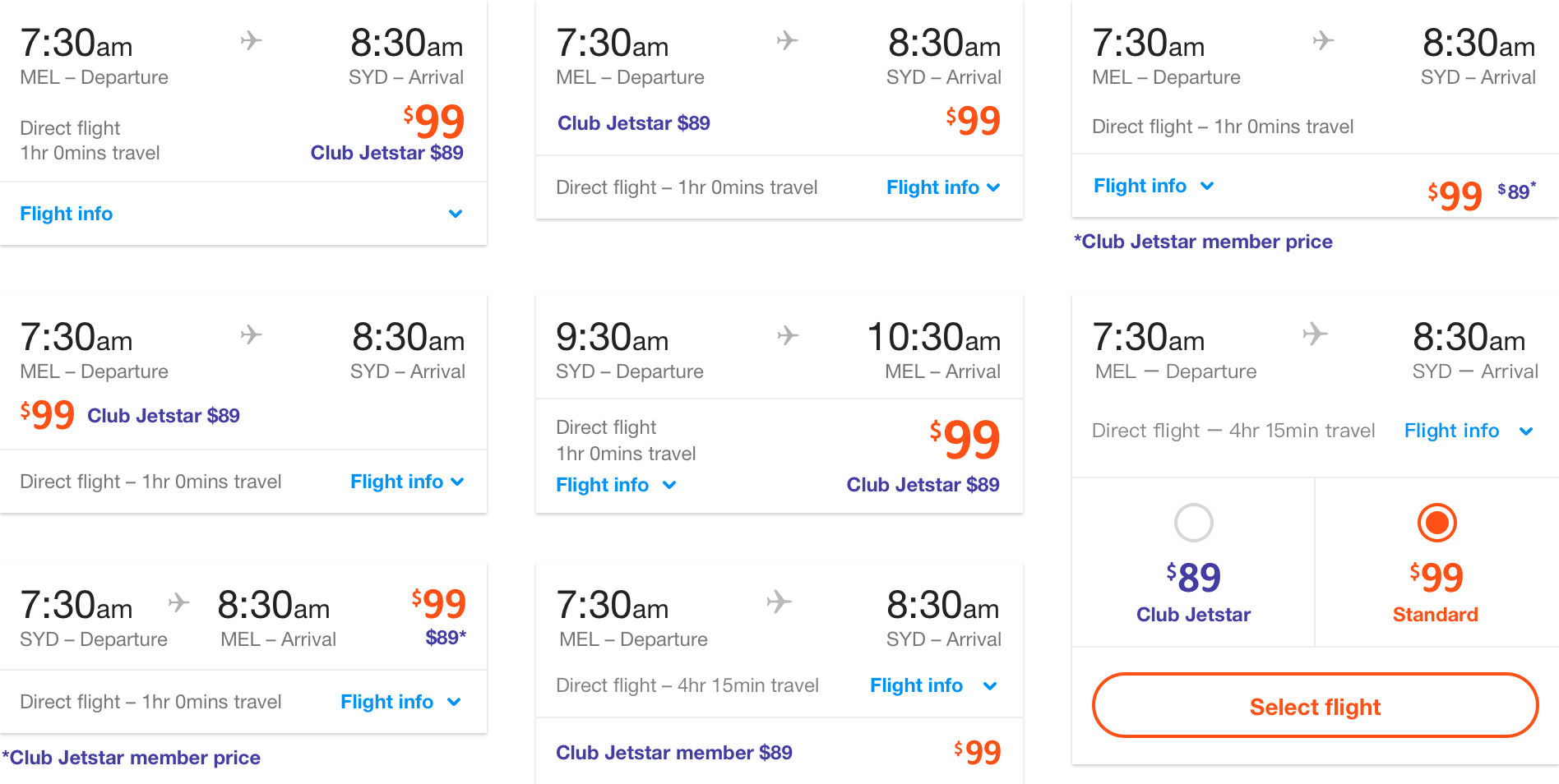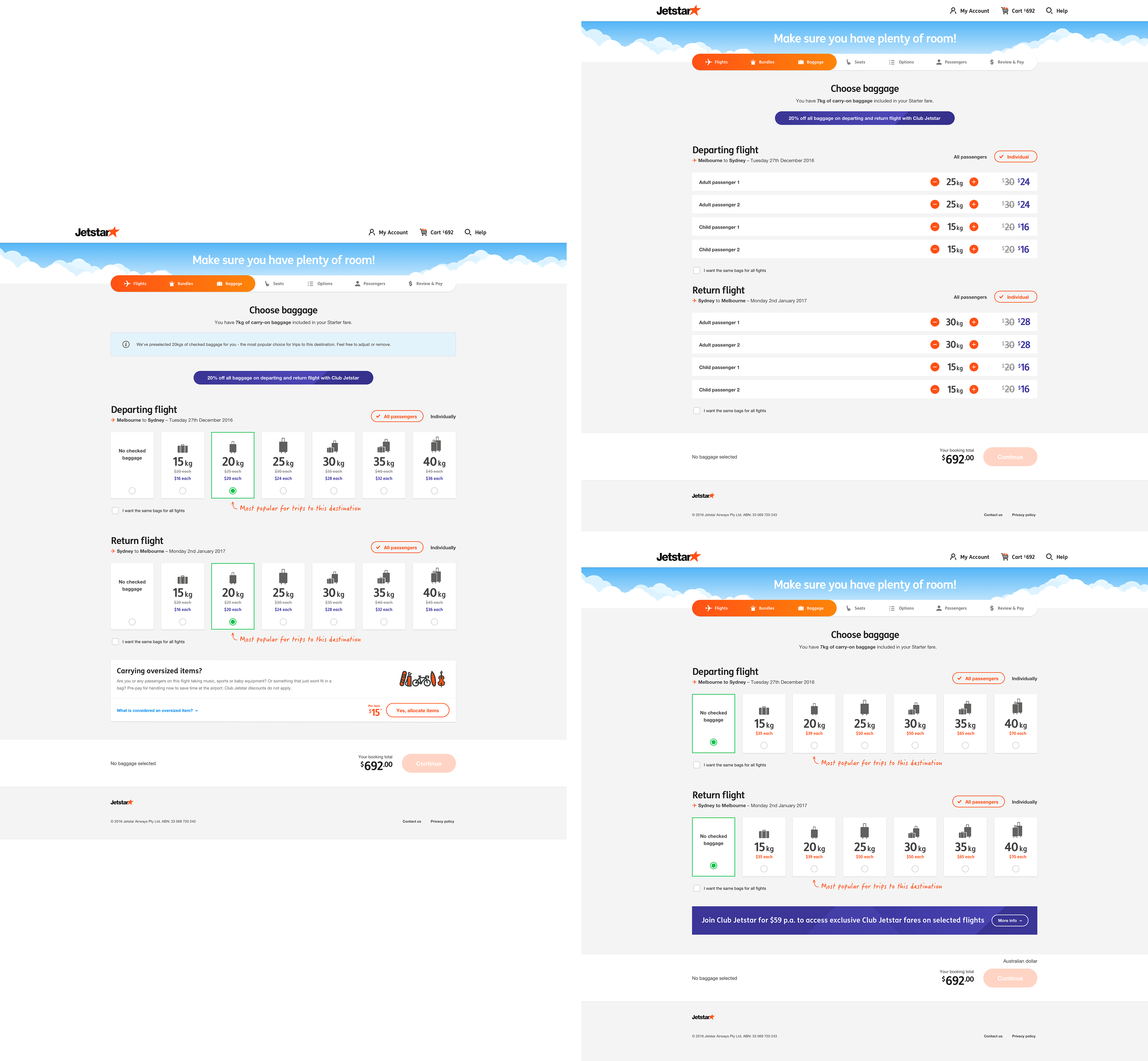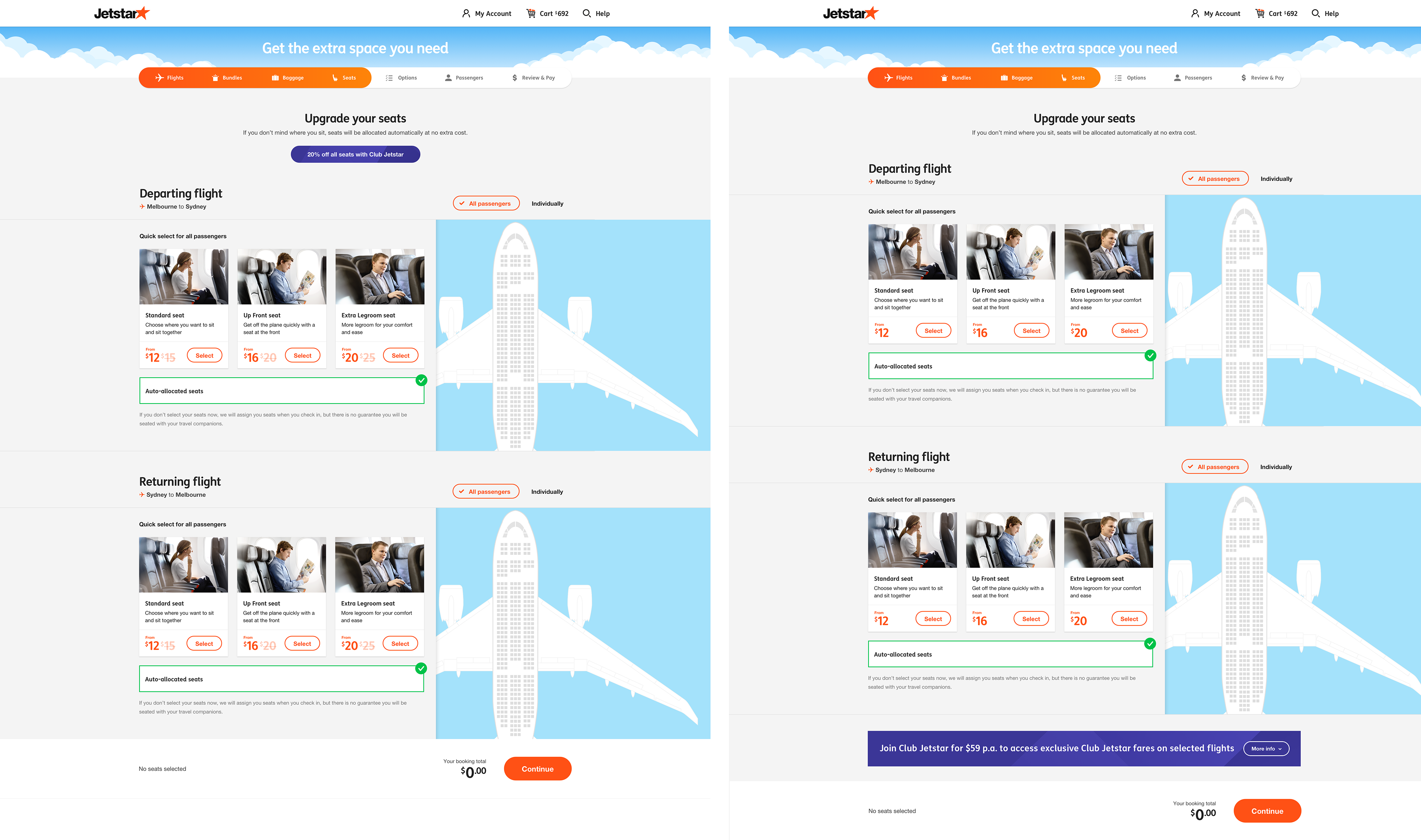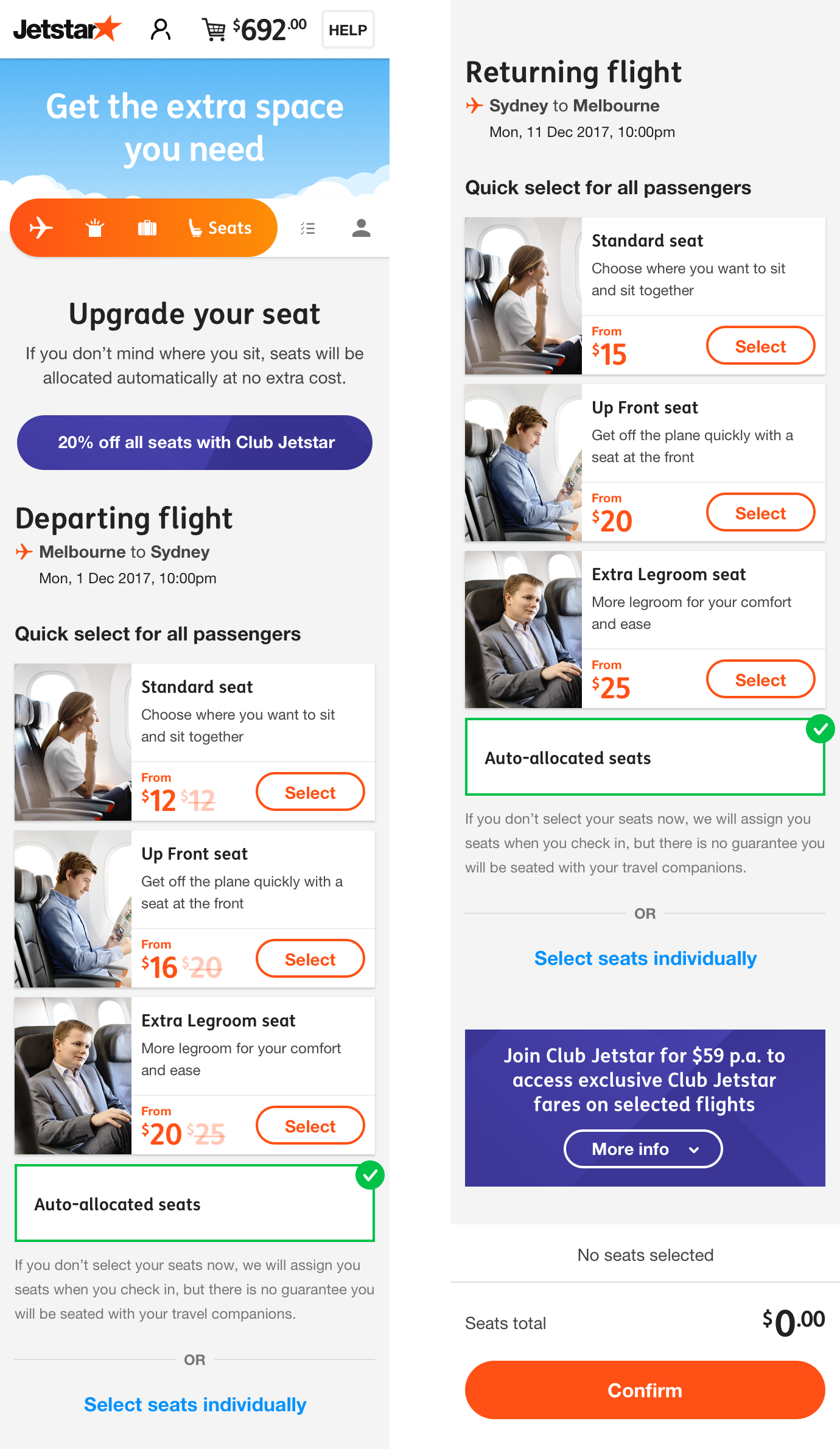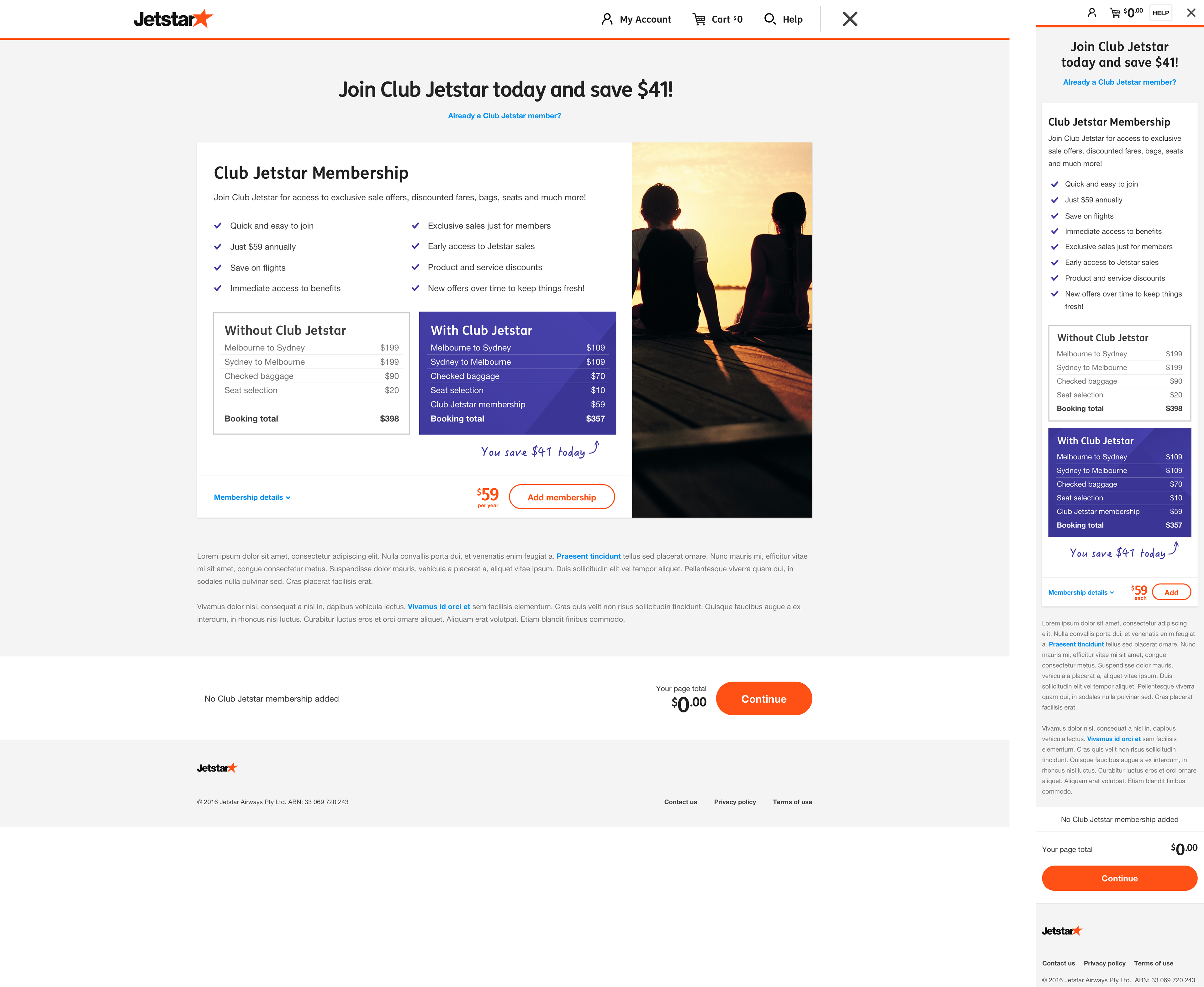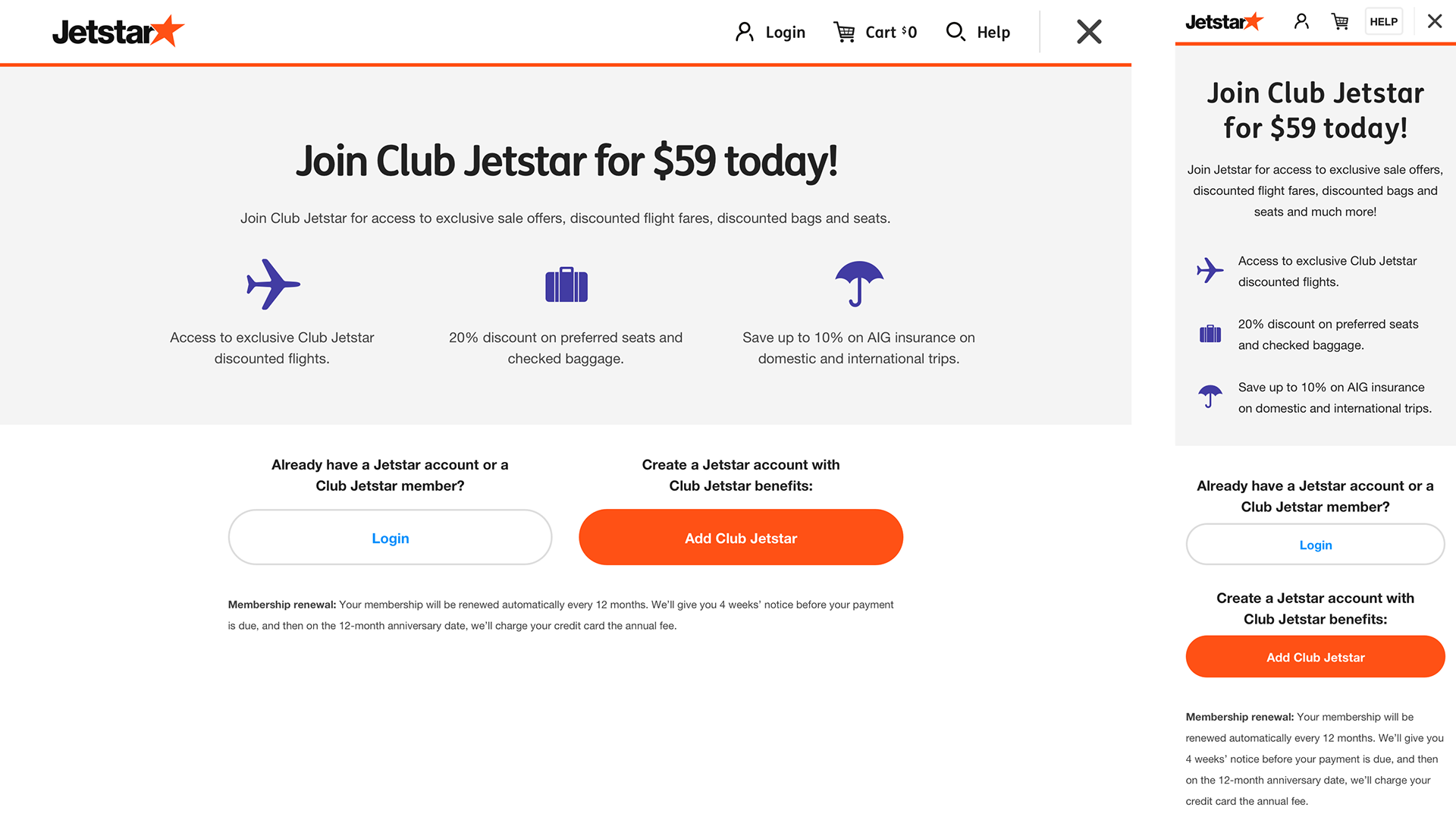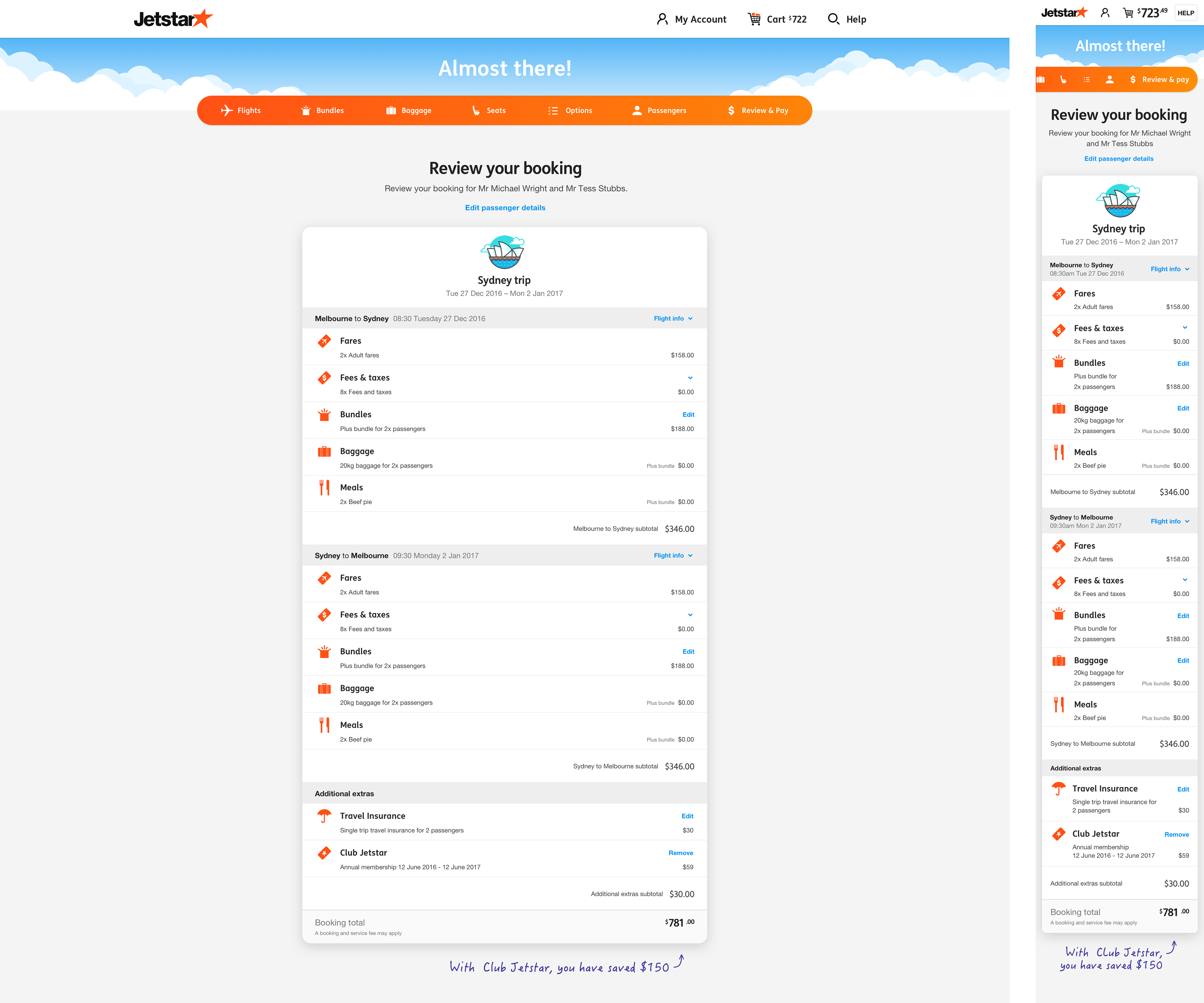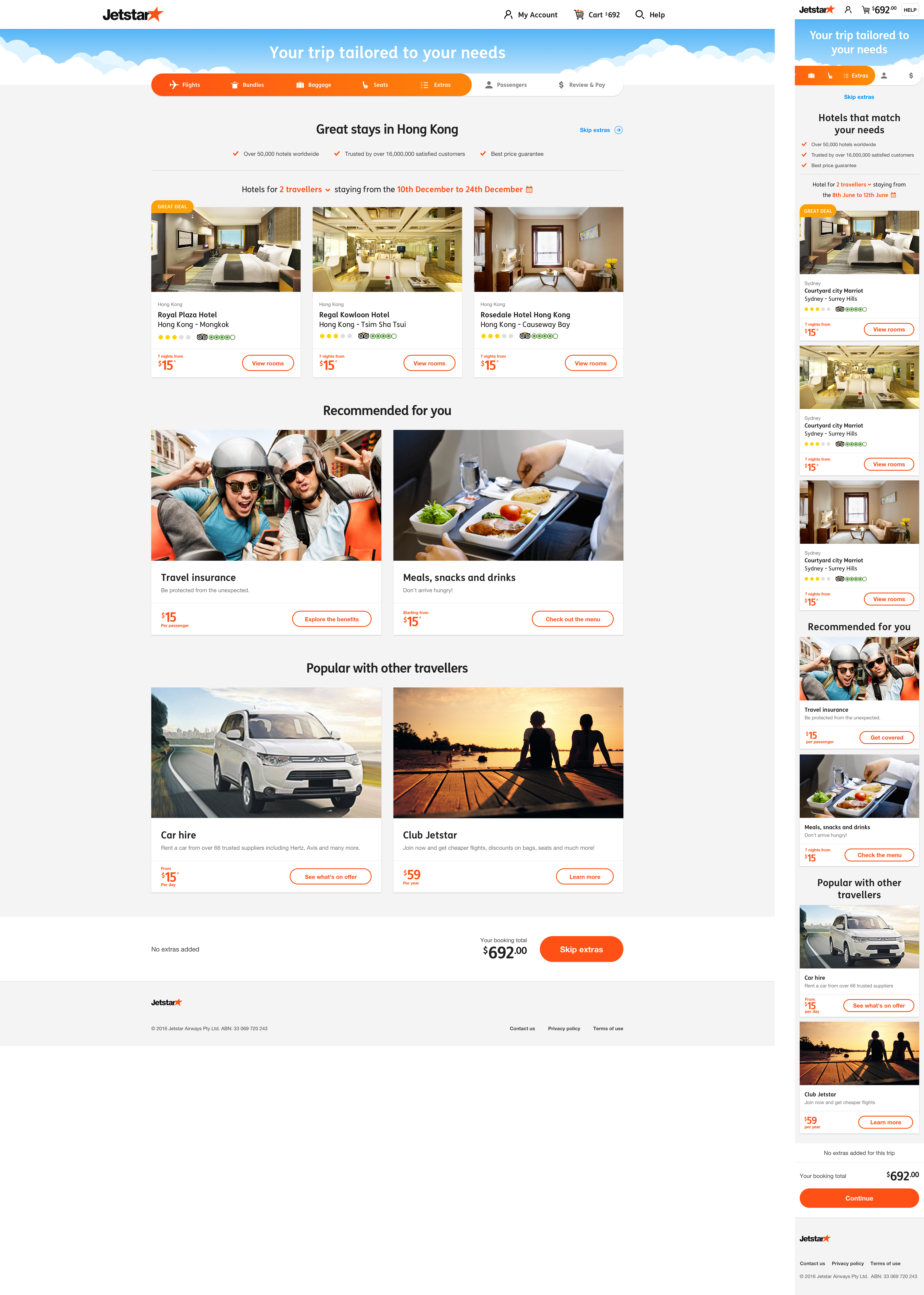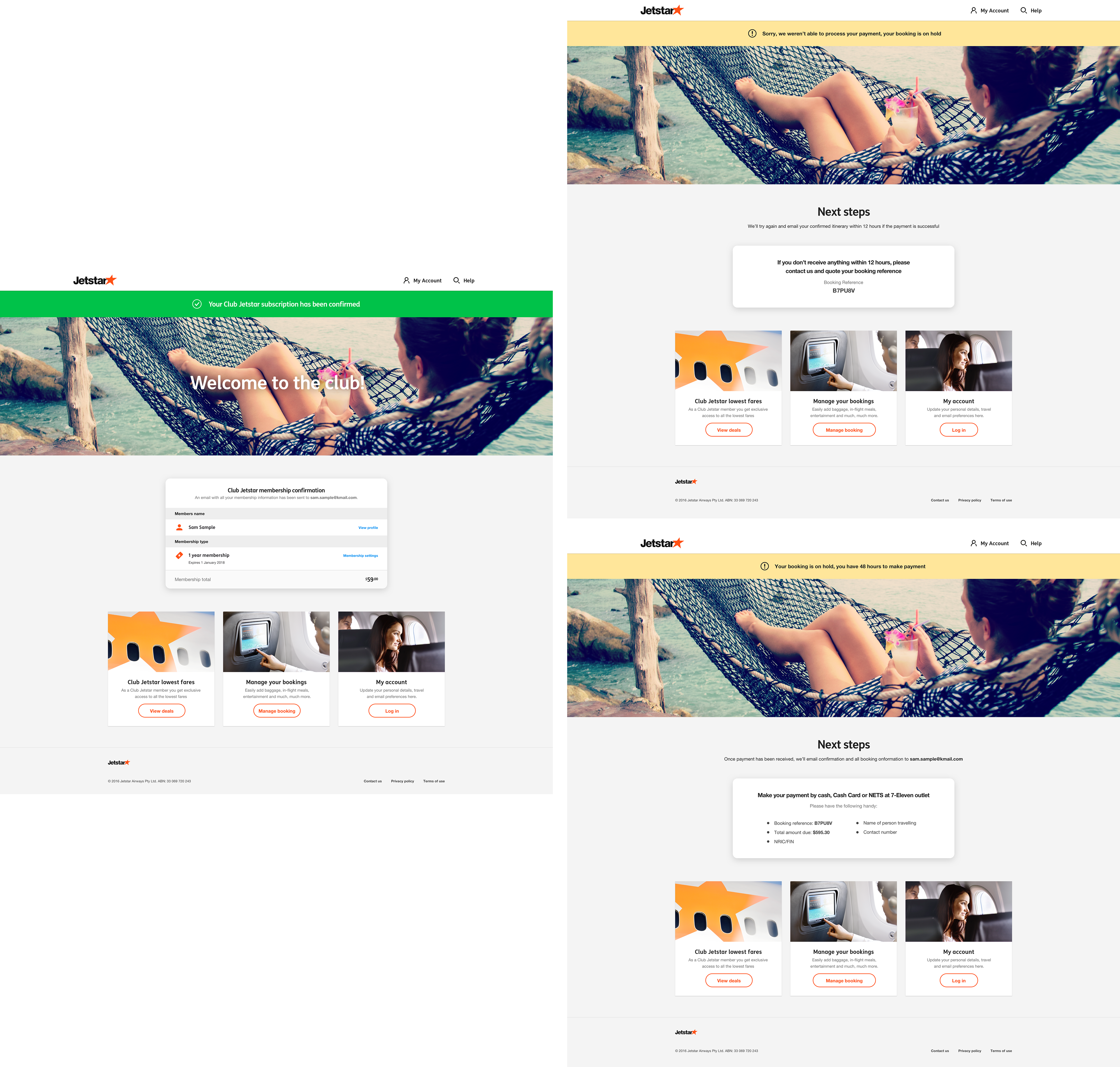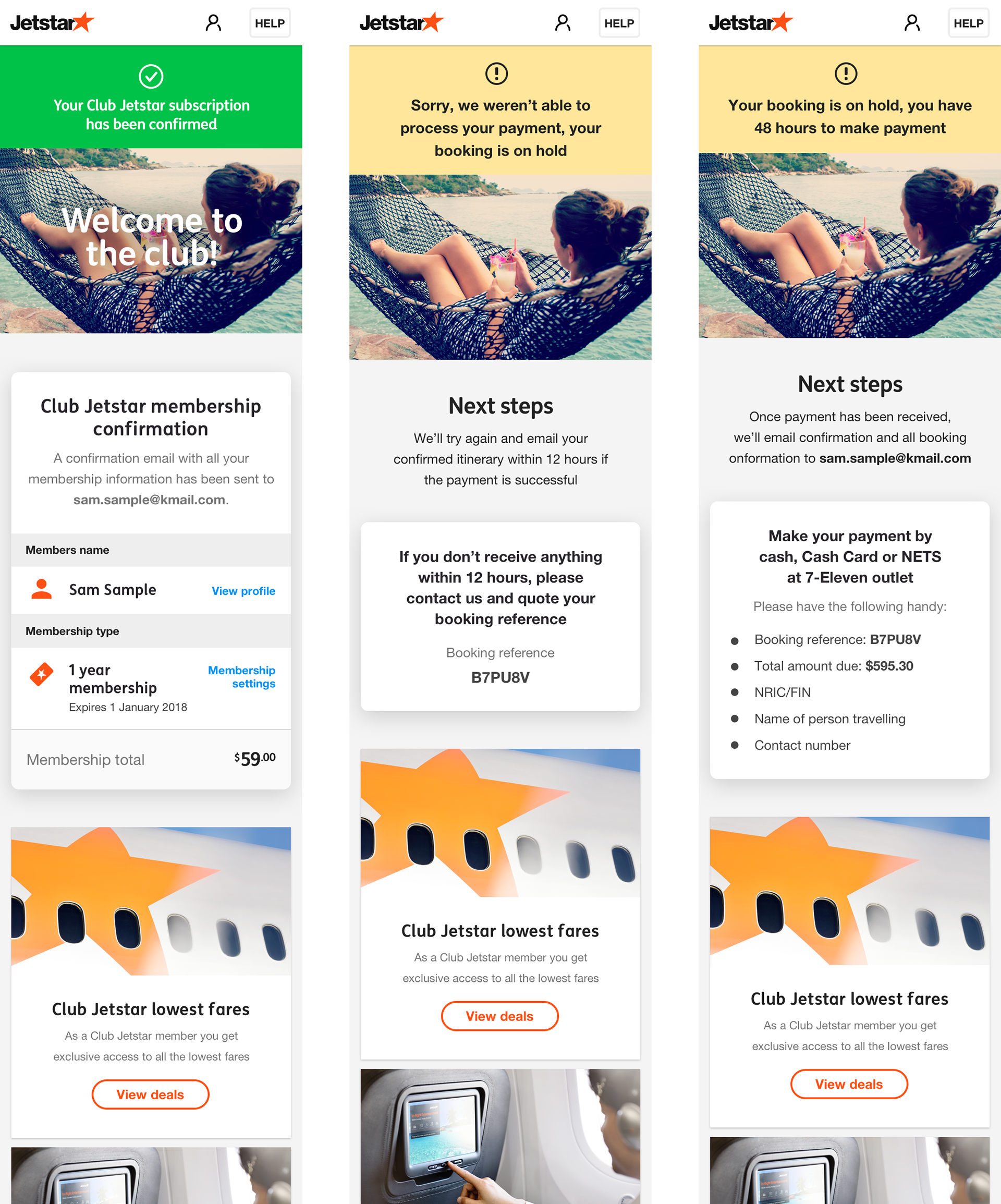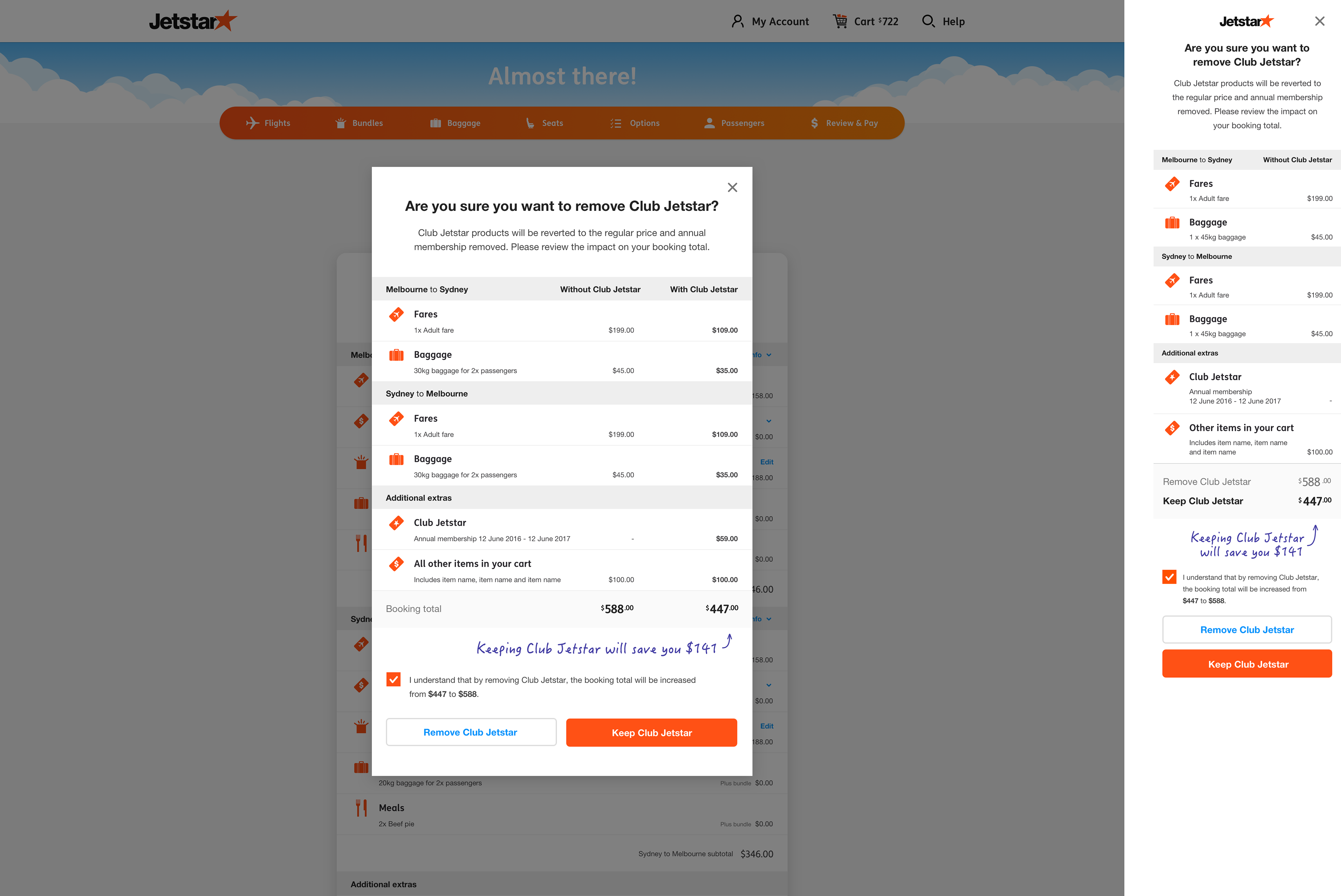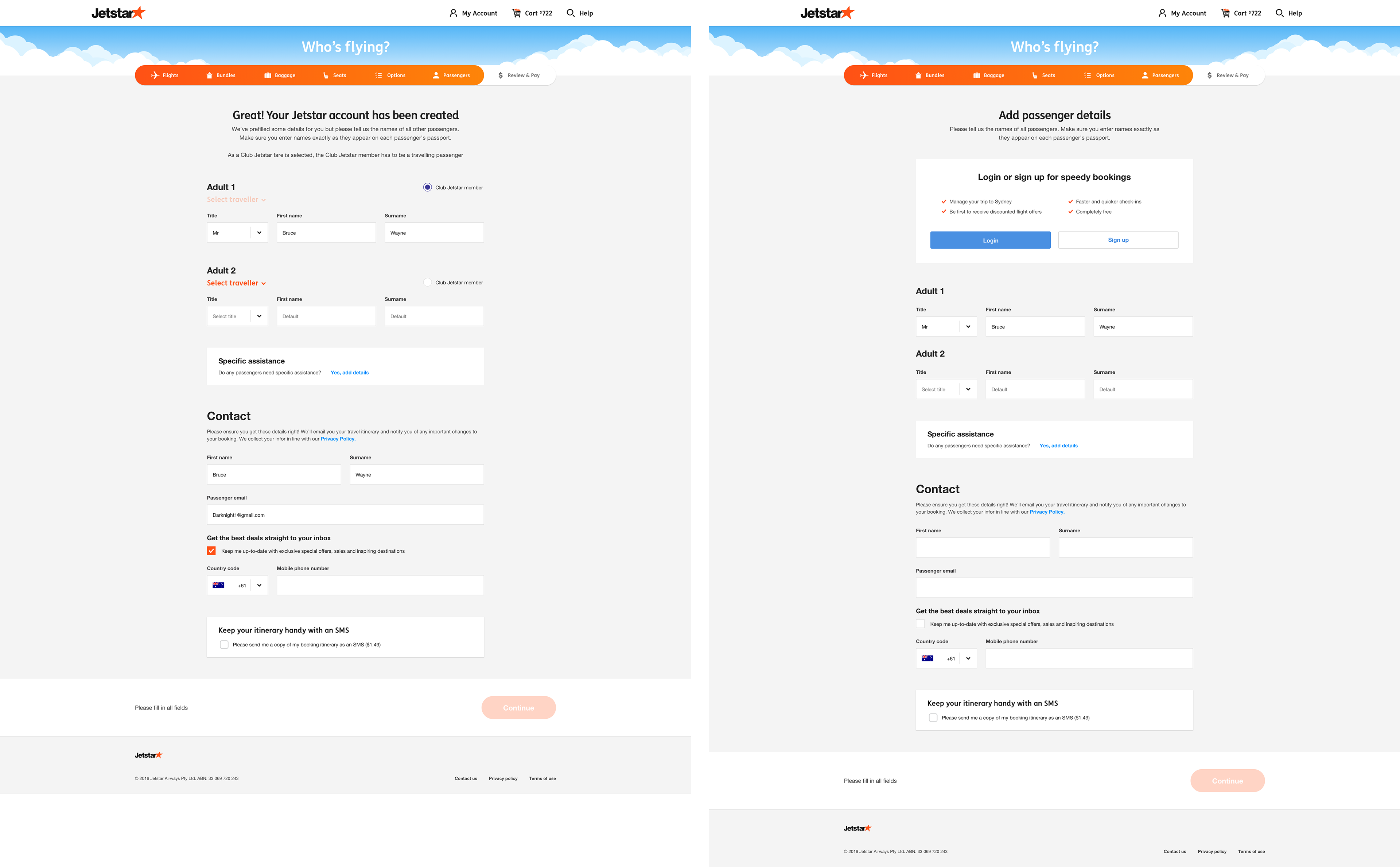 Club Jetstar landing page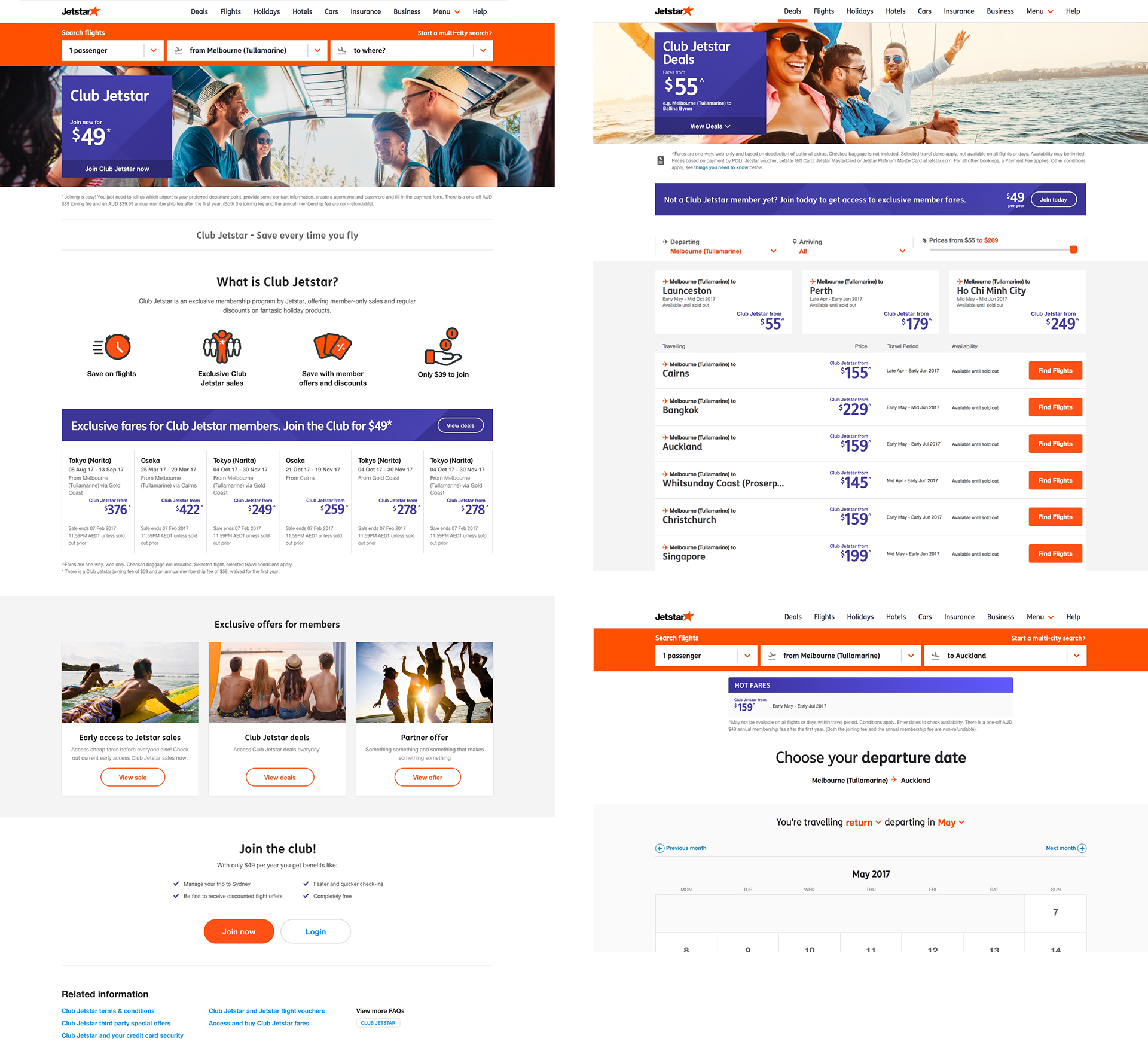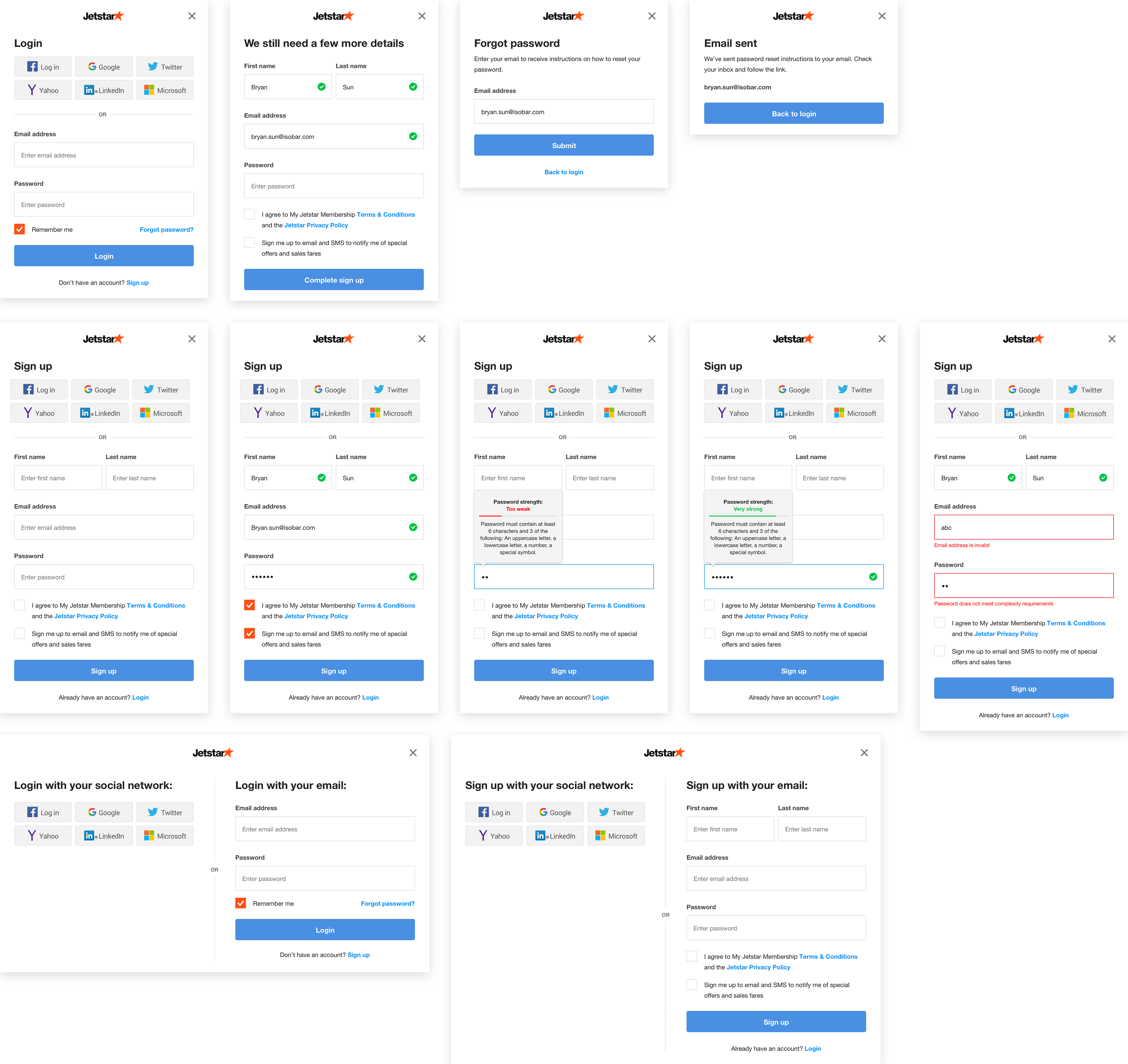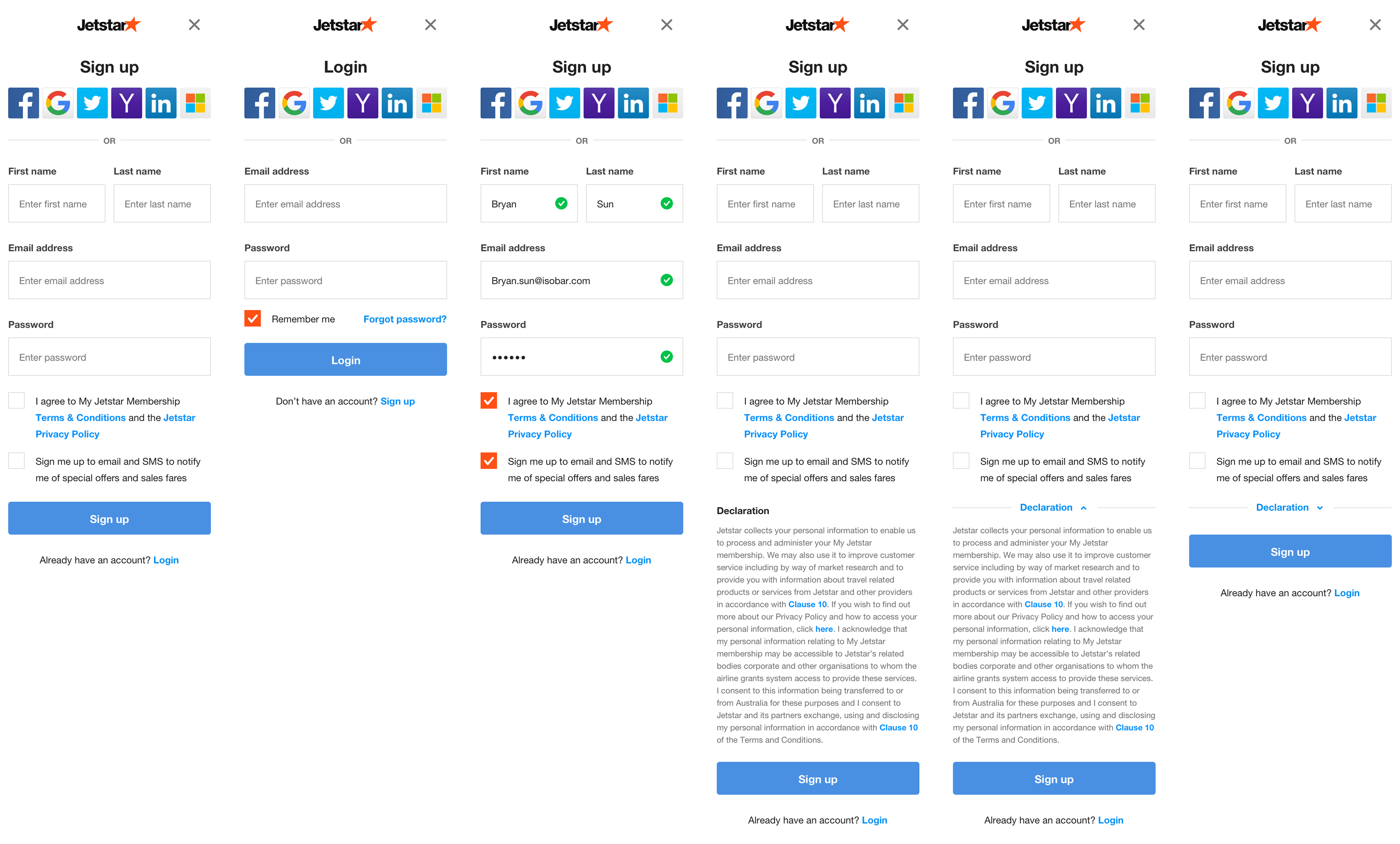 Earlier conceptualization effort around Qantas Frequent Flyer.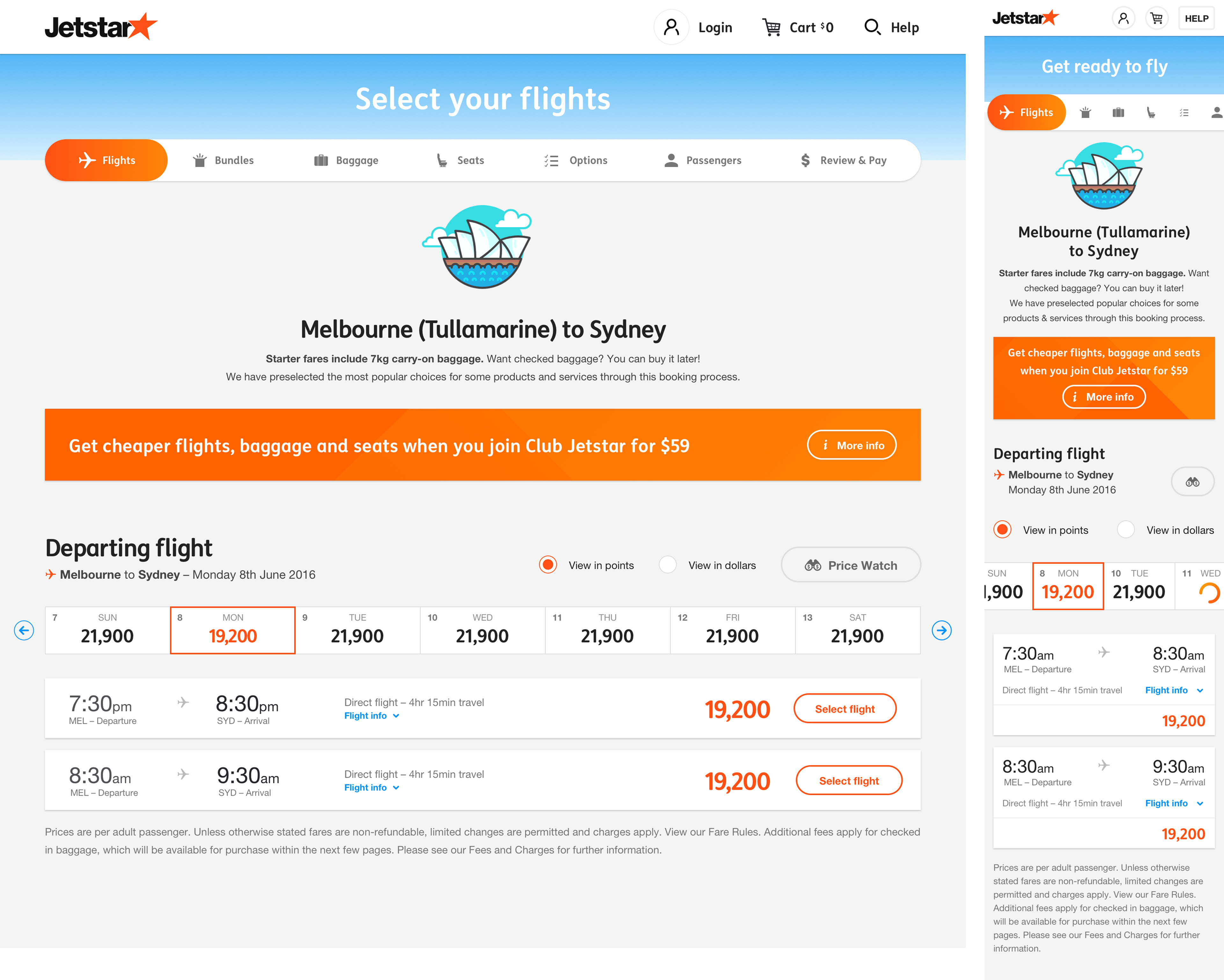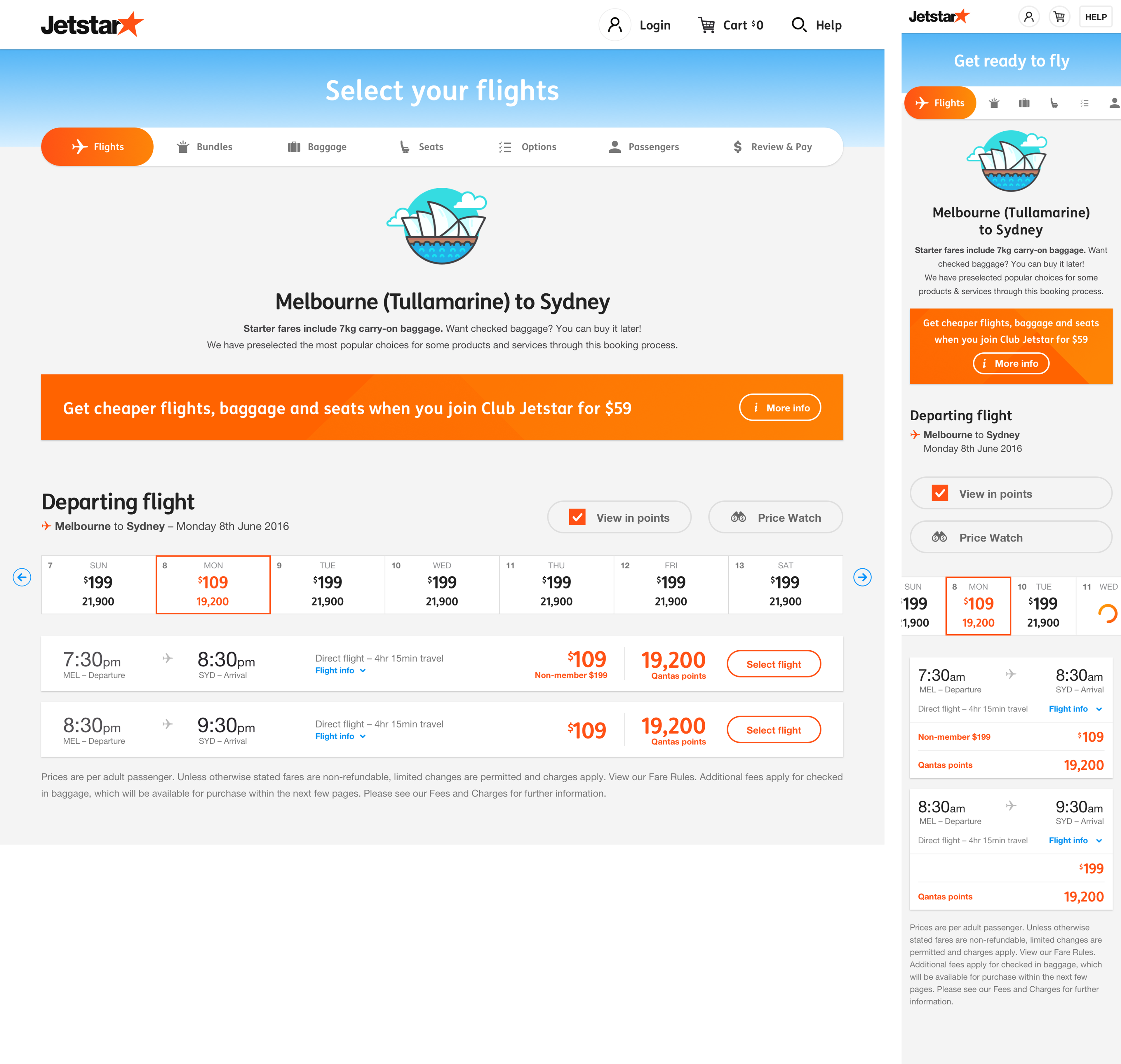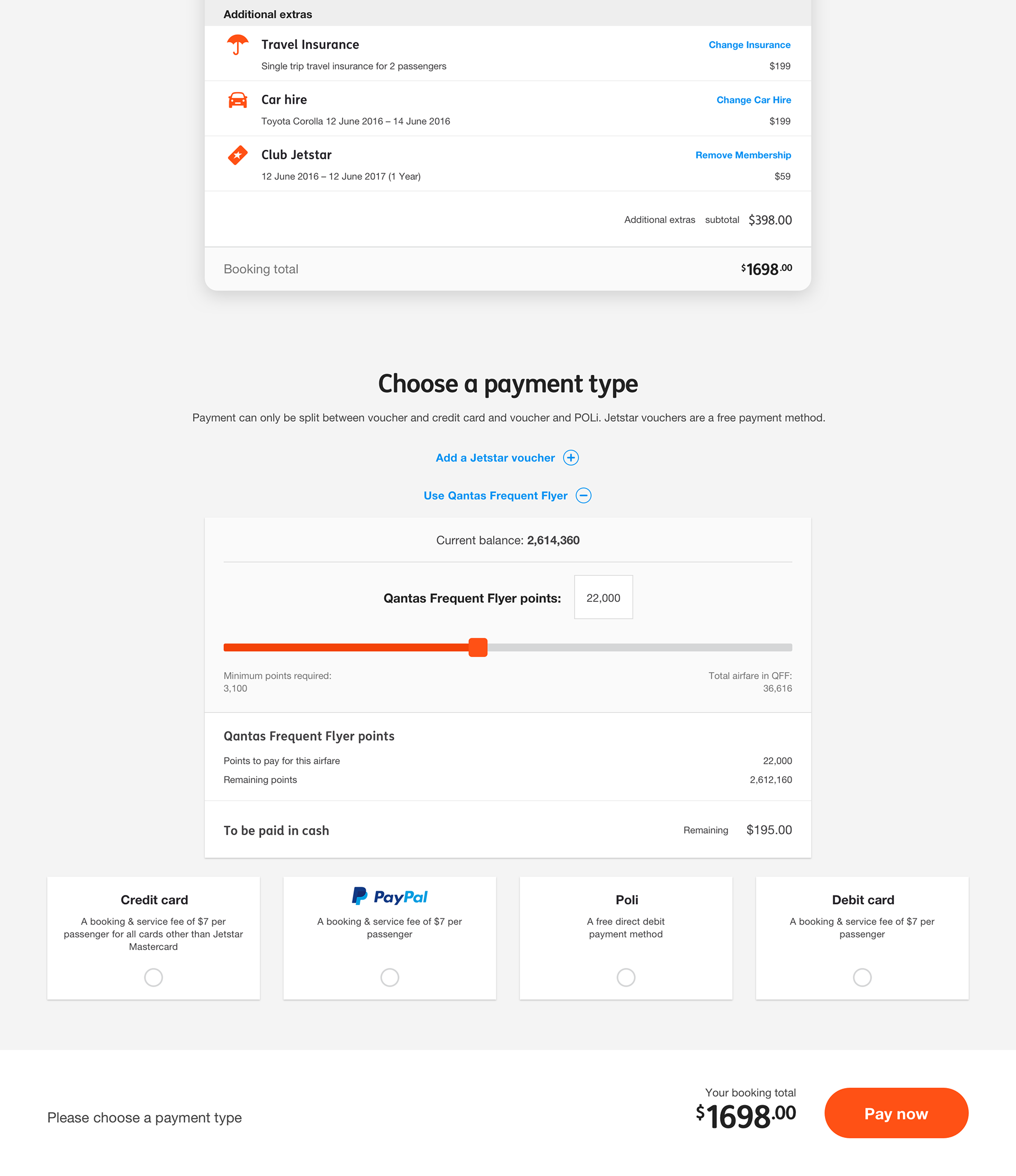 User testing 1 & 2
All participants had travelled at least once in the past year and were looking to book travel again in the next 6 months. Half of participants had booked Jetstar in the previous year and half had not.
Scoring (CSAT + CES)
Customer Satisfaction (CSAT)
is a measure of how products and services supplied by your company meet or surpass customer expectation. Participants are asked to rate their experience from 1 to 10 where 1 is very dissatisfied and 10 is very satisfied. E.g "How would you rate your satisfaction with this feature?"
Customer Effort Score (CES)
is a measure used to obtain insight to a participant's perceived effort to complete a given task. Participants are asked to rate their effort from 1 to 10 where 1 is easily completed and 10 is very difficult to complete. E.g "How much effort was required to complete your task?"
User testing 1
Method:
In person user testing.
Participants:
10 people with 1 cancellation.
How:
inVision clickable prototype.
Task 1) Complete a flight booking. Select Club Jetstar flights, sign-up for a Jetstar account and subscribe to the Club Jetstar membership.
Task 2) Complete flight booking process. Select regular priced flights and sign-up for a Jetstar account.
Task 3) You are interested in becoming a Club Jetstar member. Subscribe to Club Jetstar through a Club Jetstar promotional page.
Flows:
Flow 1B, Task 1) Intercept after flights
Flow 2, Task 2) Forced login after flights 
Flow 4, Task 3) Anchor purchase from Jetstar.com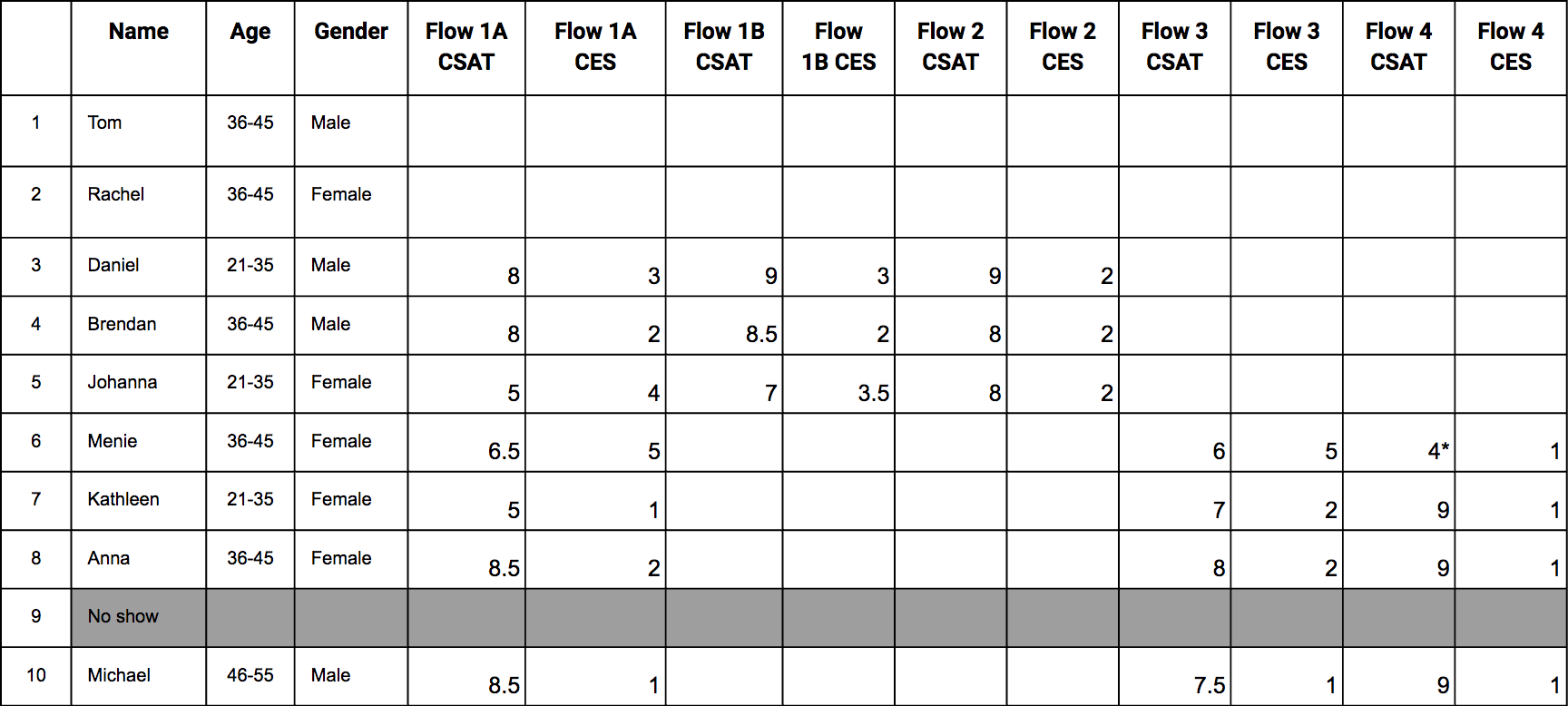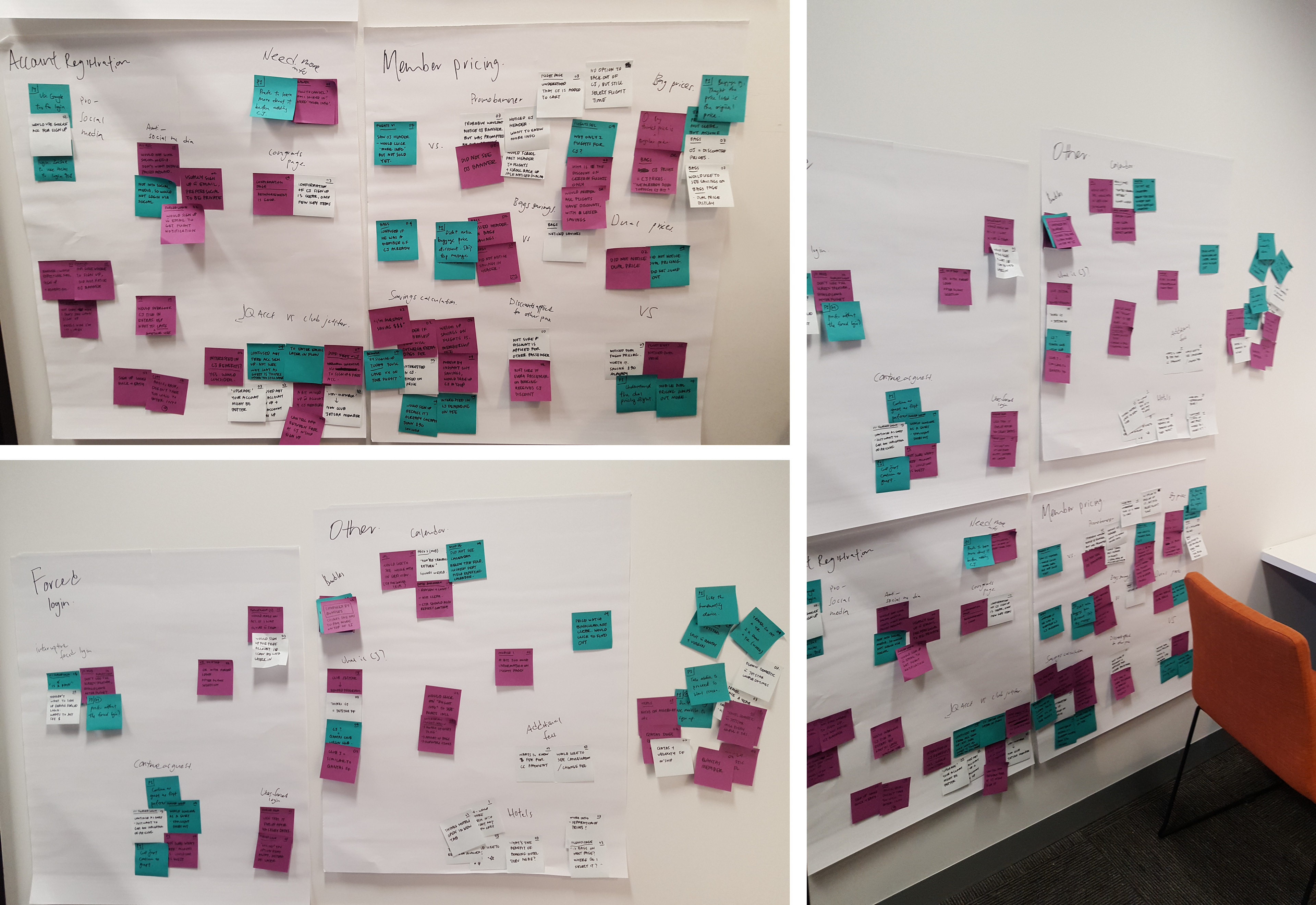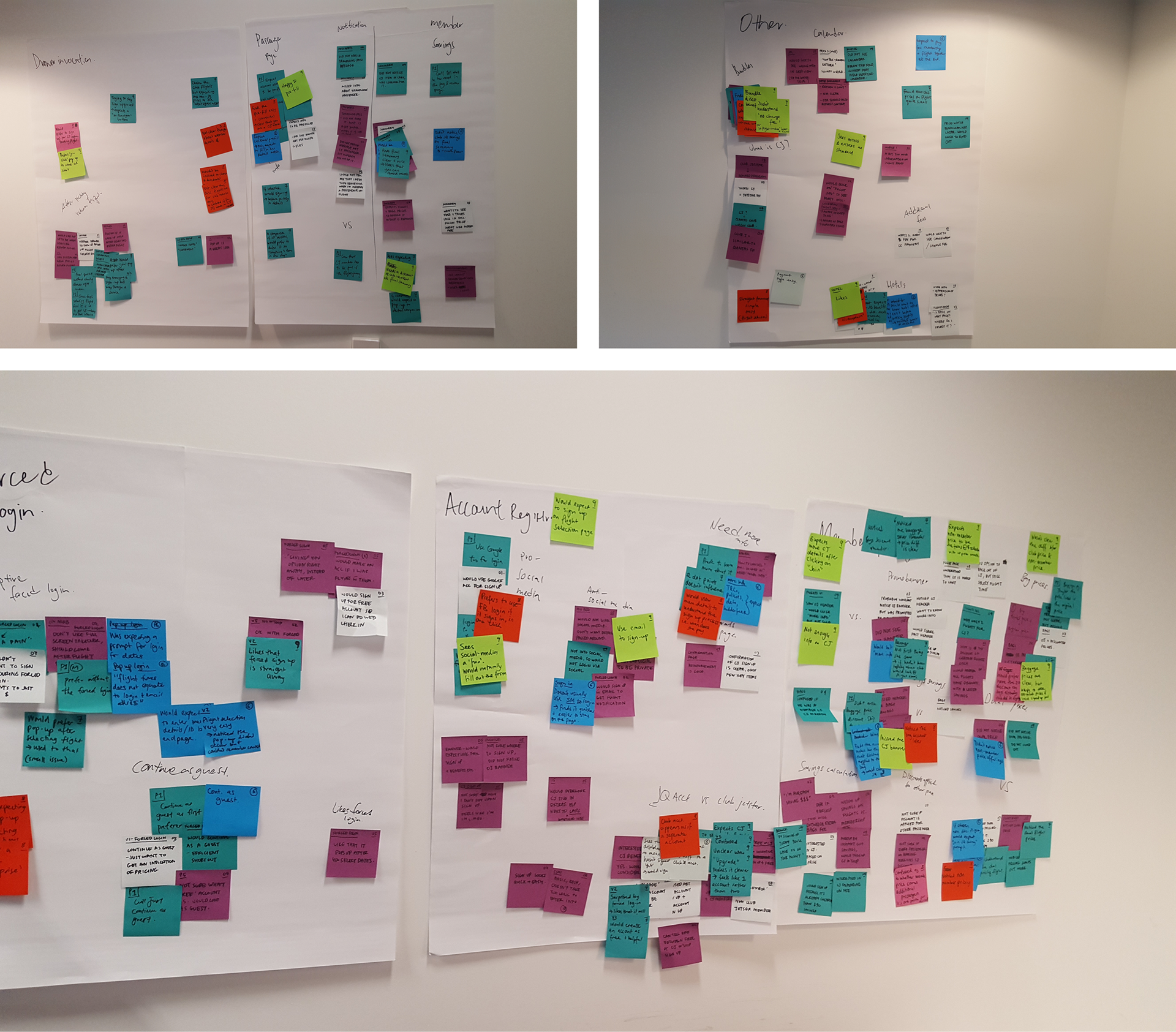 Key findings (Member's prices)
1. Flights select page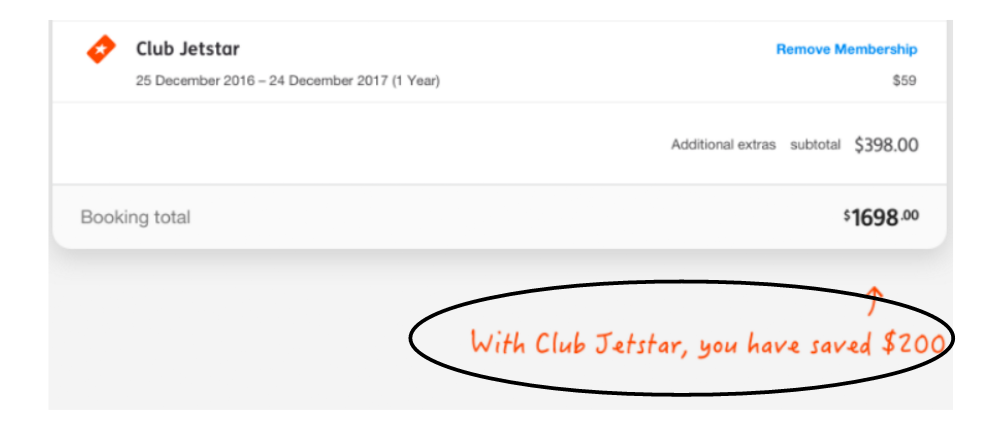 Key findings (Account and Membership)



2. Club Jetstar drawer intercept
3. Account registration vs Member subscription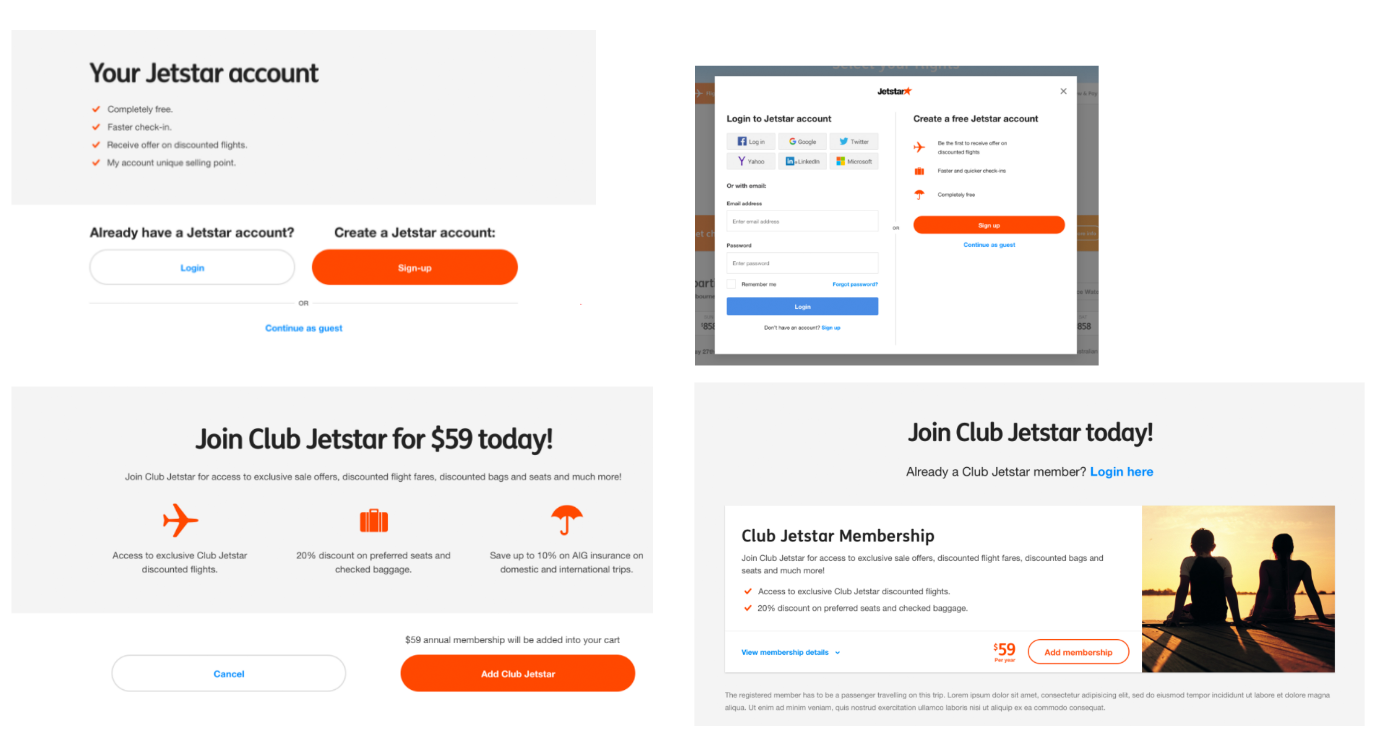 4. Registration in drawer vs Registration on passenger page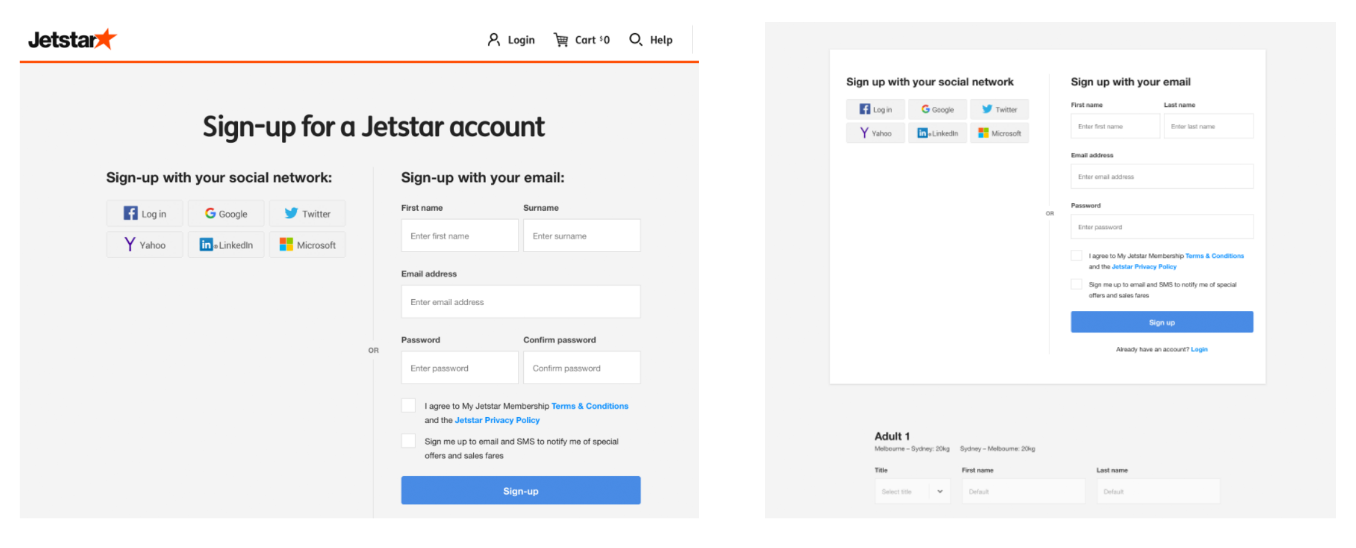 Signing up in drawer (Monday)
Deferred sign-up to 'Passenger page' (Thursday)
Key findings (Anchor flow)

Summary
Considering all participants' feedback, together with CSAT and CES scores: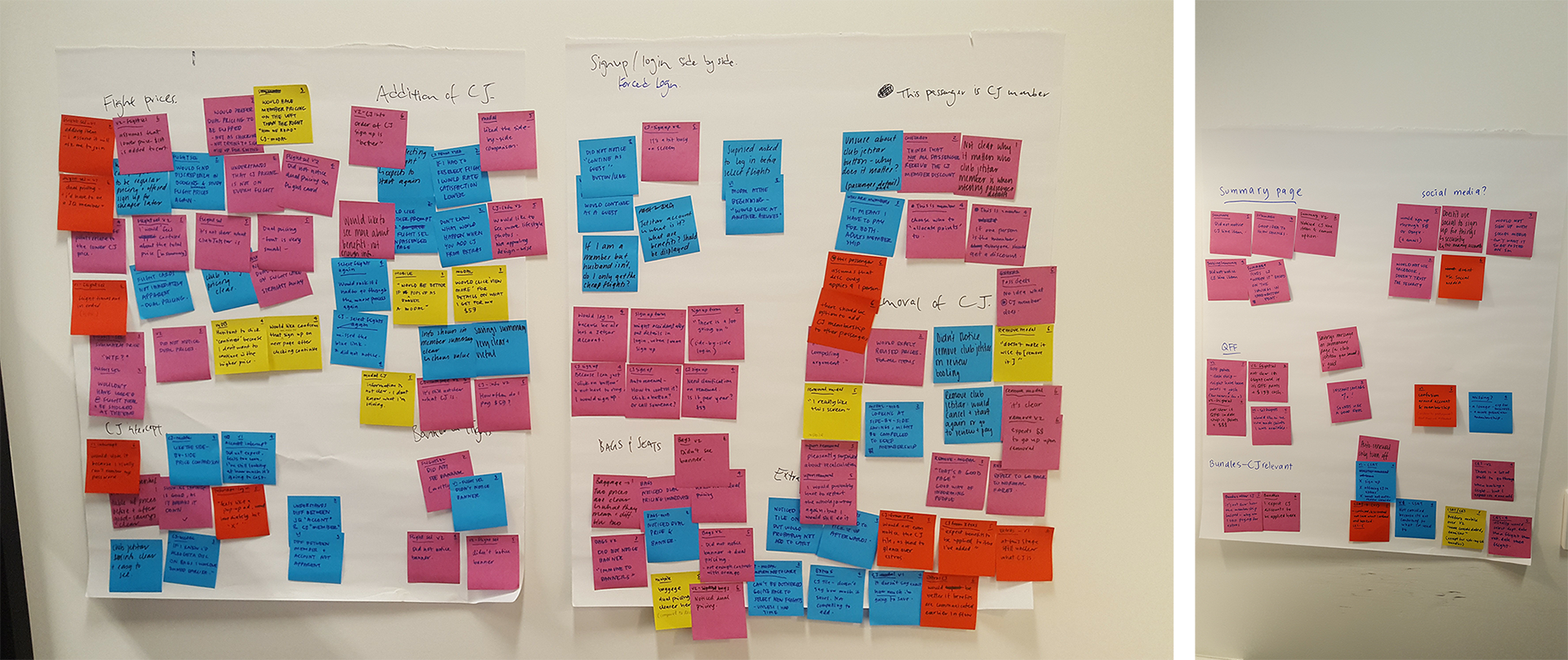 Key findings (Great experience confirmed)

1) Slashed prices on 'Baggage' and 'Seats'.

2) Savings summary on 'Review and Pay'.
3) Club Jetstar upsell intercepting AFTER 'Flights selection'.
4) Dual prices on 'Flights selection'.
Key findings (Member's prices)


2. Baggage and seats page


Recommendations (Member prices and Qantas points): 
Key findings (Account and Membership)
1. Forced login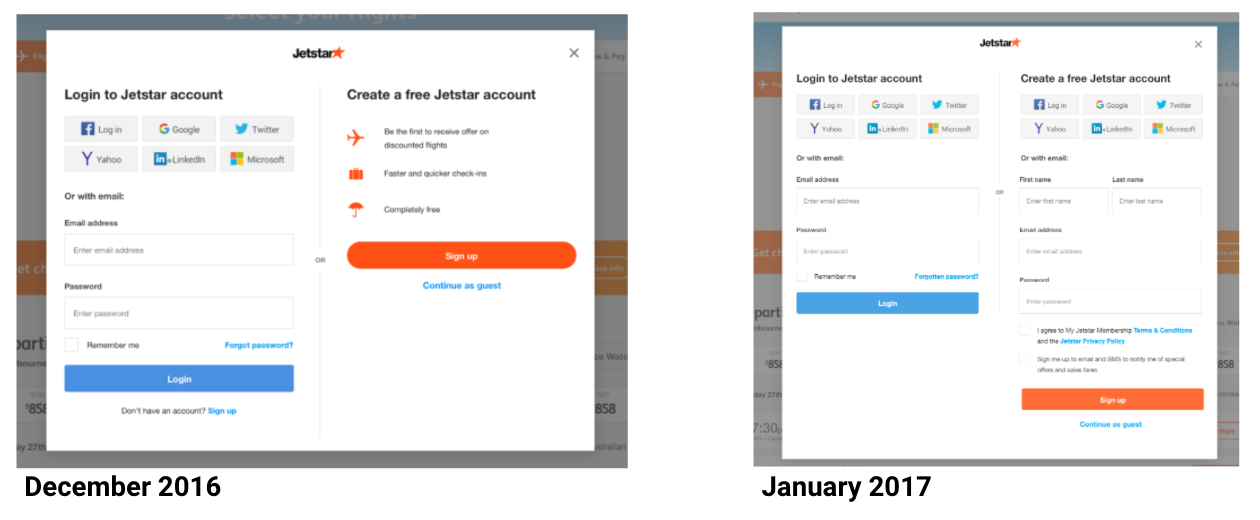 3) Removal of Club Jetstar membership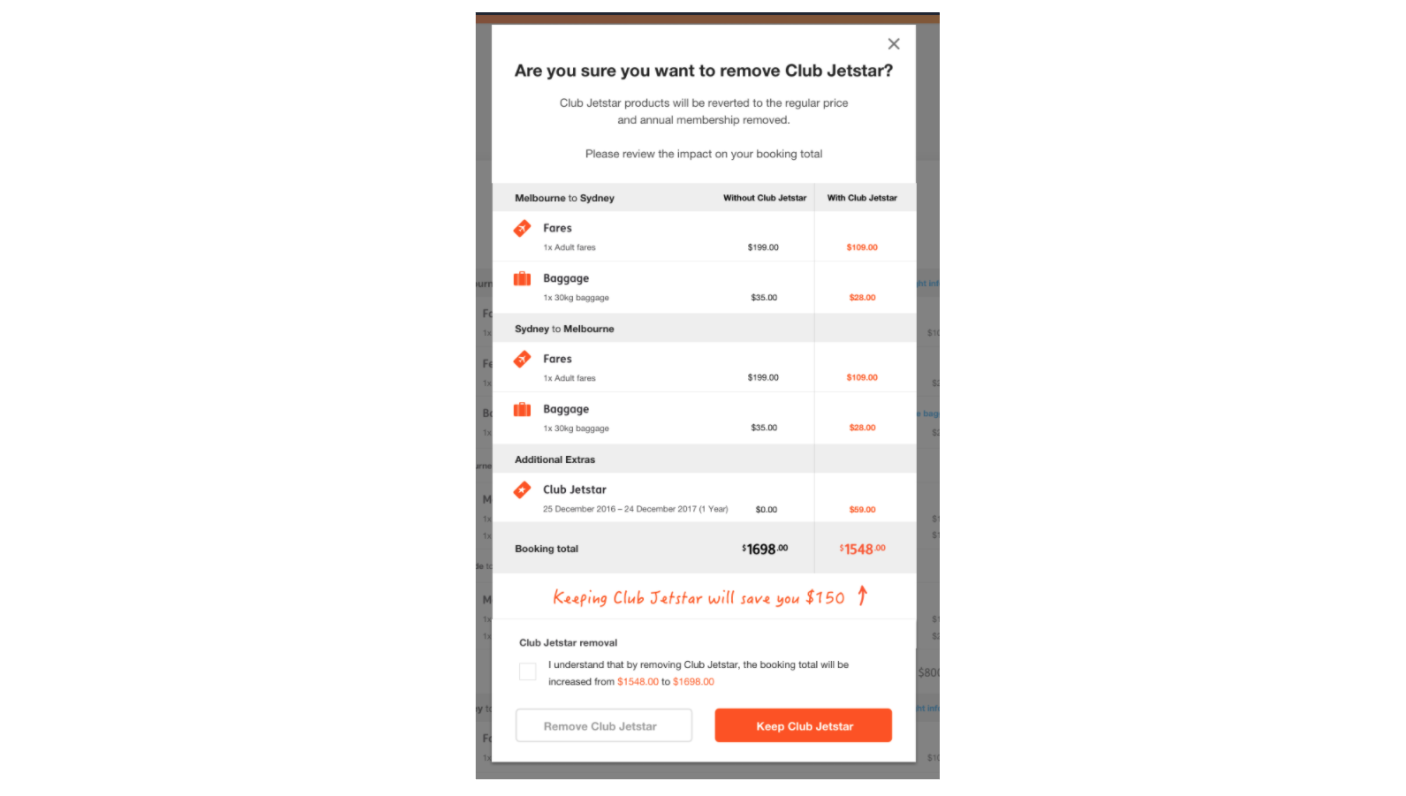 Recommendations (Account and Membership):