Google — Names & Faces
Design exercise

At the beginning of each new semester or school year, teachers are faced with the challenge of remembering names for a large number of new students. Design an experience to help educators match faces to names, with the goal of shortening the time needed to reach complete un-aided accuracy.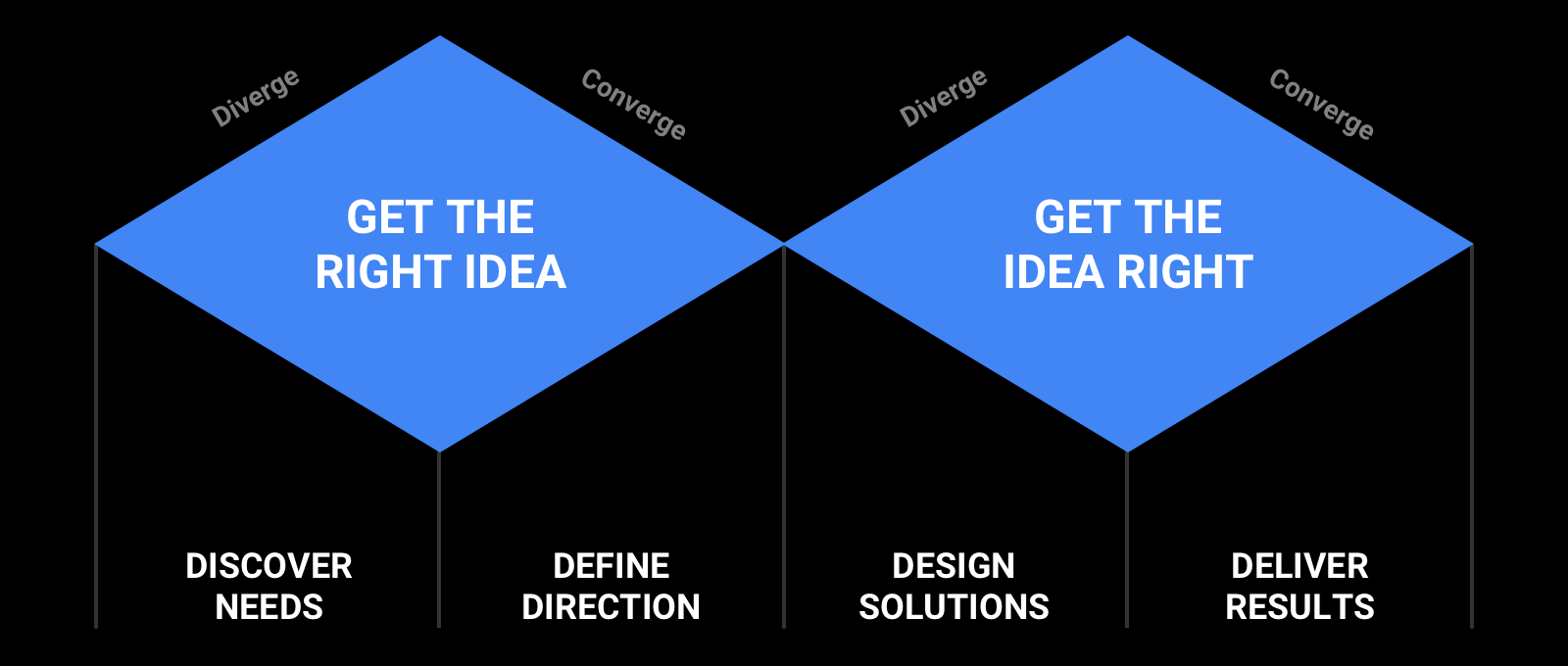 Understand (Discover needs)
Define (Define direction)
Get the idea right
Explore (Design solutions)
Solutioning (Deliver results)
Clarifying brief
Before the start of assignment, there are some immediate internal thoughts that are floating in my head that I would like to seek for further clarifications regarding this exercise.
Complete un-aided accuracy
Topic research
I researched on strategies teachers are using to match names and faces of students.
How do teachers match names and faces?
Constraints

For this design exercise, I have given myself a boundary where the design solution is to be contained.
User interviews
I want to bring the voice of the user into the solution. It helps me better understand the problem, identify assumptions and gaps in my thinking. For my interviews, I have selected educators as my interview participants as I believe they will be the best candidates for me to probe their pain points, motivation, challenges and needs to get a deeper understanding of how I could create an experience that satisfy the design goal.
Method:
Remote Skype user interviews (2 users).
Questionnaire (3 users).


Synthesis
I gathered all the observations and refined them into meaningful insights. I did this by physically sorting the observations into piles of similar meaning. I then further develop them into themes and theories.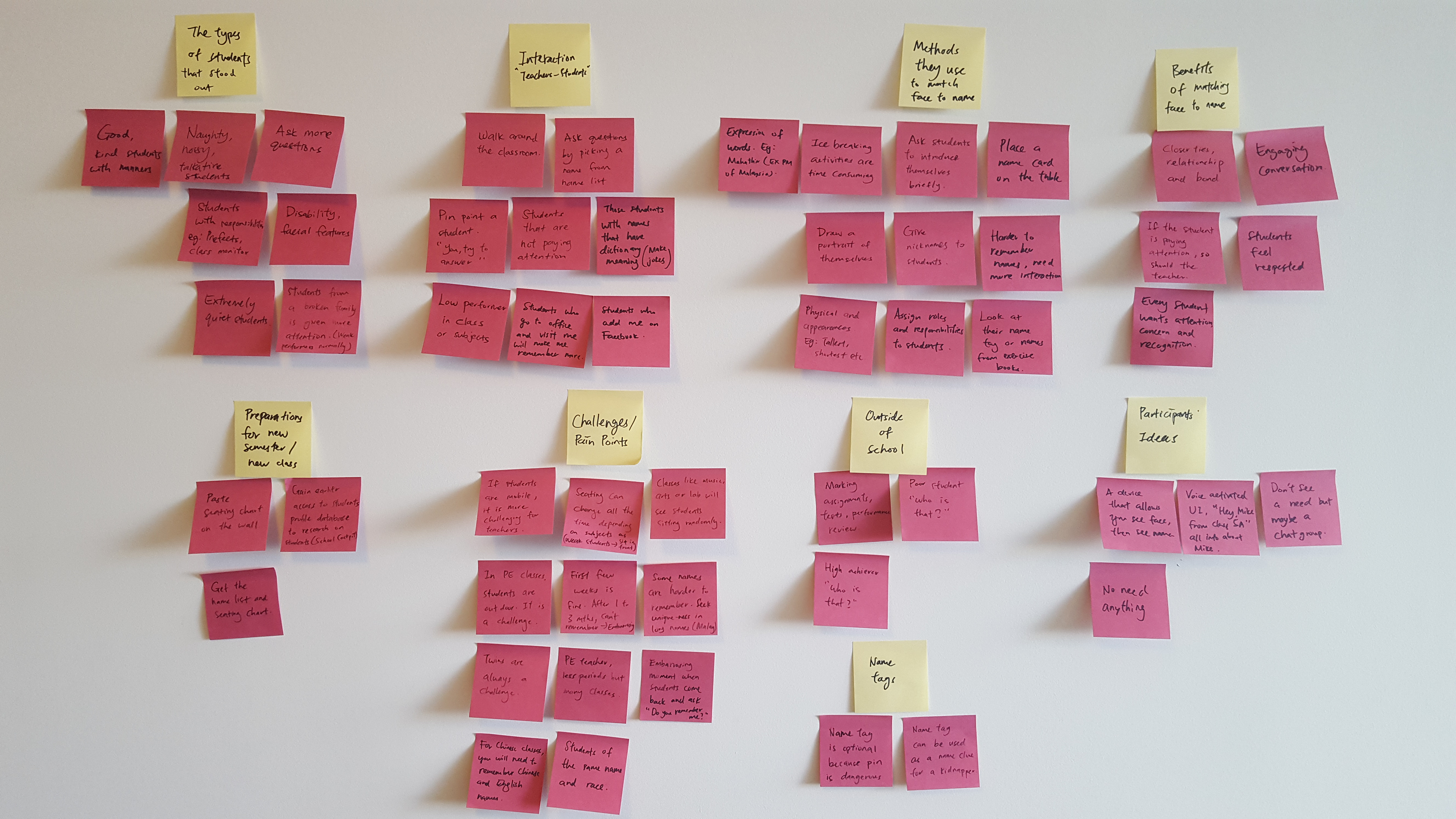 Themes and insights
On a single week:
Teachers teach about ~25 periods (~35 mins each). Depending on the subjects they are teaching, teachers normally teach around 5 classes (~40 students). Hence for each class on a weekly basis, teachers spend around ~180 mins (3 hours) interacting with students.
Benchmark:
A class of 40 students with 2 times interaction per week will take a teacher roughly (1 to 2 months) to remember all. 5 classes will 3 or 4 months.
Teachers spent 180 mins (3 hours) interacting with students (1 class, 40 students) on a weekly basis. For 
5 classes, it takes 3 to 4 months to remember all.
Measurement:

Our solution has to be better than that.
—
A) Benefits of matching faces to names
B) Teaching subjects matter
C) Teacher-student interactions
E) Outside of school or classroom
F) Conventional tools and methods
Customer journey map + User stories
I documented the requirements of a teacher in the form of user stories and visualizes them in process that a teacher will need to go through in order to complete each goal. It tells a story that helps to understand and address a teacher's needs.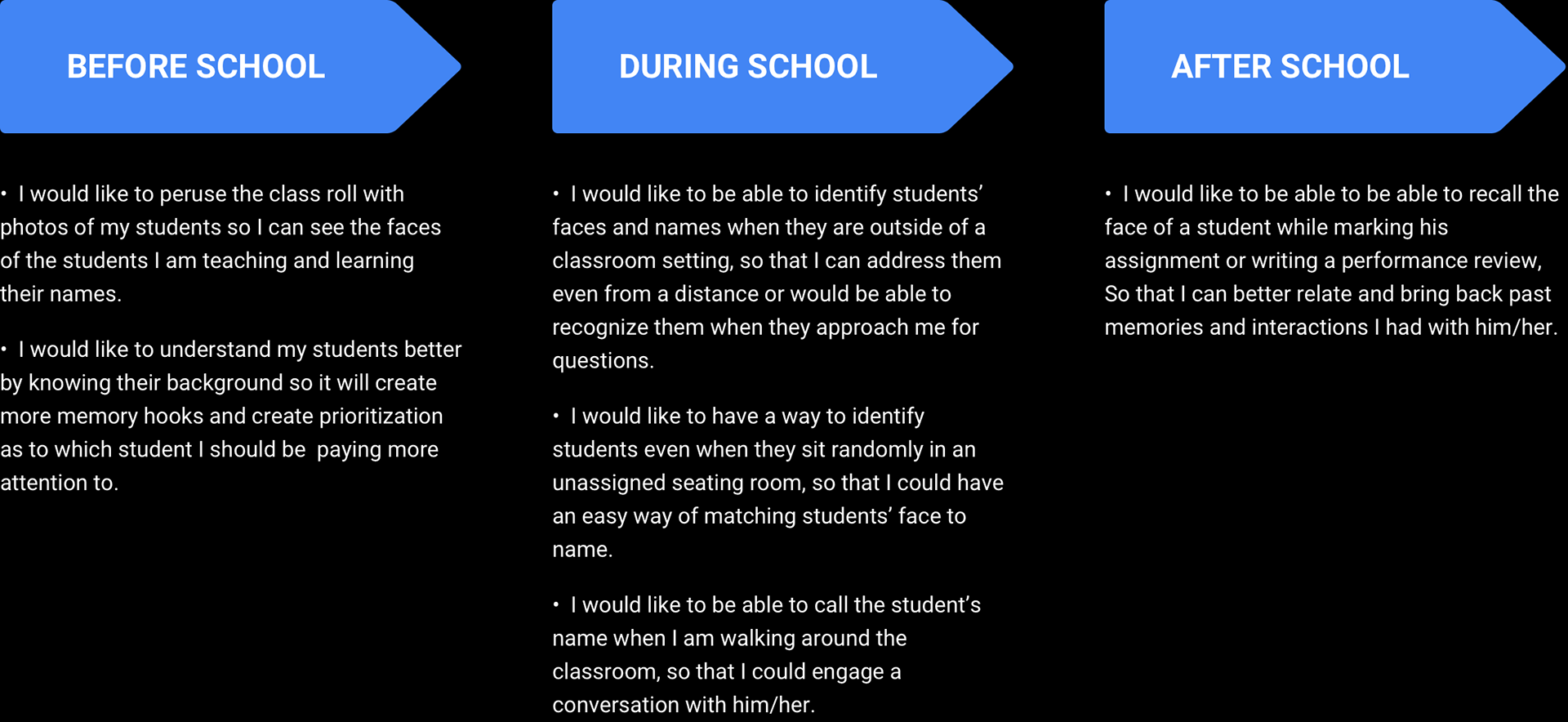 Design principles
A set of design principles that help me define the key qualities and aspects that should underpin the experience. It helps to form the design rationale. It will help me articulate how the design should feel or to be experienced.
The experience has to be friendly and not causing any discomfort between the teachers and the people that it interacts with (students). Eg: Perform a facial recognition when the student notices is awkward and it is perceived as invading the student's privacy. 
Each teacher has his/her own teaching habits. The experience has to assimilate into the daily's life of a teacher without resulting in any discernable discomfort or complications. Eg: Spending extra time outside of work playing a memory game or wearing a device/accessory that is gawkish.
The experience has to be easy to use without making the teachers seem clumsy. It shouldn't obstruct a teacher's movement and change the way teachers interact with students. Eg: Needing to hold a device on a hand all the time. 

Ideation + Validation
With pen and paper, I developed and generated a few ideas. The goal is to get as many ideas as possible without putting any technical limitations. They were then collated and sent out to friends and family for a quick validation and vote.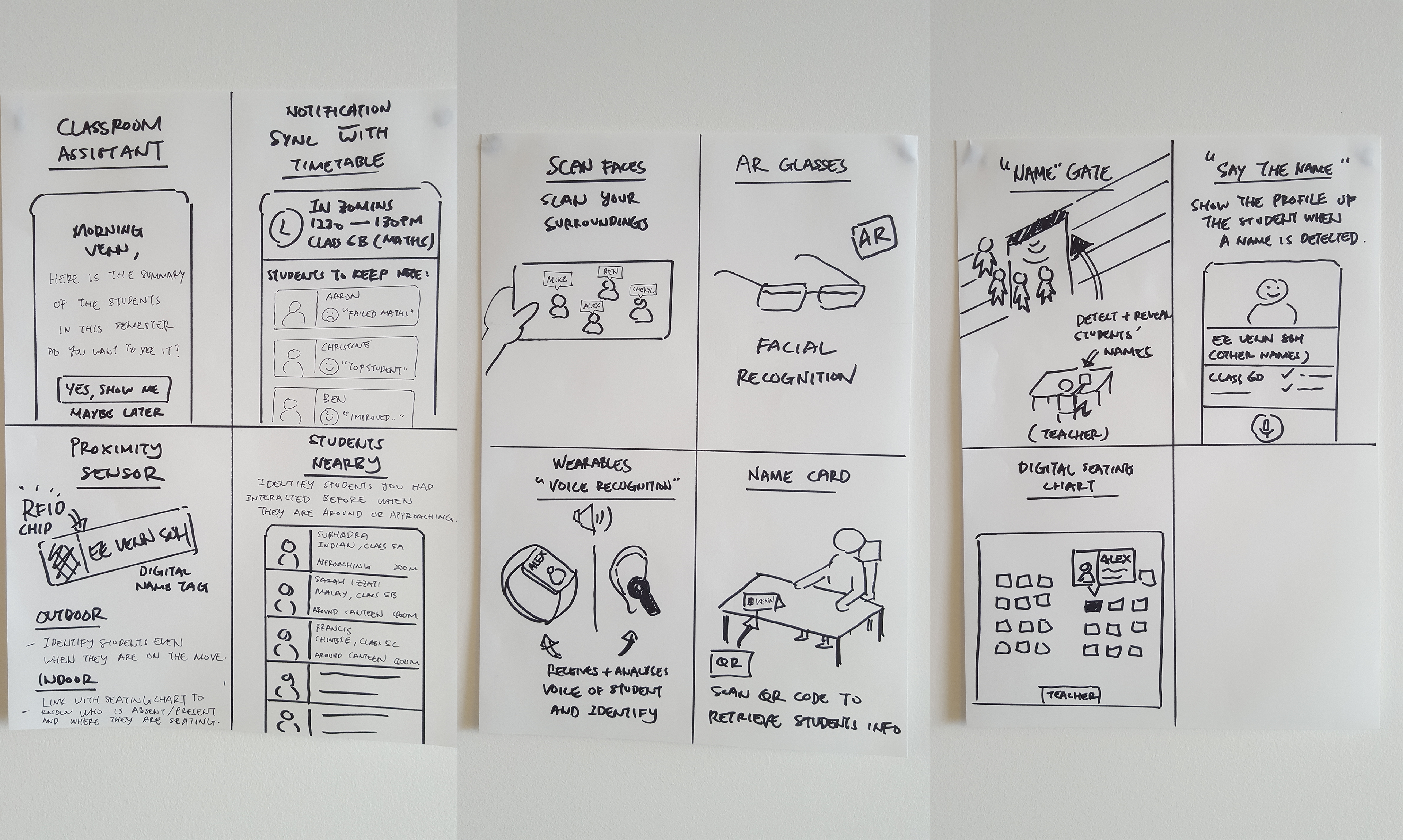 Design direction:
Based on the findings and feedback, I will be designing a
mobile app
that will help 
increase
teacher-student interaction
frequency
and
having more profiling
of each student's
characteristics and background. With this I believe it will shorten the time needed for teachers to match students' faces to names.
User flows
As part of this exercise, I am documenting only the
key user flows
that diagrams the various touch points and decision points a teacher will go through to achieve his/her goals.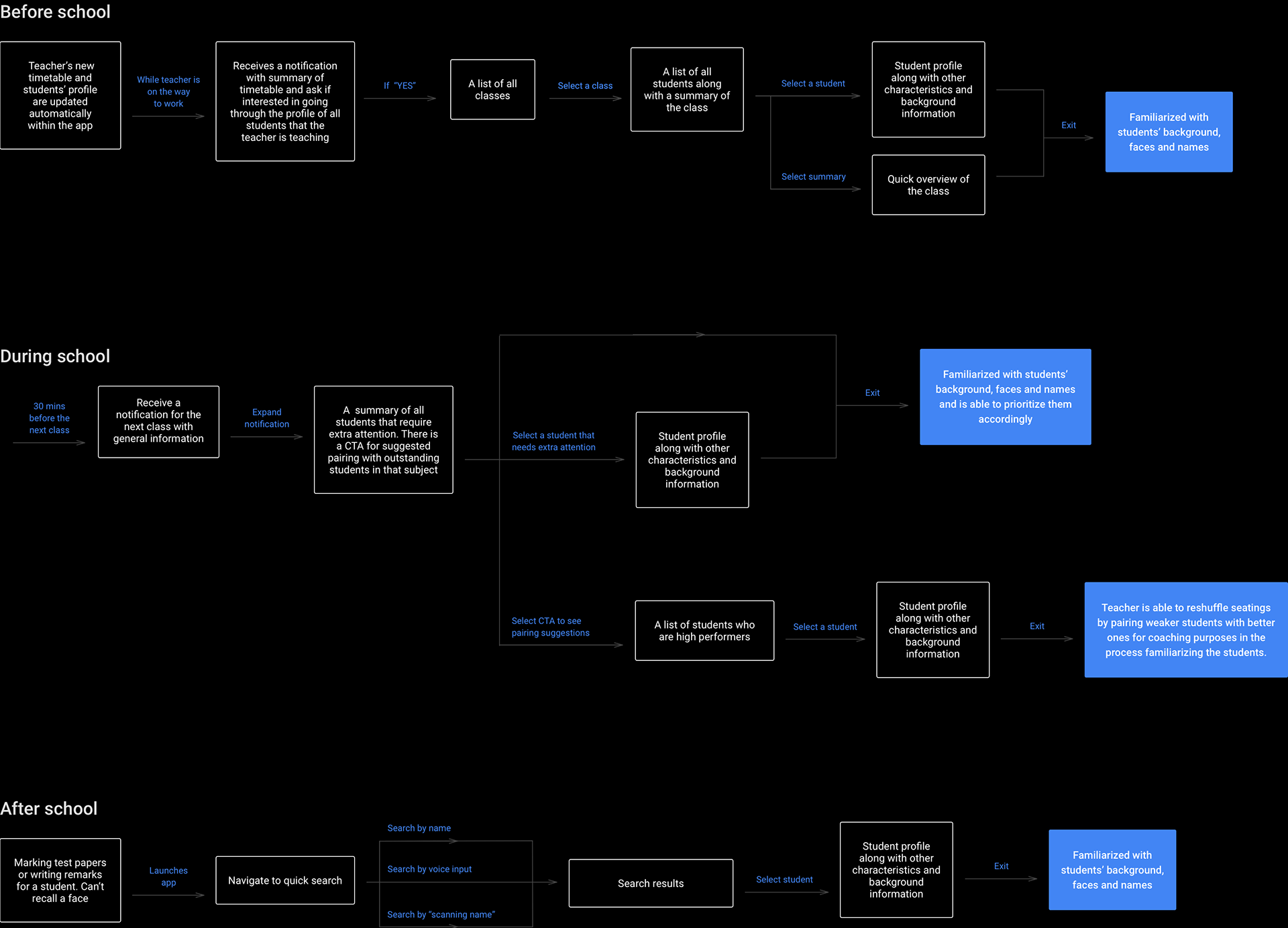 As part of this exercise, I am focusing on just wireframing one particular key flow (Before school scenario).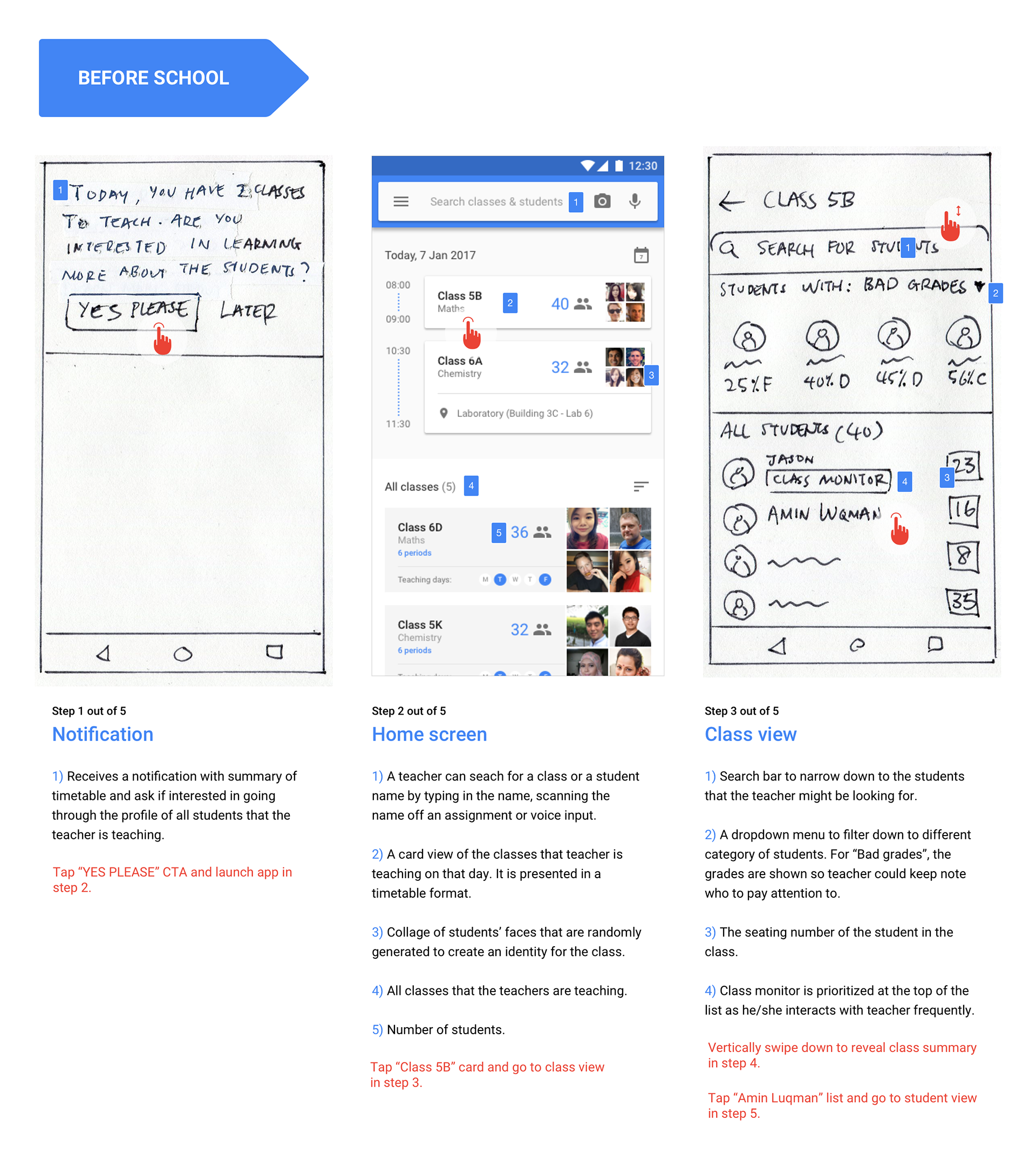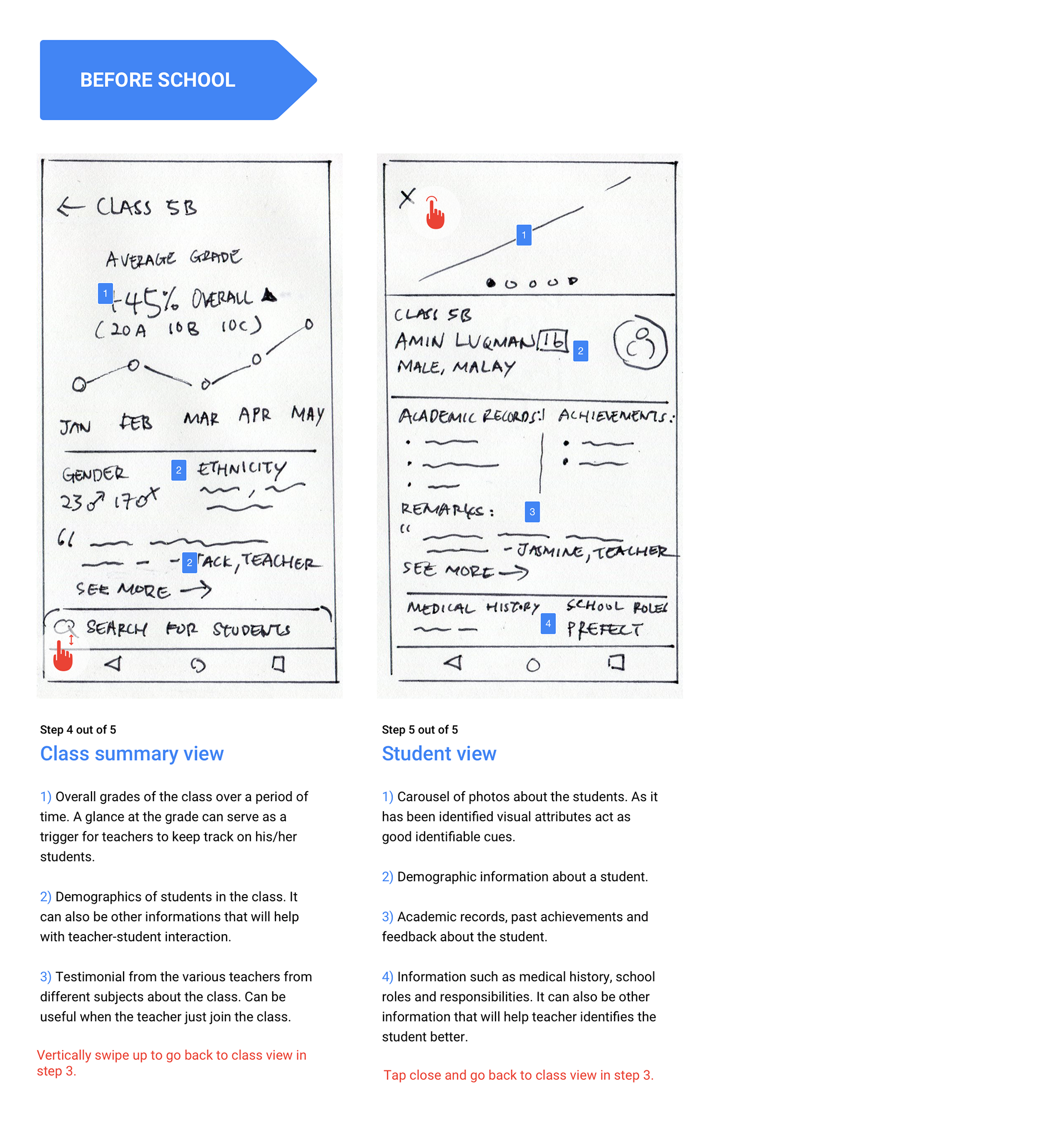 High fidelity mock (home screen)
To recap, the goal of this project is to design an experience that will help educators match faces to names, with the goal of shortening the time needed to reach complete un-aided accuracy.
Increase teacher-student interaction frequency and having more profiling of each student's characteristics and background will shorten the time needed for teachers to match students' faces to names.
On average, for 
5 classes (200 students), it takes 3 to 4 months to remember all.
Based on my user interviews with my participants and research, there is a strong pattern that indicates teachers would like to use a product that could
integrate right into their daily teaching habits and styles
. Teachers spend a large amount of time
outside of a classroom or after school
to review the work on the students. We should take this opportunity to look at how we could reinforce teachers' memory of students during those time.
Memorizing is hard. It puts a lot of cognitive load on a person. Having more mental anchors, visual hooks and associations help a teacher remember a student. Playing a memory game on your own time is extra work. Hence, creating a
database and profile of a student
that teacher could access easily can be helpful. In the process of recalling things about the students,
teachers get to know them better
too. Teachers can "invest" in the product by adding more insights about the student that will in return help him/herself or other teachers remember students. This helps to create a
habit forming product
(The more you use, the better it becomes).
A
conventional seating chart
along with photos and names have been proven to be very useful in a classroom. It is cheap (price of printing and paper) and easy to prepare. Teachers around the world have been using this. The experience I am designing will help complement this offline solution.
I did consider other ideas that require more technology capabilities. However I didn't include them for a few reasons:
What can I do better?
A few things I would have liked to address if I had more time and resources: